Football and tradespeople go hand-in-hand. From backyards and local parks, to professional stadiums and international battles, the trade industry provides enormous support to Rugby League and has produced some its finest players. In appreciation of this tireless association we have put together a team of great Rugby League players – past and present – that has reaped the rewards of a trade apprenticeship.
Comments from the Supercoach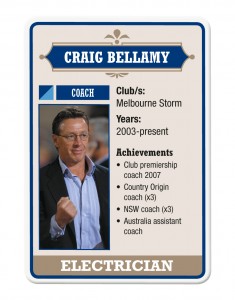 We've got a pretty strong team – it's a good mix of brute force, some great speed and a bit of flair. There are 13 Australian representatives, eight club captains and some of the most prestigious individual awards you can get in the game. That's elite talent with quality leadership.
Although, what really stands out for me is the group of forwards we've got. It's a strong unit with some of the hardest blokes to play the game. Mario Fenech would leave nothing on the park and Les Davidson… gee, Les was as tough a bloke as you'd come across. I reckon that demonstrate s the strength in the game and as a tradie.
Throughout my entire playing career I worked as a sparkie. It was a fair while ago and I wouldn't claim to be that good at it – let's just say that as an electrician I made a decent footballer – but I know it helped shape me as a person and my career in
rugby league.
It was hard trying to balance work and footy, but I know that I gained enormously from doing it. There''s discipline in that sort of life and it helps you get the most out of everything you do.
The Team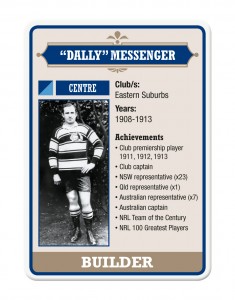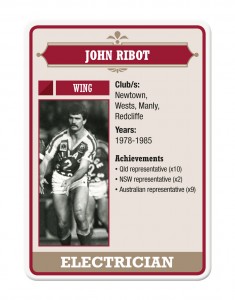 Interchange
More from the Supercoach
Plenty of blokes I played with worked in trades and they always had good commitment. You had to be up early, work your eight hours, and then head off to training at night. And even if the team wasn't training, I used to do some extra work on my own.
In fact, when I first started, weights sessions weren't compulsory but I always liked to do the gym stuff on top of skills training. So I needed to make time for that by either getting up real early in summer or by trying to find some time around work.
But I think that's the great thing about tradespeople and why they are such a good fit to football – you develop the mentality that the harder you work the more you get from it. In worksite terms; if you want to earn more money, you have to work overtime.
And let's face it – that's a good basic lesson for any person in life; if you want more of anything you have to put in the work. That's why I would encourage any current player to get involved in a trade.
This team has also got character – and a few characters; guys who shaped rugby league as we know it today. Everyone knows what Dally Messenger gave to the game and Vic Hey is a certified legend. And then you've got Frank Drake who got in trouble with officials when he wore white cut-down boots in the 1960s and they didn't think it was appropriate.
It's about challenging ideas to find better ways to do things – I don't think it is coincidence our team is stacked full of blokes like that.
And it's also no surprise to me that we have a full sheet of genuine team players; Steve Renouf, Bryan Fletcher, Nathan Brown – great club players who played for their team. Scott Hill does everything the team needs him to do without any fuss.
When you have good team culture you create camaraderie between blokes and that also applies to footy – you've got a role to play within your squad and if you don't do it, you're letting more than just yourself down.
Rugby league has a number of roles that aren't particularly glamorous – it requires working in a selfless manner to make sure the team succeeds as a group – it's just like working as part of a trade crew.
But when you play your part, and the team's played well, and you've got the result you wanted, then when you go out for a little celebration the beer tastes a whole lot better.