Little Creatures is kind of a big deal as far as the Aussie craft beer scene is concerned. It's fflagship pale ale has seriously stood the test of time and still brings in high praise for beer afficionados around the country. It was the first pale ale I got into and probably paved the way for my journey into beers beyond Carlton Draught and Tooheys Dry back in the day.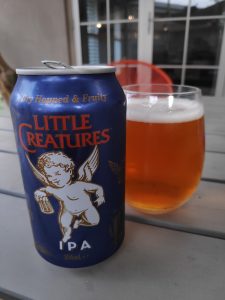 But since then, I've got a little love-hate relationship with the brewery. Their XPA is not my jam and I remember giving a six-pack of Dog Days away after a couple of sips. On the other hand, their bright ale and stout are top-notch. So you can probably understand my trepidation when their IPA landed on my desk.
I didn't love the first sip. The second wasn't amazing either. But then it grew on me. And the more I drank it, the more I appreciated what was going on with my tastebuds.
It's a bit of a weird one because I'm used to bold tropical notes and plenty of hop when it comes to IPAs. I don't associate them with spices though, which is probably what took me aback at first. Surprisingly my partner really dug it and she usually hates my preferred hop-filled beers, so maybe that's saying something. She's typically an ale drinker.
Fellow ManSpace writer Sean Carroll had this to say about it: "Their website describes it as having passionfruit, grapefruit and aniseed aromas. They're not wrong.
"How does grapefruit and aniseed work well in beer? Not a clue, but they've gone and done it anyway.
"Something I felt that I haven't seen anywhere is that it almost tastes smoky as you drink it before the bitter aftertaste. Again, how does that go well in beer? Not a clue, but it works well."
So, if you're feeling adventurous, step outside your comfort zone and give this spicy number a go.