The 'car enthusiast' can take many forms. There's the hot rod fanatic, the street car aficionado or the classic car tragic to name a just a few. Whatever your poison may be there is one common ground – the pure joy that comes from being in your car, at the perfect place, for that ultimate 'once-in-a-lifetime-experience'.
The beauty of being a car enthusiast is that the perfect motoring moment is a purely personal thing that can occur in many different formats. It might be the thrill of an organised race event at a dedicated circuit or a gentle cruise around the coast line with a loved one, but for many it is the iconic cross-country rally. And you don't get much more iconic than the Peking to Paris Rally.
Rhys Timms and his co-driver John Hastie are two of only a handful of Australians to participate in the iconic world rally – completing the epic trek in late 2010.
The route took drivers from China, through Mongolia, into Russia then turned south west into Kazakhstan, Uzbekistan, and Turkmenistan. It covered 12 countries in 37 days, driving through some of the world's most remote terrain. It's a remarkable feat in any vehicle, but all the more amazing when undertaken in Rhys' 1936 MG SA Saloon. Like all events of this nature, however, the journey is far greater than just the miles in the car. This time before the start line is as much of a story as the rally itself.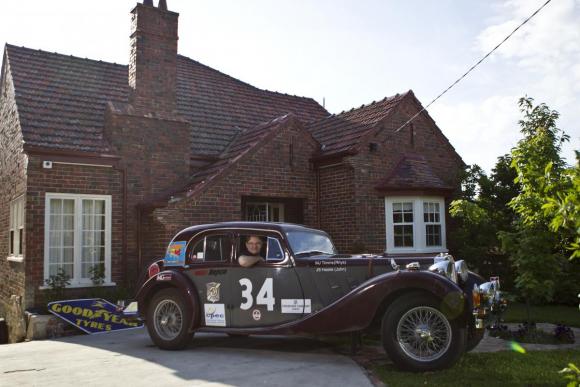 An entry to MGs
The car bug took hold of Rhys a little later than many other enthusiasts. Although there had always been an interest in classic cars, a lack of storage had tempered the flames.
"I guess it started to seem like a reality when we had a baby and moved to a house that had a proper garage," explains Rhys. "Up until then my wife and I had been living in the inner city with no garage – so once I had the ability to store one I started to play with the idea of getting a classic car."
The garage is worthy of an article in its own right. The Timms family home is located in a heritage-listed street which puts estraints on what modifications can be made to the front of the house – that makes it very difficult when you want a sizeable space to store and work on your classic treasure.
The answer was to excavate under the house, not only overcoming the council issues, but also giving Rhys a far larger floor space then he had ever imagined (roughly 170m²).
There were some significant dramas along the path, but what stands now is something of immense character, with a steep narrow driveway running beside the house to a purpose-planned space below.
At the time I spoke to Rhys, the structural elements of his Garage-mahal were largely complete; however the interior was reminiscent of most garages… a muddled space housing cars, half cars, parts from cars, tools for cars and a number of pieces of memorabilia and family collectables. In an interesting side note, Rhys has since engaged the services of one of our expert contributors to help him finish his perfect space and make it truly functional.
But we should get back to the car…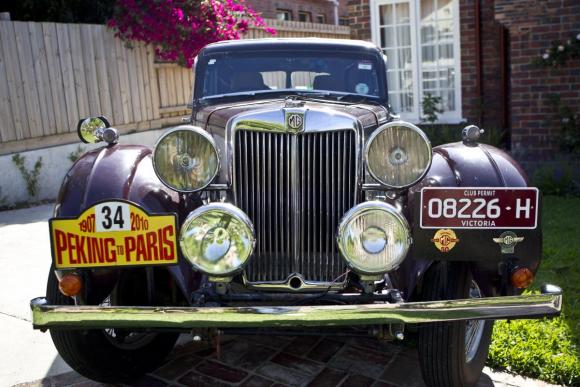 "In my 20s I balanced working with study and starting a family – and that fills your time," says Rhys.
"I always promised myself that when I turned 30 there would be no more studying and working weekends and I'd make time for myself in some way. Well, I probably can't say I stuck to that completely – particularly the working on weekends – but I did manage to get that classic car, and that gave me my space," says Rhys.
"The car was something that I knew I could stay connected with for years. A classic car doesn't discriminate against you by age or enjoyment as there are always different ways you can be involved. The main thing is that I have that sense of being hands-on with it and that gives me a break from other elements of my life."
Like many people interested in classic cars, the search for "the right one" took Rhys to all parts of Victoria and further.
"It was a pretty clear moment," he says. "I'd tried a few different models, but when I got into an MG TD it felt right. It's small, lightweight, low to the ground and fun to drive: you feel like you're doing hundreds of kilometres an hour when you're only doing 80…"
As someone who also enjoys the pleasure of cruising along in my own MG (albeit a far more basic and … shall we say, 'rustic' version), I understand exactly what Rhys is talking about – and I'm sure that many of you will agree. A new car is a pleasure to drive but there is something very hands-on and real about being behind the wheel of a classic piece of machinery.
The next stage for Rhys was to join a club – a fantastic avenue for support, advice and activities.
"I joined the MG Car Club but, to be completely honest, I wasn't that active for a number of years. Like any of these things, it's always a case of the more you put in, the more you get from it – and bit by bit I started to get more involved and saw the benefits of this great community and enjoyed my car more.
"Now it's a fundamental part of my life in a number of ways and I see the connection to my car in a whole new light."
Opportunity arises
"I first saw the Peking to Paris Rally years ago when I was working in a fairly stressful job," explains Rhys. "It just looked like the perfect antidote to my life: six weeks of adventure, in my space, with hands-on involvement and just one of those experiences you get only a handful of times in your life.
"Unfortunately, by the time I looked into it I was too late, as you really do need to put a lot of preparation and some decent finances into something like this, so I had to let the idea go."
The big break came when an offer was received to buy the family business; a reward for many years of hard work and long hours. It freed up time and some financial resources and so the thought of an adventure was naturally rekindled.
"I had certainly not forgotten about the Peking to Paris, but there is no set schedule for when it is run, so I had no idea when the next opportunity might be – after all, it had been over 10 years between the previous two."
In the interim, he set about looking for a car that would stand up to the rigors of a long-haul event. Wanting to stay with the MG marque, he decided to enter another MG in his life – a 1938 MG SA restoration project he had commenced several years earlier. This MG is larger than most, and was originally a "gentleman's sports saloon" produced in the mid to late 1930s to cater for the MG gentleman when the family came along.
While the 2-litre motor is sometimes considered sluggish by a rally car standard, Rhys knew it was exceptionally strong, and the saloon body had appeal for its robust construction and (relative) weather-proofing. And when it was announced that another Peking to Paris Rally would be held in 2010 – only three years after the event Rhys has missed previously, he jumped on the opportunity very quickly.
"You can't wait for experiences in life," he adds. "My father died at a young age and it's a cold reminder that you shouldn't wait until your 65 to live your life. Sometimes you need to reward yourself – I'd taken care of the important things and saw this as something for me."
Getting ready
Not just anyone can enter the Peking to Paris Rally. You need to submit an expression of interest and then wait for an official invitation. When you submit, you need to nominate what car you will take and it is purely at the discretion of the organiser as to what mix of cars he wants in the event.
Once you're accepted they send you a professional pack containing necessary information, medical checks and a stern reminder that it is not for the faint-hearted.
The original thought was to undertake the rally with his wife Melinda in the restored saloon, but as they got closer to the date they started to rethink the plan. The first issue was the choice of car, as the restoration project was still too far away from completion. Fortunately, a 1936 SA Saloon was for sale interstate, and after some negotiation, a new MG joined the family. The second issue was when it became apparent that the romance of the journey might be tarnished by the realities of rally life.
"It sounds pretty obvious, but this is not just some cruise in an old car," says Rhys. "I recall reading something about a couple doing a rally in North Africa who missed a corner. They weren't speeding or doing anything silly, it was a simple mechanical failure, but because there were no barriers they didn't survive the accident. At that time, we discussed it seriously and recognised that although it always my dream, it may not be Melinda's as well."
With this thought in mind, Rhys set about finding the right person to join him – and knew the answer would most likely be a colleague from the MG Car Club.
"There's no doubt you want someone who is familiar with old cars and how to drive them," says Rhys. "But you also want to find someone who would want similar experiences and take the same concerns into account. You want someone who is determined enough to take the journey to the end, but you don't need someone who would risk life and limb just to gain a few seconds here and there."
Enter John Hastie – a family-man with young children, as well as a long time car club member with a background as a mechanic.
John describes his passion for MGs as "hereditary". His father Doug bought his first MG in the early 1960s and has remained a keen and active member in all matters for the famous British marque. As such, John grew up going to events, meetings and rallies for as long as he can remember.
"Cars were always part of my life growing up, and I love them," explains John. "So much so that when I finished school and wasn't entirely sure what I wanted to do, I walked into my local Holden dealership and applied to do a mechanics apprenticeship."
Although John no longer works as a dedicated mechanic, he has maintained his skills and knowledge. When you combine that with his experience on classic cars, it puts him in a fairly unique position.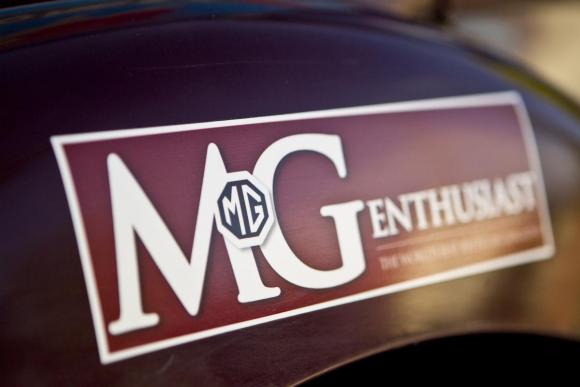 "There are a number of guys who have great experience in working around old cars," explains Rhys. "They could pull one apart and put it back together – but they don't have the specific mechanics skills that you get from an apprenticeship. Equally, there are plenty of mechanics who would struggle working on a classic car because they just haven't been exposed to them. That is where John has a great combination."
Not surprisingly, John says he didn't have to think twice when approached by Rhys to join him.
"Obviously I spoke to my wife Mali, and she agreed in an instant that it was just an extraordinary experience that I'd be silly not to take," he says.
"All I wanted to work out first was how we could make sure that Mali could get over to Paris for the finish of the rally. Firstly, I wanted her to be there to be part of the experience, but it also meant she would get something out of the event as well.
"My biggest sacrifice was that I had managed to sort out finances to make over the garage at home, and that all got sunk into the rally," laughs John. "But I'm pretty happy in saying it was worth every cent."
Preparing for something this massive requires considerable work. In no time, the two guys had defined roles to complement each other. Rhys was already well advanced with the car preparation, with a new rally motor on its way, professionally built roll cage, springs, wiring, bearings … in fact all moving parts had essentially been replaced. He had also taken care of  the administration, visas, permit passes – including getting the car shipped over and ready to go. John focussed on directing the mechanical aspects in preparation and throughout the rally.
"From my point of view, I saw my goal as quite clear: to do everything I could to get the car, myself and Rhys to Paris. It was as simple as that!"
Naturally, that meant driving responsibly and looking after the car in process, but it also involved preparing the car as best as they could and maintaining it on the run.
"To Rhys' credit, he got the car done early enough that we could do a lot of driving in it – because there is no greater preparation than hours behind the wheel," says John. "You need to know more than just how it handles, you need to get a feel for it and understand how it works so you can sense whether it's running well."
This involved driving the car to national meetings, entering it into car club events (racing and social) and adjusting the set-up as problems became apparent.
A significant step occurred when they entered it into the Old BP Rally – a gruelling tour essentially made up of two 24 hour drives covering a loop of Victoria. They couldn't keep up with the other cars in the event and so skipped certain stages, but got the essential understanding of how the car would run in those conditions and what it would take to compete.
"We had all manner of experiences in such a short period of time. For example, our generator blew up early on so we had to drive an entire night stage with a small light for safety and the moonlight for guidance," laughs Rhys.
"A breakthrough came on the third day when we had a full morning of driving through fields which were essentially just sand dunes – and the car did not miss a beat. The conditions were awful with dust everywhere and cars getting bogged, but the SA just ploughed through and gave us a huge amount of confidence that we had the right car to take to Peking."
The experience
When listening to Rhys and John talk about the Peking to Paris Rally, you can't help but notice a smile creep up in the corner of their mouths. While it may have been undertaken some 18 months ago, the experience still has personal impact.
"It's an iconic rally – and it's extraordinary to be part of it," says Rhys. "There are the obvious moments when you're standing at the start line and your surrounded by this amazing collection of cars or crossing the finish to see those same cars all battered and bruised. But really, it's all the little things in the journey along the way.
"You meet incredible people – local people who want to help in whatever way they can and do so with a smile. Or you roll along for hours on end and then cross into a new area and see a mountain range straight out of a photography book."
For those who are wondering, there is a sweeping mechanics car on the rally to help if things go really wrong (nobody wants to be stranded in the middle of the Gobi Desert…), but Rhys and John are very proud to add that they only needed help twice – both for very minor issues.
"One time was simply because I couldn't find the right size bolt to block off the brakes – it was that simple," says John. "Other entrants had the mechanics car pulling off heads or changing gear boxes, and we had virtually no help – and I think that really added to our experience as I knew we had genuinely completed it as a team.
"Sometimes we worked on the car together, and sometimes I would send Rhys off to the local market to try and find a part. It's those experiences – like crossing language barriers and bartering along the way – that really make it something special."
Most of all, the guys can proudly say they completed the rally – beginning to end. Believe it or not, there were some entrants who we might call … affluent … who were able to send their cars ahead of schedule on a private charter plane so it could be worked on in time to rejoin the rally later on – all so they could cross the finish line in Paris.
Proudly, Rhys and John took on the experienced ralliers, on a minimal budget, undertaking 99% of the work on their own during the event – and came through the other end.
They readily acknowledge a lot of support, both in preparation and throughout the event.
"John and I work full-time hours, so we couldn't have even got on the road without a lot of help – and once the rally started we still needed help from back home. From our wives, to the MG Car Club president who maintained a website and blog, as well as numerous clubmen who gave up hours to run around or donated time and materials to the see the car finish – the support was just incredible.
"Without a doubt, the camaraderie and generosity shown by so many club members made the finish especially rewarding," says Rhys.
So would they do it again?
"If you'd asked me straight after the finish line in Paris – I would have said no," laughs John. "But right now I'd say I would do it in a heartbeat."
Rhys, meanwhile, is well and truly hooked, dreaming of the next adventure with brochures from other iconic events neatly tucked away on the desk.
"So many people fall short of taking on something like this – in whatever their interest may be – largely because of fear," he says. "And don't get me wrong, you need to consider if it's something you might want to do because there is a danger – you could be held up at the border, ripped off or just put in some extremely uncomfortable situations. But if you get dictated by 'what ifs', you could miss out on something amazing.
"It's travel, it's adventure, it's a break from the responsibility of work and a genuine step out of daily reality – all with your car. Who could ask for a greater experience than that?"