Sometimes the best and most memorable weekend trips are the spontaneous ones. It's the off-season and there's no footy on the TV, so you go camping with a few mates. Or the kids are away at the parents and you score some brownie points by taking the missus away for the weekend. Or maybe you just can't seem to get the privacy you usually get in the mancave, so you decide to go caveman, and venture into the wild alone.
Whatever your motive, there's always something exhilarating about packing up the car and not really knowing where you're going, but just driving, with only one thing in mind: to get away.
In these situations, camping is nearly always the ideal choice. You get to be 'at one' with nature, unleash the swiss army knife you bought years ago and put all those hours you spent watching Bear Grylls to the test.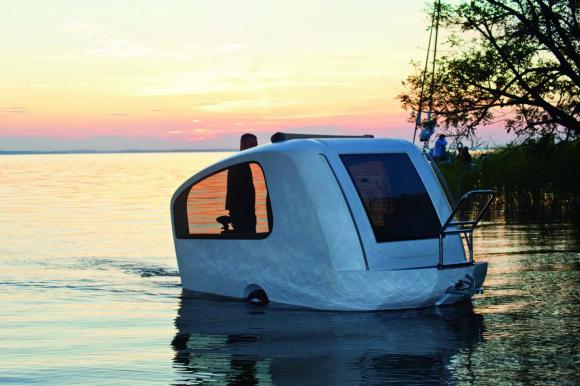 However, even camping can require some serious organisation decision making. So you end up making an inventory bigger than a six-year-old's Christmas list, and you end up packing everything but the kitchen sink – as you don't want to be trapped in the woods when you've forgotten something important. Before you know it, the spontaneity that made you want to escape in the first place has been lost, and you're suddenly faced with as many worries as in the real world.
A company in Germany has provided a solution that supports our gender's indecisiveness and desire to act upon impulse. It comes in the shape of the Sealander, an innovative mobile home with, as its name suggests, completely amphibian characteristics.
Yes, that's right, this 'cara-boat', or 'water-van' if you will, can be towed along like a regular caravan, but also comes with an outboard motor so you can steer it along the river if you get the urge. Not only that, it also accommodates its own cooking and washing up unit, with two benches that can also be transformed into a sleeping area. So you don't need to worry about packing the camping stove and pumping up the air bed, you can just load up the car with clothes, a few stubbies, and food (or just your fishing gear if you're feeling extra ambitious) and you're all set for a relaxing weekend by, or in, the lake.
A Porta-Potti is also an optional addition, so when you're on the water you don't find yourself rushing back onshore to the nearest…tree.
The brainchild of German industrial designer, Daniel Straub, he says the invention of the Sealander came from his own personal experiences merged with his academic background.
"I have been fuelled by my own passion for both camping as well as boat trips as a great and comfortable way to spend some quality time in the nature, close to those accompanying you.
"During my studies, I focused on the combination of mobility with adequate dwelling – as limited space creates very specific challenges for function as well as design. So the vision of an amphibian caravan is the result of a long process defining my own concept of freedom combined with flexibility."
The outer shell is made with a high quality material, glass fibre-reinforced plastic (GFRP) by hand lay-up composite moulding, providing stability which is not usually seen in traditional caravan design.
For those of you who aren't convinced by the boat's unusual shape, you can be reassured that because of the width of the lower shell, the vessel's depth is minimal, and this ensures a stable position on the water, which is supported by the location of the chassis at the balance point.
"The lower shell also has double flooring, which is split into several closed air chambers. So in the unlikely event of a leak, water will not seep inside, as only the underwater hull of the sub-floor will fill with water," Daniel says.
The great part about Sealander is that you really can take it anywhere (legalities permitting), and you don't even need to launch it from a designated boat launch or trailer system; in many cases you can merely pull up to the shore and roll in, and because of its light weight, it can often be hauled out by hand.
The outboard engine's rechargeable battery also supplies electricity to the interior living area and can be recharged from the towing vehicle during its journey. And because of its narrow measurements and light weight, you require neither a trailer licence nor additional wing mirrors for its transportation, and even small and low-powered towing vehicles can be easily used without chewing up your petrol.
One thing that should be noted though, is that you're not going to be taking the Sealander across the Tasman Sea anytime soon.
"Sealander is not looking to compete with any conventional boat or sports gear designed specifically for the use on water. Instead we want to allow you to combine the experience of both countryside as well as waterside in just one vehicle," Daniel says.
Also, largely because of its size, the product is purely designed for inland waters. However, its size is also a major plus point – for those of us that don't already own a boat, a major reason for that is because of the space it would occupy in the driveway or the garage. The Sealander's shell measures just 356cm by 160cm, and is no taller than 185cm, so, chances are, you can probably tuck it away in the garage or driveway without causing too much of an inconvenience.
Although you may not find yourself wanting to live out of the Sealander for weeks at a time, it's perfect for those quick getaways that you plan on a whim, and with so many features packed into such a small package, it gives you loads of options without you having to pack half of your possessions.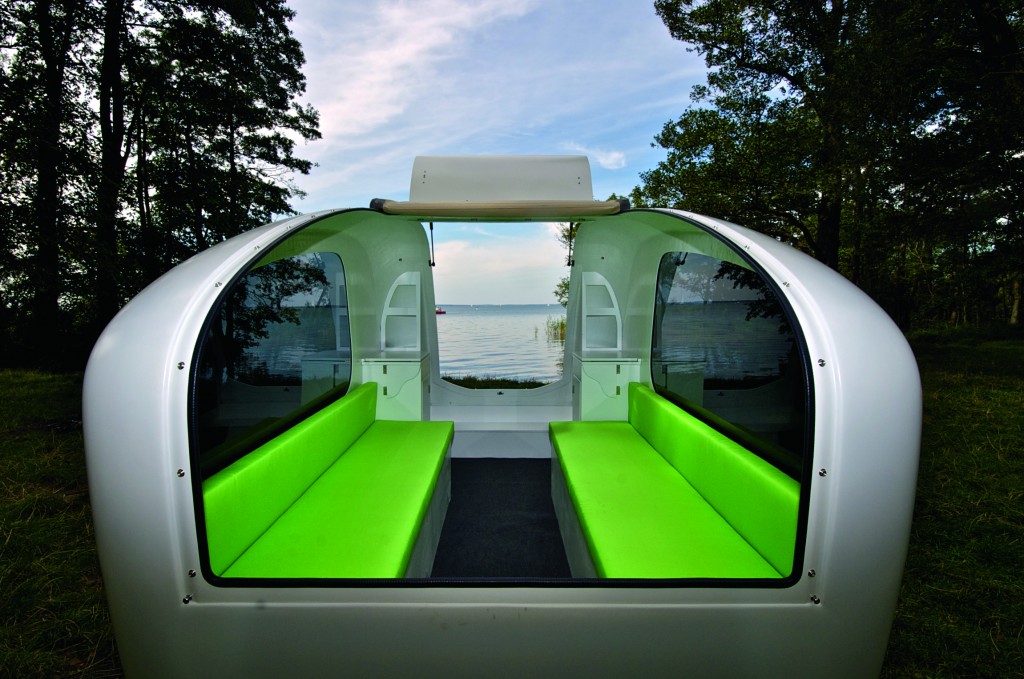 At present, the company is setting up batch production facilities in order to start shipment of the Sealander into the local European market in February 2012. Daniel also adds that the company is "in negotiations with distinctive market partners concerning international distribution and logistics, and there is no doubt our amphibian caravan will be available in Australia very soon." Final retail prices have not been determined just yet, but are targeted between $20,000 and $24,000, depending on the specific configurations and accessories you choose.