I was not one of those people who ran out and bought headsets and cameras and you name it when the pandemic hit.
We can all recall the middle of last year when there wasn't a webcam or a headset to be found anywhere as people scarpered for a home collaboration system that a. wouldn't break the bank and b. would work better than the bog-standard laptop mic and camera.
So, as someone who perhaps inadvertently worked off the premise of 'if they can't hear me and I can't hear them, maybe they'll leave me alone' for the big lockdown of 2020, I feel like I was well placed to test out some of Poly's home office/huddle space equipment recently.
On Poly's website, there is a particular quote that says: 'work is no longer a place, it's what you do and how you do it', and I think this very much sums up the world we live in now. Hybrid is here to stay.
To that end, it's really worth investing in some good equipment.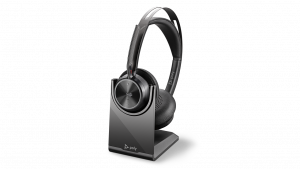 The good folks at Poly very kindly sent me a smorgasbord of their offerings including: the Studio P5 webcam, the Voyager Focus 4220 headset, the Studio P15 Video Bar and the Voyager Focus 2 headset, to try out over the course of a few weeks.
The first unit that came to hand was the Voyager Focus 2 headset and, I must admit, my first use of it was a little different to the intended use, although with an excellent result. Using the unit to ring my mother in Ireland, the maiden voyage lasted an hour and a half during which time my mother could hear every word, and she can usually tell when I'm wearing headphones because the sound is so poor on her end.
So, the Focus 2s passed the mother test! They also passed every other test. Via Bluetooth, the headset connects to both a laptop and a phone at the same time meaning you can switch easily from computer sound to, say, answering a call. They are comfortable and look great, a very sleek piece of kit.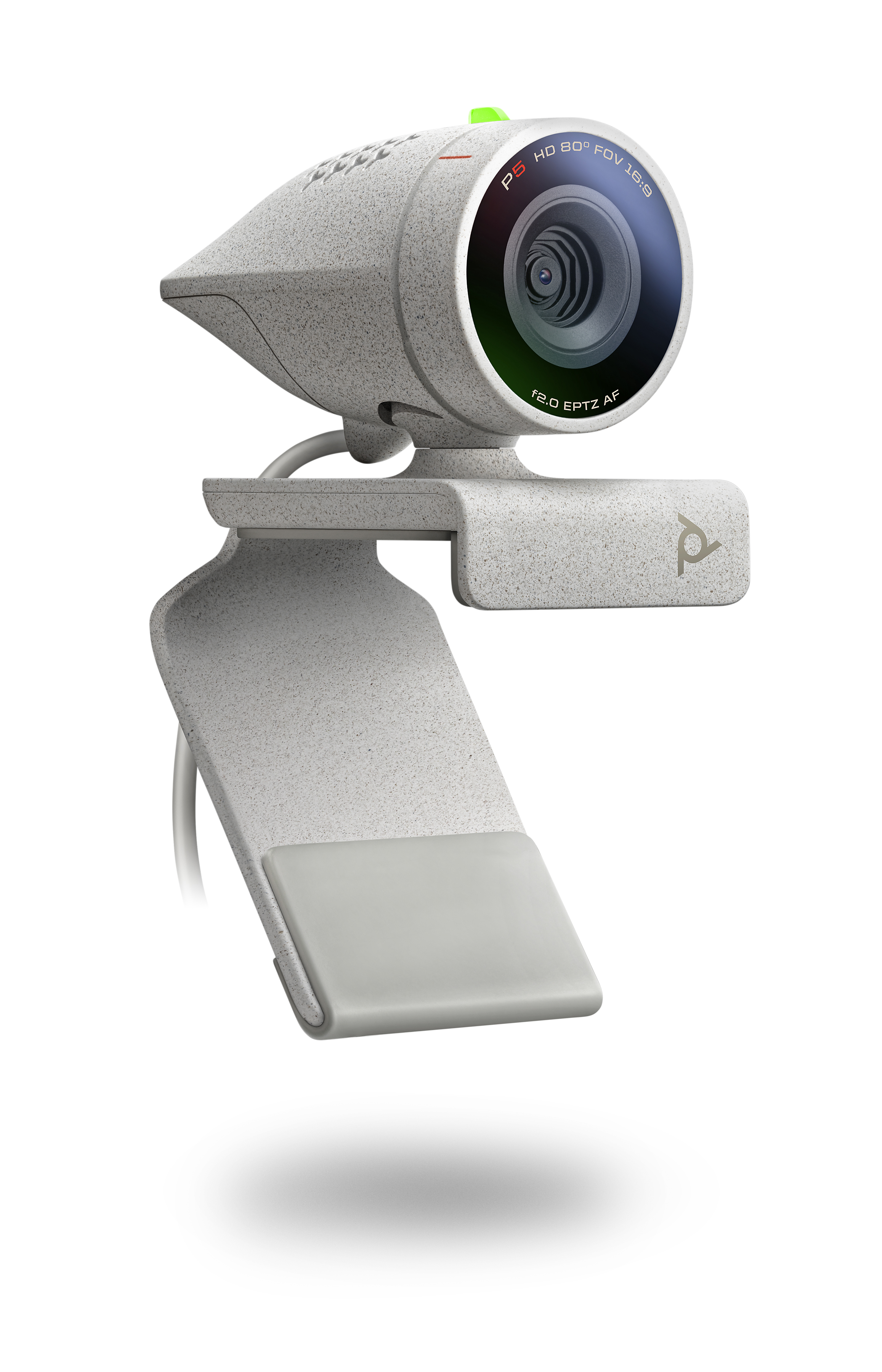 The P5 webcam is a compact, versatile piece that sits quite comfortably on top of a laptop or a monitor, the latter giving you the option to drag the meeting window onto a bigger space. The image quality is sharp (1080p) and precise and it, again, offers a very simple set up.
Paired with the Voyager Focus 4220 headset, this combined package is an all-in-one system for a remote worker. The Focus 4220, although not as feature heavy as the Focus 2 (which features noise cancellation) is another solid piece of kit – comfortable to wear, excellent sound quality and a simple, sleek design.
Finally, the P15 video bar is the unit that I think probably is designed more for a huddle room than a home office, even though I'd happily put it in one.
The P15, at about 40 centimetres wide has to, at minimum, be rested upon a monitor screen, if not mounted onto a wall space or simply placed at the end of a table – the smarts inside the unit do the rest from there.
Like the P5, the image capture is stunning, offering 4K resolution and, really, it makes you realise just how poor laptop webcams are. I mean, we all knew that, but when you're confronted with an image like that which the P15 or P5 provides, it's quite astonishing.
The setup of the P15 is relatively straight forward once you install the mounting plate the right way around (a lesson I learned the hard way) and have a power source nearby. It connects to the source computer via USB and kicks in as the preferred video unit as soon as you twist open the shutter.
The P15 is a serious piece of kit. Quite early on in using it, I realised that it was following me. No, not in a creepy way, unless you're nervy about AI and clever technology. I moved to grab something from a different area of my room and turned to find myself still on the screen. The unit's image scope allows for its automatic framing and opens up the option for a group call where everyone is framed as they speak.
I tested it out by walking around the room, uttering gibberish to the point where my flatmates thought I had succumbed to lockdown boredom and joined a satanic cult…
Anyway, the camera followed me around the room and back again. I did not get the chance to test it with a second person in the room, but I assume it corrects to focus on the speaker which is vital in a meeting space.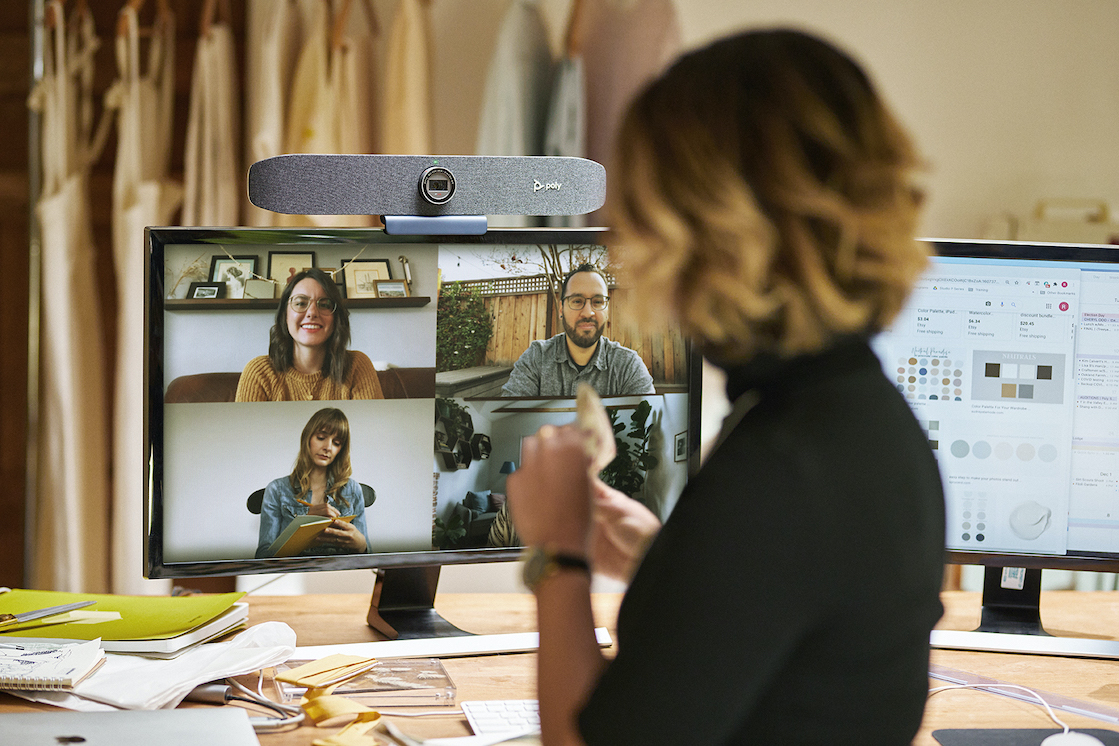 It also features built in microphones and my colleagues could hear me perfectly even as I moved around the room.
All four devices were high-functioning and solid additions to any home office, with the exception of the P15 which I've said feels like more of a huddle space device – it's almost too functional for a home office, particularly mine where it's more about the words I'm hearing.
To that end, I'll quite happily write a love letter to the Voyager Focus 2s. They were the piece of kit that I used every single day, on Zoom calls, phone calls, to listen to a short podcast or meditation, you name it. The sound quality is incomparable to any other headset I've ever used and I'd say to those who spend a lot of time on calls that these are a must-have.
The P5 and other headset come as a set and for someone who's missed the boat on kitting up a remote workspace, you'll kill just about all those birds with this one efficient stone.
And the P15 is an excellent plug-and-play option for a small meeting room where each participant needs to be heard equally.
To answer an earlier remark: Poly want a home office? Maybe I didn't, but now I'll happily take one.