Much to the dismay of a lot of my mates (or are they even?), I'm a big fan of Guinness. The creamy head and low fizz makes for the perfect brew in my opinion. And contrary to the feeling most seem to be left with, I don't get bloated from a pint or two. And when I can't get to a pub for one, I'll happily pour from a can and watch the widget do it's thing in creating the creamy top.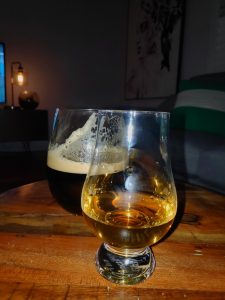 With the above in mind, I was pretty pumped to try Australia's first Nitro Stout in a bottle. The clever buggers at 4 Pines have formulated a stout that doesn't require a widget (that's the little plastic thing you hear clanking around a can of Guinness) to create a frothy head.
The nitro infusion in the bottle comes into effect once you pour hard and fast into a glass.
Once you crack the cap all you have to do is flip the bottle vertically over a glass and watch the magic happen.
As you'll notice from the photo, heaps of head is produced and once left to settle for a few seconds you're left with a generous tan top that paves way to aromas of coffee, chocolate and caramel. Needless to say, if you like a stout bursting with these flavours, you'll dig this one.
I paired it with a 12 year old single malt for a boilermaker that left me pretty content while staying in on a chilly Friday evening.
Word is, Nitro Stout is currently being tested to become the world's first certified 'space beer' too. All I can say is, lucky astronauts!