Love a hike or a bushwalk? Got a thing for climbing mountains or raising the endorphins on a morning run? If so, you'll know how important it is to regulate your body temperature.
To help you do so, Arc'teryx have further evolved one of their signature jackets, the Proton LT, into a hyper-breathable mid layer, designed to regulate your body temperature, enhancing overall comfort and performance during high output activities.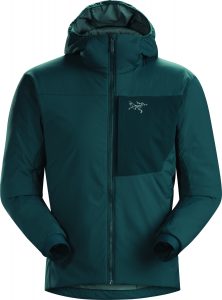 The Proton LT Hoody's breathable insulation means excess heat and moisture can pass through the combination of air permeable fabrics and insulation. Arc'teryx Coreloft™ Compact 80 synthetic insulation body maintains excellent stretch recovery as well as quick dry abilities and retains your warmth for when you're feeling the cold.
In addition to being extremely air permeable, the Fortius™ Air 20 face fabric has unrivaled hard wearing durability, over 60 times more durable in abrasion tests than the industry standard – you can throw yourself into every activity with the confidence that your gear is built to last. Arc'teryx's No Slip Zip™ keeps the main zipper from self-opening and the helmet compatible insulated hood gives additional warmth. Put it on, leave it on and stay focused on the activity.
Arc'teryx's state of the art manufacturing have taken the Proton to all new design heights. The all new Dope Dyeing yarn interior means better resource efficiency, UV stability, and abrasion and tear strength, meaning your Proton LT Hoody will spend more time on your back and less time in the earth.
The perfect mid layer for warmth and ventilation, you can breathe a sigh of relief with the Arc'teryx Proton LT Hood knowing you're wearing the industry best.