Since the inception of ManSpace magazine there has yet to be a true 'couple cave'… until now. Joe Young went to the south east of Melbourne to check out a space created by two rock 'n' rollers who proclaimed they were lost in the '50s.
I walked under the roller doors of Chris Salisbury's and Gudie Pohlmann's factory after they invited me to look at their classic 1950 Cadillac Coupe de Ville. As I looked around I soon realised I had walked into an amazing 1950s American themed couple cave.
The space is a labour of love of the pair who feed of each other's passion for 1950s rock 'n' roll culture. Shortly after WWII, the thriving economic activity of the 1950s has been described by some economists as a 'post war boom'. The civil rights movement was taking shape and accelerating rapidly in power, Marilyn Monroe and Elvis Presley's careers were taking off as rock 'n' roll and electric blues had become the music of choice for teens. Chris and Gudie's factory, once a dusty old building, is now a space reflecting great appreciation of the 1950s America era.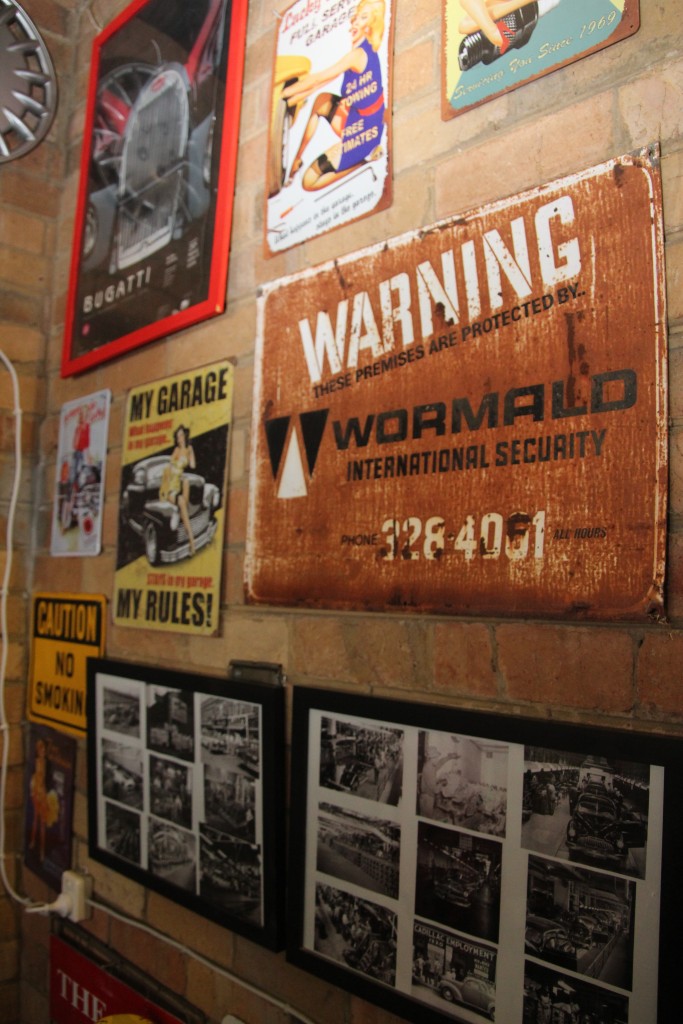 The factory walls are lined with signs of iconic American brands, road signs, Marilyn Monroe and Elvis memorabilia, a Marlboro cigarette pack dispenser, vintage records and old oil barrels, all providing the perfect backdrop for a stunning '50s and '60s classic car collection.
The first car to catch my eye was the 1950 Cadillac Coupe de Ville with its impressively long sweeping fenders; then the striking 1957 Ford Thunderbird white convertible; a '52 Cadillac Sedan Anniversary Model – looks like a vehicle of choice of an olden day New York mob boss. These were followed by a '61 Cadillac Fleetwood former American Embassy car with amazingly long tail fins and finally a '57 Buick Riviera with a retro pink paint job that truly captures the '50s.
Gudie's passion for the cars resonates in her voice like a loving mother talking about a child.
"This was our first born," Gudie says pointing at the Cadillac Embassy model. "Her name is Amelia," she said looking at the Thunderbird. "I just love her so much," she says running her fingers over the fender of the Coupe de Ville. "We like to take them on little outings down to the Peninsula."
While the pair started building this collection only three years ago, it's a shared passion they've had for decades, expressing their love of memories of the rock 'n' roll era. They even met rock 'n' roll dancing.
Gudie proclaimed that they are a pair of rock 'n' rollers lost in the 50's.
"We love the rock 'n' roll dancing scene; the clothes, the cars, the music… especially the music," she exclaimed. "I used to teach rock 'n' roll dance and we still go dancing every weekend. We like to dress up for it too."
Their love of 1950s America is a "natural extension" of their fondness of the rock 'n' roll scene and a passion for classic cars of the time.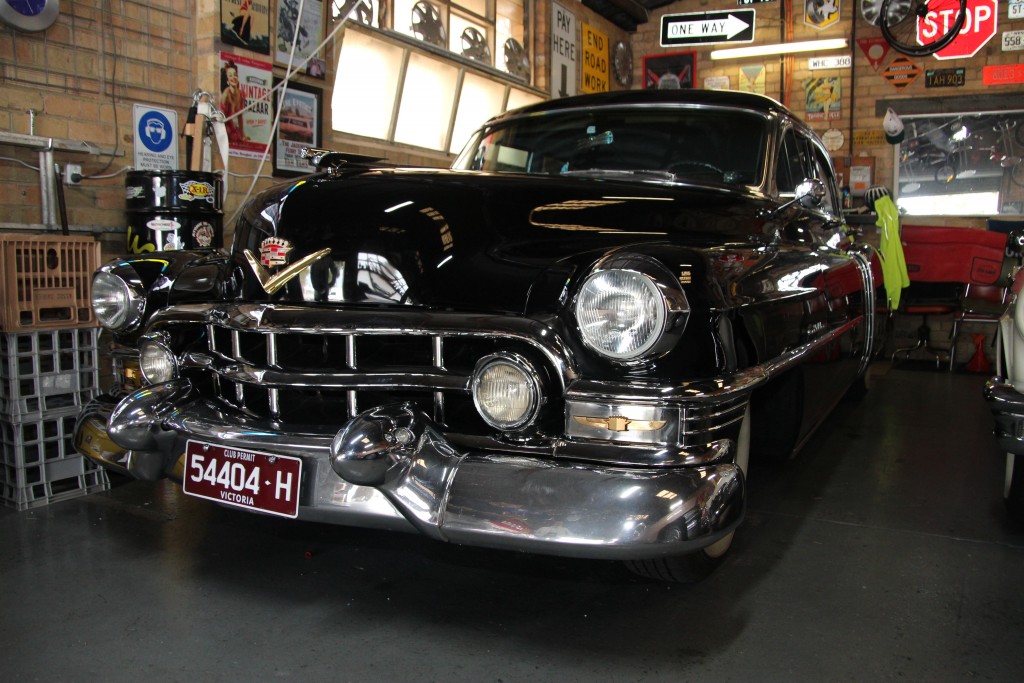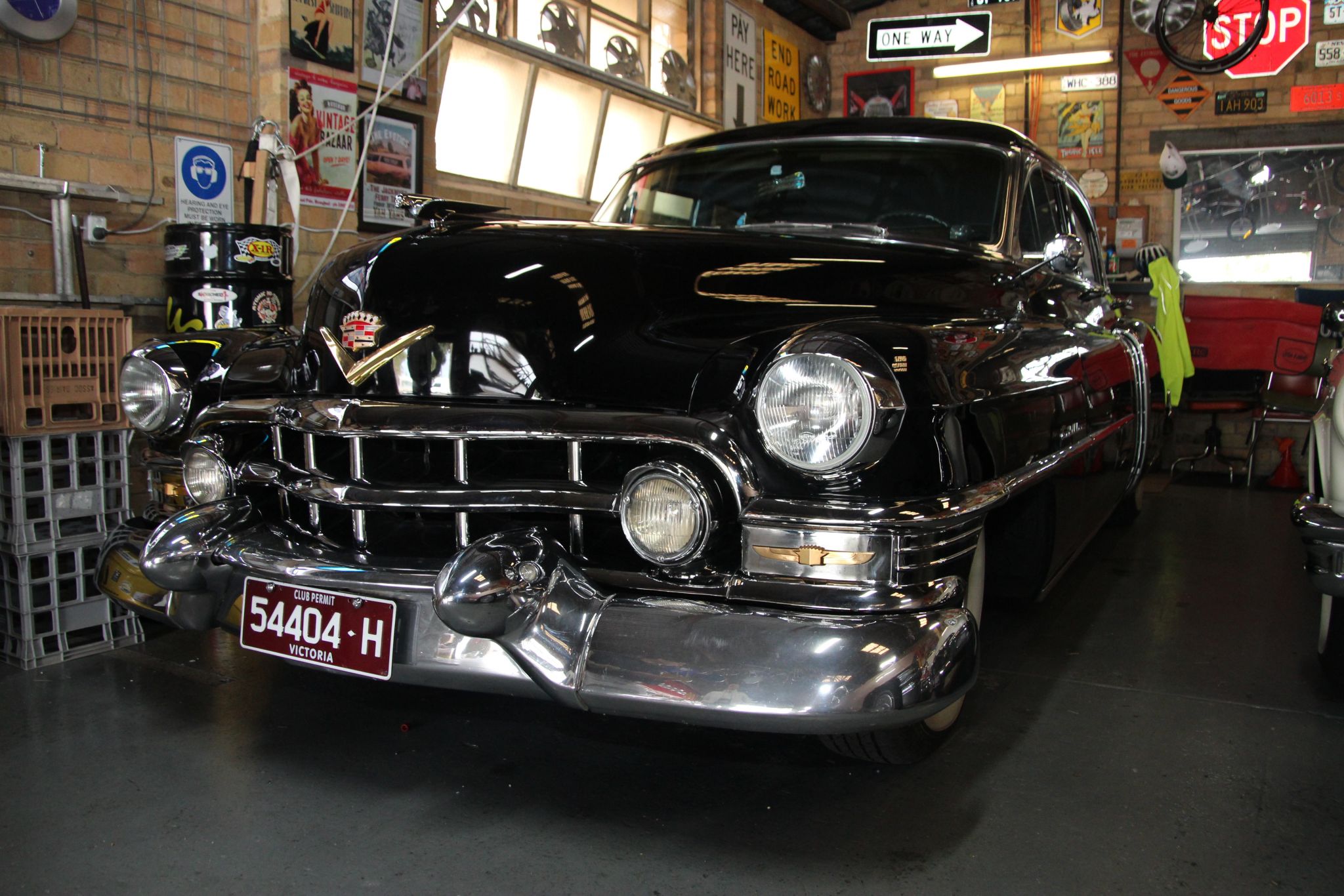 The cars are the star attractions for most people. These cars all called America home before being adopted by the couple. Some of them had to be bought sight unseen. Chris told me he was on the phone to the previous owner of the Thunderbird, Tom in Portland, Oregon and telling him once they buy it Gudie will drive it a lot.
"I was on the phone to the Tom and he thought he had ended the call. We then heard Tom's wife say to him, 'Oh my god, she will just loooove that car!' After hearing that I knew the car was going to be a great purchase," he said laughing.
The Cadillac dealership has offered to buy it back, but Chris and Gudie are happy to keep it in Melbourne for now. The pair has forged friendships around America with previous owners of the cars. Those friendships are built on appreciation of the cars which were babied by all the previous owners from the '50s until today which has resulted in the vehicles remaining in immaculate condition despite barely being restored.
"If we go to America, there are so many cities we will have to visit because we have made so many friends from buying cars," Gudie says.
The collection of signs and memorabilia is impressive too, particularly as it was merely a vacant building three years ago.
"It was just an empty space when we started. We just took what we could get and we collected nice things that didn't break the bank," Gudie says.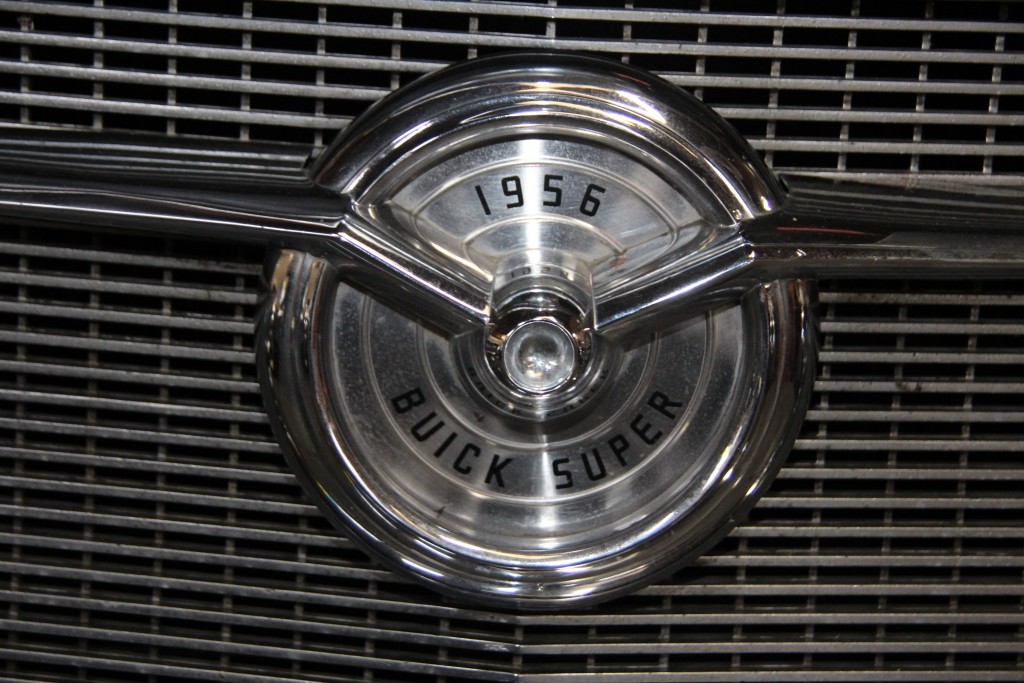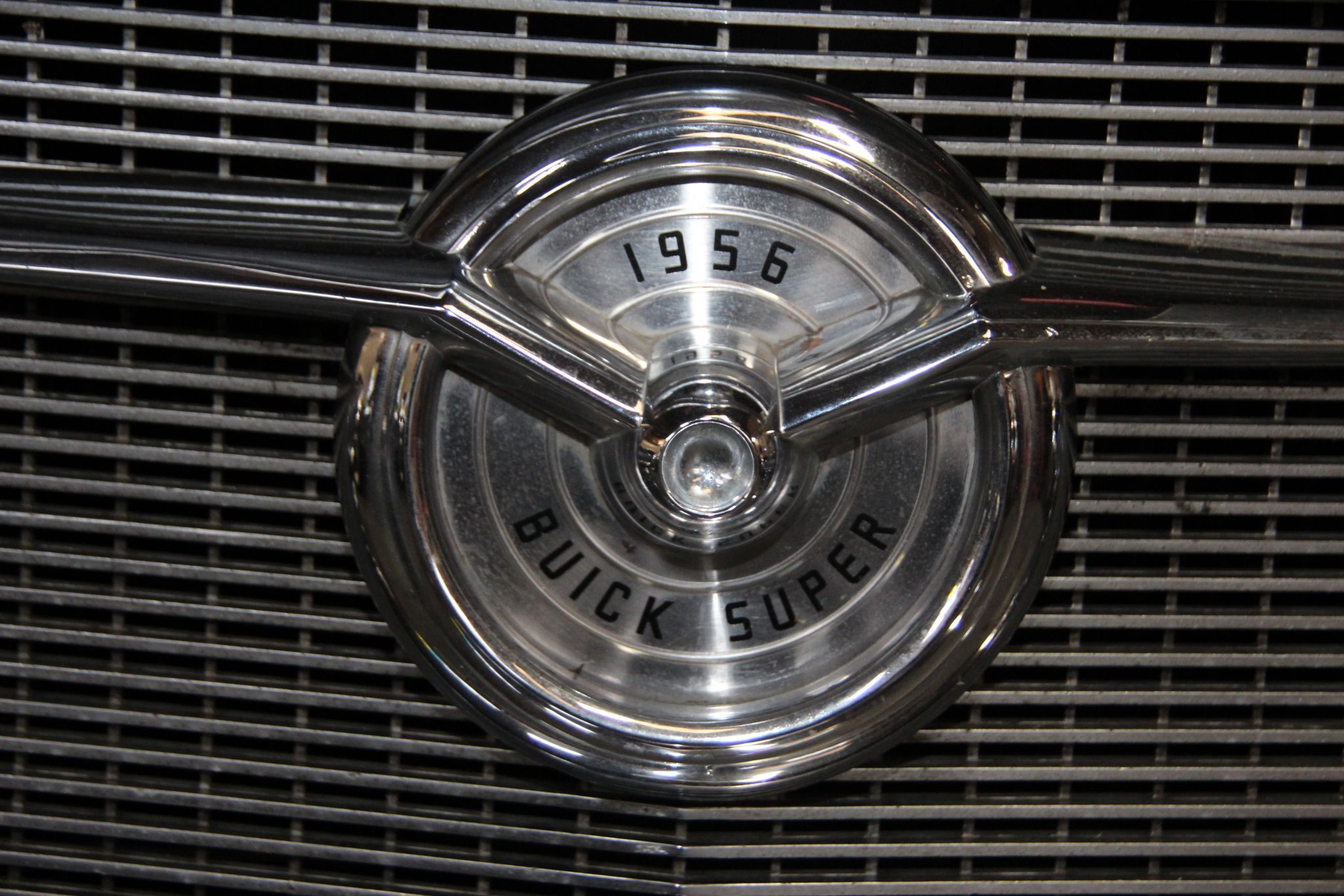 With such a large and eclectic mix of signs and other memorabilia I was curious to know how they acquired such collectibles.
The couple acquired the myriad signs in various ways. Swap meets for one.
"A car club we are members of has one of the biggest swap meets in Victoria on cup day, so that is a big shopping day for us," Gudie says.
"We also have friends in Australia and in the US who keep an eye out for signs and memorabilia they know we like. They are like our own little team of scouts; we love it."
Other items such as the large McDonalds sign was found in a local tip and at other times "you just have to be plain lucky," she says. "I just came across a building that was being pulled down; I looked around and saw an amazing Four 'n' Twenty sign. I made the owner an offer for it and here it is."
Yes there is a smattering of Australian signs mixed in with the classic American signs and a few British ones too. Picking a favourite has proven to be quite difficult though.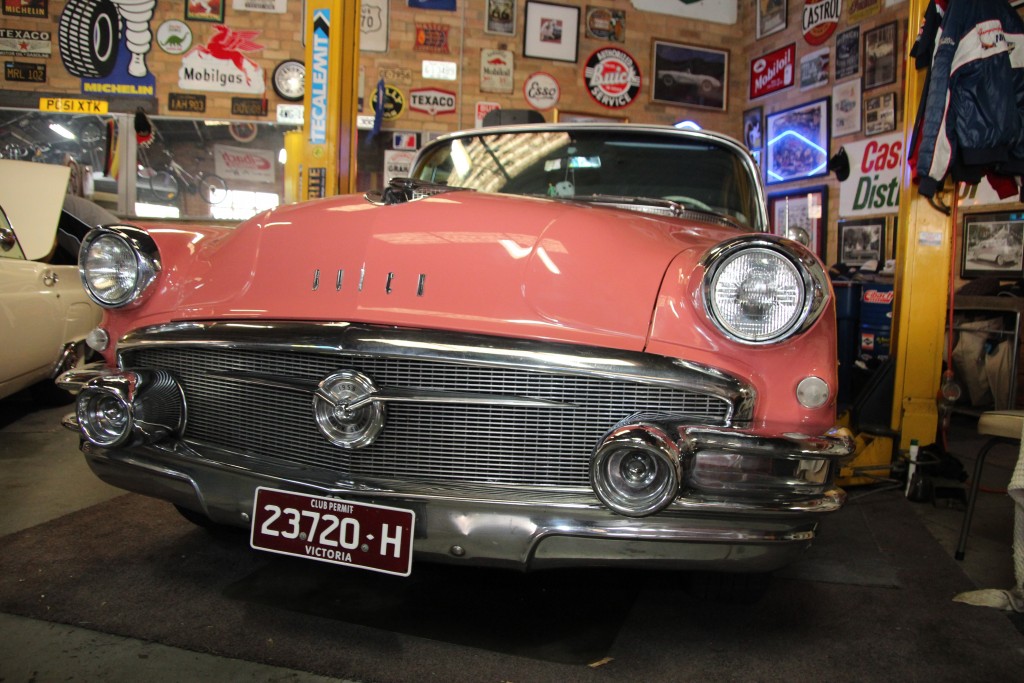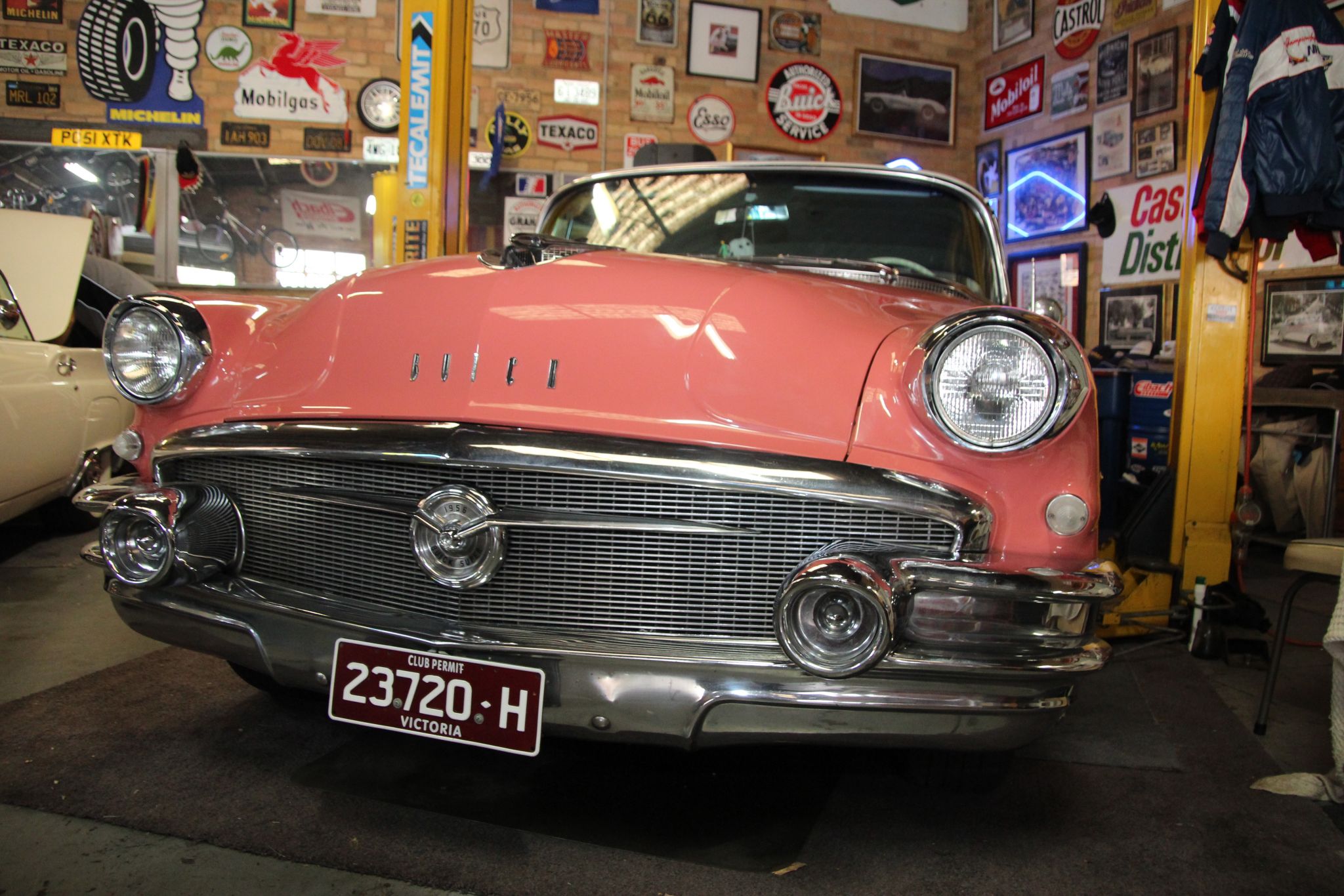 "It's hard to pick a favourite although I do have a particular affection for the original signs, such as the one that says 'Blasting in progress, please wait'. I find that one very interesting," Gudie says.
Every year the couple hold a "do", where friends from the car club, dancing club and other like minded people come down for a BBQ and a dance.
"We move the cars out so there is lots of room to dance, we bring in a rock 'n' roll band and get all dressed up, it's a lot of fun," Gudie says.
Some music historians claim rock 'n' roll was the first music genre to define an age group. It certainly gave some baby boomers a sense of belonging as teenagers in the '50s. As rock 'n' rollers lost in the '50s, Chris and Gudie have found themselves in a couple cave that truly defines their passions and personalities.