With temperatures starting to cool across the Apple Isle, there's no better time to get stuck into a dark beer that's sure to warm the cockles of your heart.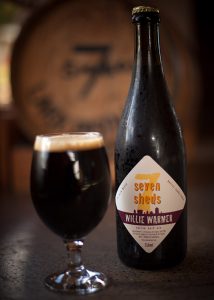 Willie Warmer is a strong dark ale spiced with star anise and cassia bark. Carafa malt adds chocolatey notes to the rich dark roasty flavour and Ella is the bittering hop.
Originally brewed as a winter warmer, it quickly went into year-round production with a strong following in its home community of north-western Tasmania. Despite a hefty 6.3% abv it has been a popular beer at Tasmania's summer festivals and events.
Food matches: hearty casseroles, roasted venison, Mexican chilli, summer berries, vanilla ice cream and dark chocolate.
Willie Warmer was first brewed in July 2008 and was the first beer brewed by Seven Sheds in its own brewhouse. The original recipe was head brewer Willie Simpson's winter home brew recipe.
Not distributed outside of Tasmania, Willie Warmer can be purchased online at www.sevensheds.com/shop.
The brewery is also open for takeaway sales during normal trading hours (including driveway service). It's also offering free delivery for Tasmanian addresses via online sales.