The West Winds' aged gin, Barrel Expedition II, was named the best matured gin in Australia. It also took out the top prize and a gold medal in its field at the second annual Australia Gin Awards.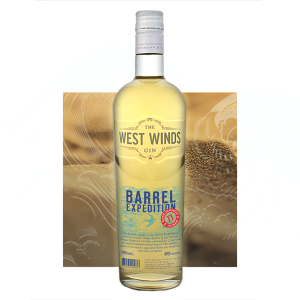 And now that I've tried it, it's pretty easy to see why. It's incredibly delicious, both straight and with a good quality dash of tonic or soda.
In fact, among the company I cracked the bottle with, it was quickly remarked that this may be the nicest gin they'd ever tasted. I didn't disagree.
The Barrel Expedition II, begins its life as The West Winds' limited release Captain's Cut before spending two years in an aged Australian-sourced Gewürztraminer barrel. And the oak is a welcome addition to the tastebuds, as it sends the palate on a magic carpet ride to something far beyond ordinary gin.
The crew at West Winds explain that while two years may sound long a decent amount of time for gin to sit in an oak barrel, due to its pre-use, the barrel takes its time to impart its mellow character on the gin and temper the peppery notes of native sage and thyme.
"We take great care to ensure that the barrels we use and the time our gins spend in the barrel creates a flavour profile that tastes like gin but has that extra special something from the barrel," West Winds CEO & Founder Paul White says.
At the dangerously affordable RRP of $85 it's fair to say this gin is going to make a regular appearance in our liquor cabinet. Long summer days in the garden can't come soon enough.