While technology is becoming more and more energy-efficient, heavy usage days are still going to drain batteries, whether it's a phone, a Kindle or a pair of trusty earbuds.
Belkin seems to have recognised this issue and is addressing it with a special value bundle that includes its SOUNDFORM Rise True wireless buds, and a 10K Power Bank to keep your tech going at the eleventh hour.
I've trialled a few earbuds at this stage and there's a certain uniformity to the operation of most of them.
The SOUNDFORM Rise True buds come in black or white and are sleek and stylish. Coming with a selection of different sized ear tips, they're adaptable meaning that you can swap at will to find the most comfortable fit for your ears.
They're housed in a compact charge case that is equipped with a USB-C port for the purpose of charging – using the included power bank, if you're so inclined. Otherwise, the case also charges on a QI pad which finally puts one that I was gifted to good use!
Control-wise, the buds are, as I said, fairly uniform. One tap on left/right bud decreases or raises the volume respectively. Two taps on either side pauses your chosen content, whether it's your Spotify playlist or a video stream. Three taps on either ear will restart or skip a song as per the bud tapped.
One thing I would say, and it's a comment that relates to pretty much every earbuds, is that your touch on the earbuds has to be very precise. The buds don't require a heavy touch, unlike others, they're similar to your phone's touchscreen so you won't be jamming them into your ears trying to skip to Corner Boy's new song (if you've never heard of them, look them up on Spotify).
The earbuds connect quickly and easily to your Bluetooth devices – mine are currently tied to my work laptop but swapping them to my phone is a simple and brisk process.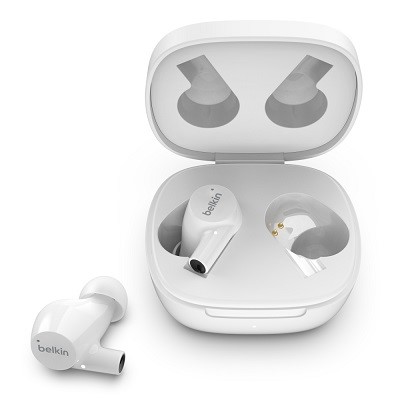 In terms of sound quality, you're not looking at noise-cancelling technology or anything of the sort but once they're in your ears, there's a certain element of sound isolation that makes them very effective in less noisy environments like your office or even public transport once you're not sharing it with a noisy stag party or something!
I haven't really used the microphones in the buds for phone calls, at least not for anything longer than a couple of minutes but the sound was fine and the person at the other end didn't seem to have any issues understanding or hearing me so, safe to say, they do the job.
The buds have about seven hours of life in them fully charged, with a fully charged case offering another 24 hours of operation. It's hard to gauge this because there are no indicators with the buds – no voice tells you, on wake-up, that your battery is high, low or otherwise. The small LED on the case flashes white and orange, the latter presumably a warning light.
And that's where the power bank comes in. This is a solid unit, with a little bit of heft to it. But fully charge, it's extremely effective and has fully charged an almost dead phone for me, and still leaving some juice in the tank for next usage.
It boasts two ports for connecting USB-A chargers to and can, itself be charged either through USB-A or USB-C, making it very versatile.
All in, the SOUNDFORM / power bank bundle is an excellent offering from Belkin for those who want a solid pair of earbuds and consider a decent power bank as a convenient extra. For the $120 price tag, this bundle is a bargain that will keep you connected long enough for you to get through your latest podcast.