The Beosound Stage from Bang & Olufsen has announced the first soundbar that brings its rich and powerful signature sound to almost any TV.
Beosound Stage is crafted with the ambition of creating a superbly deep and powerful soundbar, for everyone who wants an immersive cinematic experience from one single speaker.
"We created Beosound Stage as a powerful soundbar that doesn't rely on a subwoofer or satellites to create an immersive experience. The first time you hear Beosound Stage, the impact of the deep, powerful sound hits you immediately, and the simple minimalistic Scandinavian design makes it stand out like a piece of furniture. It is simply clean, elegant and powerful", says Bang & Olufsen vice president of product management Christoffer Østergaard Poulsen says.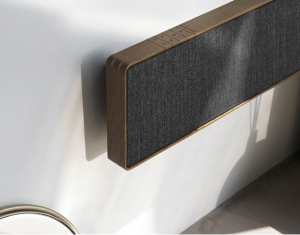 A soundbar created for the home
Beosound Stage is designed in collaboration with Danish studio NORM Architects as part of Bang & Olufsen's design strategy to humanise technology: Working with simple geometric shapes, using natural materials, Bang & Olufsen creates meaningful products that integrate beautifully into the home.
The focal point of the soundbar's design is its simple, elegant frame, which is available in natural aluminium, bronze tone aluminium or smoked oak.
11 custom designed speaker drivers
Beosound Stage comes with eleven speaker drivers, each driven by its own 50-watt amplifier, resulting in a 3-channel, fully active, DSP-based loudspeaker that satisfies even the most discerning listener.
 Dolby Atmos for 3D sound
Beosound Stage features Dolby Atmos, the latest evolution in multichannel audio. Dolby Atmos works by heightening the soundstage, giving the audio a three-dimensional effect. This allows individual sounds to be moved around, creating the impression of helicopters flying above you or items falling behind you.
Match your mood with ToneTouch
Beosound Stage comes with different listening modes, which are optimised for the material you are listening to. You can select from five different listening modes: TV, Music, Movie, Night Listening or None. After selecting the listening mode, you can then fine-tune the sound precisely to your taste using ToneTouch, Bang & Olufsen's playful and intuitive equaliser that allows you to feel your way through the sound settings and find the one that best suits the situation.
Music and multiroom streaming
As a perfect companion for the TV, or as a music system in its own right, Beosound Stage is compatible with the leading streaming technologies—Chromecast built-in, Apple AirPlay 2 and Bluetooth—which can be used when the TV is inactive, offering multi-room functionality.
Beosound Stage is available early November 2019.