I must admit that whenever I hear the phrase 'standing desk', my mind goes to one of two places. The first is 'corporate wanker'. The second? 'Someone really needs to rein the hippies in'.
But when the folks at Varidesk contacted me to see if I would be interested in reviewing one of its manual standing desks (the Varidesk Pro Plus 36) I found myself strangely intrigued.
I had heard about the health benefits. Standing desks have been shown to:
lower your blood pressure;
reduce the risk of cardiovascular disease;
reduce the symptoms of lower back pain;
improve your posture; and,
they burn around 50 additional calories an hour while in use.
By standing half of your working day (i.e. four hours out of eight) you'll burn 200 extra calories a day, which is 1,000 per week or 52,000 each year. That is the equivalent of very specifically running 18.71 marathons.
But I was also convinced that standing desks were but a passing fad, so of course I said 'yes, I'd love to try it'.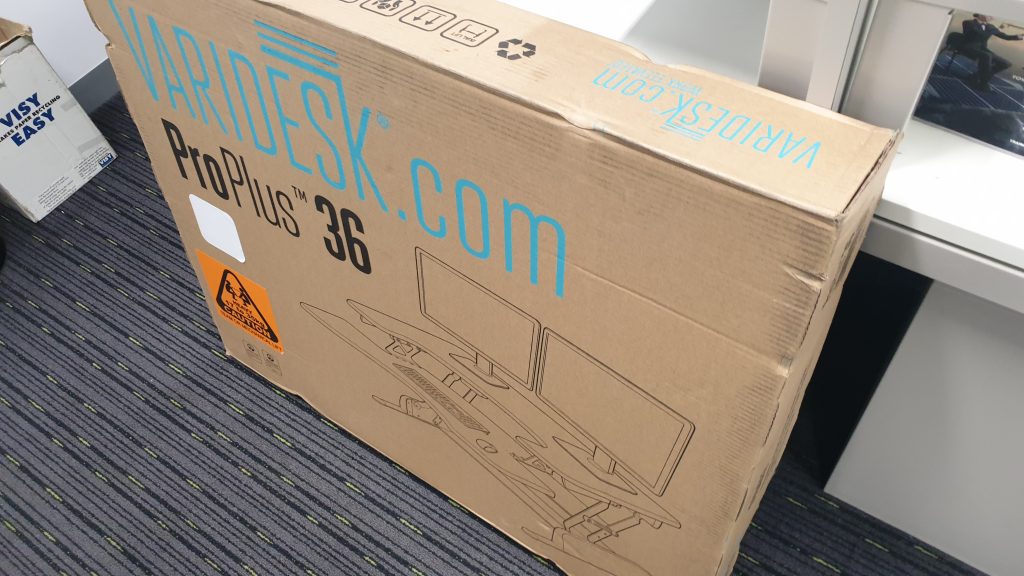 A few days after that conversation, a box turned up at the office that was, quite unexpectedly, incredibly heavy. The thought hadn't occurred to me that in order to balance potentially expensive electronic equipment the desk itself had to be weighted.
WHAT IT IS
The Varidesk Pro Plus 36 takes you from sitting to standing in under three seconds and it comes fully assembled with no installation needed. It simply slots on top of your normal desk.
SETUP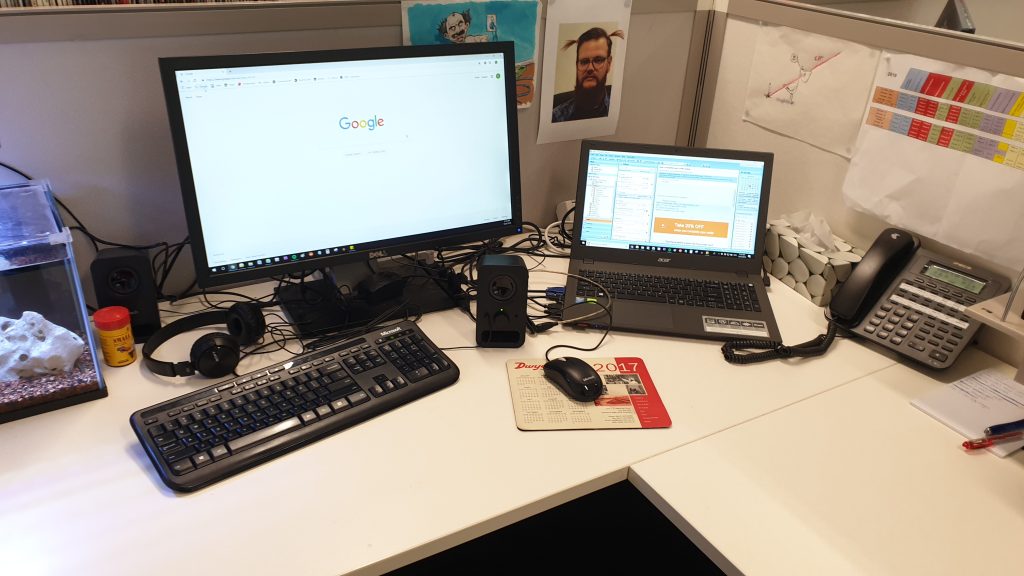 Now, I am a creature of habit and for the past seven years, I have had my desk set up in pretty much the same fashion.
Further, I don't like change, nor do I like clutter. So the idea of moving things on my desk and then adding a large piece of equipment caused a smidge of anxiety.
But, I pushed forward (because I'm a hero). I cleared off my desk and readied it for the new stand.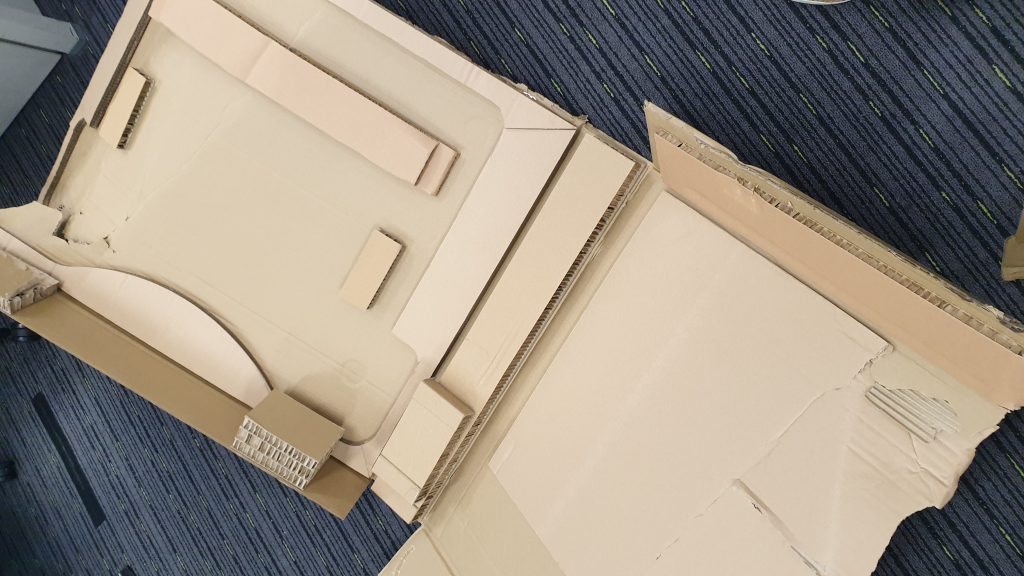 Interestingly, the most difficult part of the entire installation process was getting the stand out of the box. It took two of us to get it out of its packaging. That was one seriously good box.
Once free, I placed the stand where my computer formerly sat and then went about setting everything back up. It was incredibly simple but as soon as it was finished, I realised it was in the wrong place. My network cable no longer reached my computer and my phone would move under the stand whenever it was raised, resulting in the phone being crushed.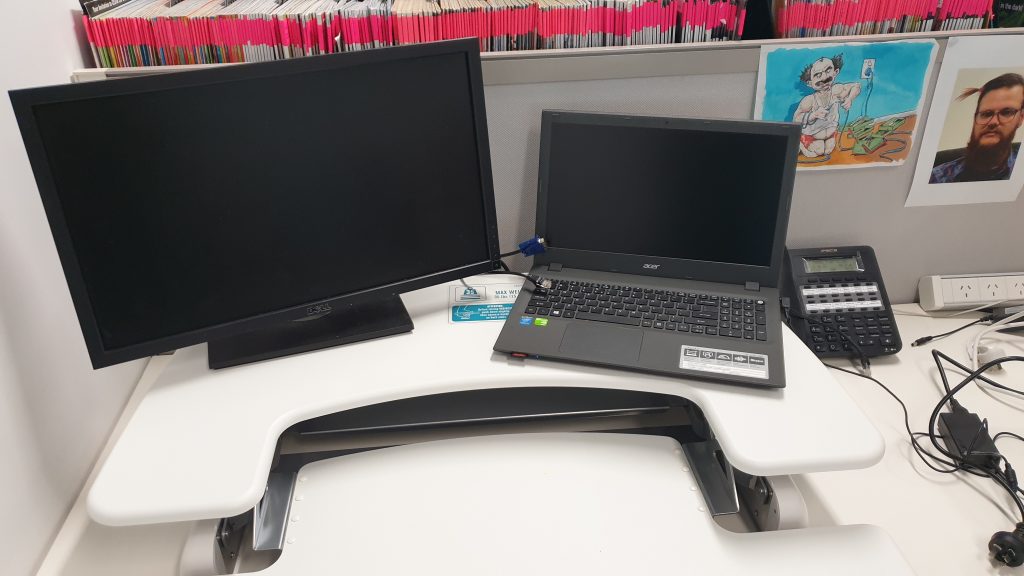 So once again I cleared off my desk and rearranged the furniture. (While the stand is now in place and operational, I'm not convinced it's the right layout yet.)
IN OPERATION
In use, the Varidesk Pro Plus 36 is very easy to operate. Two paddles – one on each side of the top shelf – lock the stand in place or release it to elevate the platform.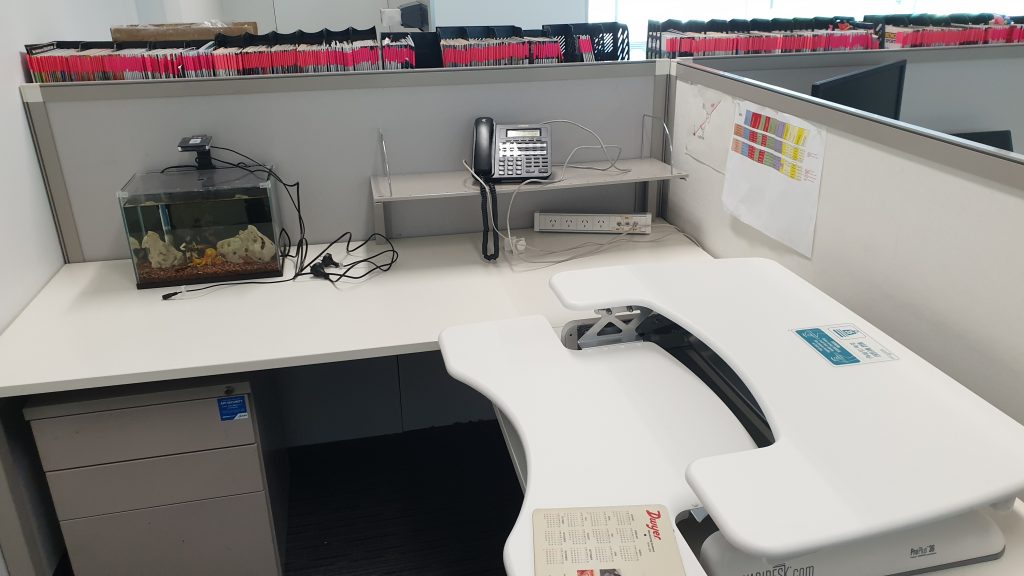 Lifting the platform requires very little force, and the stand moves easily and quietly.
The first time I raised the platform, I did feel a bit self-conscious. I felt like I was spying on all my colleagues, despite fundamentally not caring about them or what they do.
But that wore off and then I actually started to enjoy standing and writing. And I did so every day that week.
The next week, following a rough weekend, I seemingly forgot that I had the new desk and it wasn't until the Thursday that I used it again. Now, I might use it once a week.
CONCLUSION
First, I must say kudos to the box maker. Whichever company made the box in which the Varidesk was shipped is doing a top notch job.
As for the Varidesk itself, I must admit that I'm surprised how much I have enjoyed using it. And when I'm not using it, I'm surprised by how happy (read: smug) I feel when I remember that I have one.
Yes, I wrote this review while sitting down but as soon as I'm done I think I might stand up.
The Varidesk Pro Plus 36 is available in white, black or dark wood from au.varidesk.com.