Thinking back to my youth, I can vividly recall that part of the night where we would be at a friend's house and the men would adjourn from the backyard (where the BBQ was held earlier that day) to the inner sanctum of the dwelling. Terms like Secret Men's Business were tossed about, as was the latest Larry Pickering calendar most likely.
Although the concept of a home-based man space is not a new one, topics like man-cave, man-rooming, man-cubby and even doghouse are now becoming as common as conversations about the weather and fuel prices in some work places.
It was in such a conversation where it was raised that cars have been the timeless man space for many guys across our fair land. True enough that if you lived in a rental property or were in a job that demanded regular moving, the only constant might well be the inside of your car. So much so, that when we purchase a new car (even only for commuting purposes) we will ultimately sit in it and say to ourselves, "Well … how do I feel about this? Could I live with this?"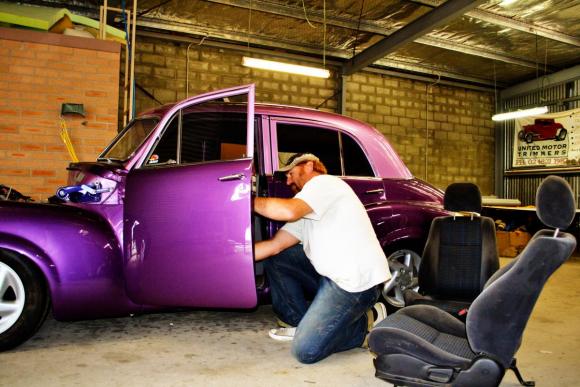 Having spoken to some different hot rod and classic car owners over the last few months, there was a fairly consistent consensus: an inside trim job was inevitably customised to the owner's requirements. It was a very personalised thing – a reflection of their personality if you will.
Talking to those who have had it done is one thing, but talking to the actual trimmer is another. So in the name of leaving no stitch un-picked, I grabbed photographer Zach Duncan and we headed on down to the local upholsterer to see what Big Steve from United Motor Trimmers thought about the mobile man space.
The driveway could have been any shed in any industrial area in the country, but when we spied the picture of the red hot rod on the signage we knew we were about to enter somewhere special. I'll confess upfront that I was hoping to see a real one when we got inside and – much to my delight – he was working on a custom Holden at the time.
Big Steve stepped out to meet us and it was immediately apparent why he's called Big Steve. He must be six foot four at least and made us feel like a couple of Oompa Loompas…
Once I stopped trying to work out how hard it would be for him to work inside those little spaces, we got down to the nuts and bolts of it (…or is it needle and thread of it?).
Steve explained that the ground-up restoration of any car comes with so many personal choices that it can be hit and miss. The key difference, he believes, is that while the exterior paint job (along with wheel choice) is the element that you present to the world, the interior trim is the part that you have to spend most of your time in – therefore, the aesthetics and comfort have to dance nicely together.
Much like getting a haircut, whereby you give the barber an idea of what you want and hope that he comes up with something you like, the trim desired usually starts out as a verbal explanation from the customer who has a loose idea of what they want. Sometimes this works really well, but other times the customer hasn't thought out the project completely or isn't fully aware of what they are really starting with.
Steve told us that he'll regularly get a customer in the shop planning to have their 'original' car restored, leading to an awkward moment where Steve has to gently break it to the customer that the seats in their supposedly 100% original 1957 Chevy are actually out of a 1970 HG Holden…
Another trimming frequency seems to be the desire for leather – with little understanding of how it works.
"Some people come in and they haven't really considered that leather comes by the hide and not by the metre on a roll," he says.
"What they also forget is that just like any improvement in the automotive industry, the vinyl that you can buy now is so close to leather that most people can't tell the difference anyway. Gone are the days of those old, hard, cracked seats that used to be in older cars."
We started to get a far better understanding of the 'personal preference impact' as he showed us a few examples of the many, many colours available in trim leather, vinyl, weave and numerous other types of material (that I hadn't heard of …  though I still nodded in a manly fashion as if to make out I did). Point being, this isn't a case of saying 'red, blue or yellow' anymore.
Steve showed us a few happy-snaps to demonstrate just how hard it can be to trim from scratch. The before and after pictures you can see with this article really do tell the tale of what is hidden behind the scenes.
"Some bits can be hard to trim around, but nothing is impossible," he says, "and while trim can be expensive, ideas are still free!"
One of the coolest jobs he did was a custom canvas annex that he made for a 1968 Ford Wagon.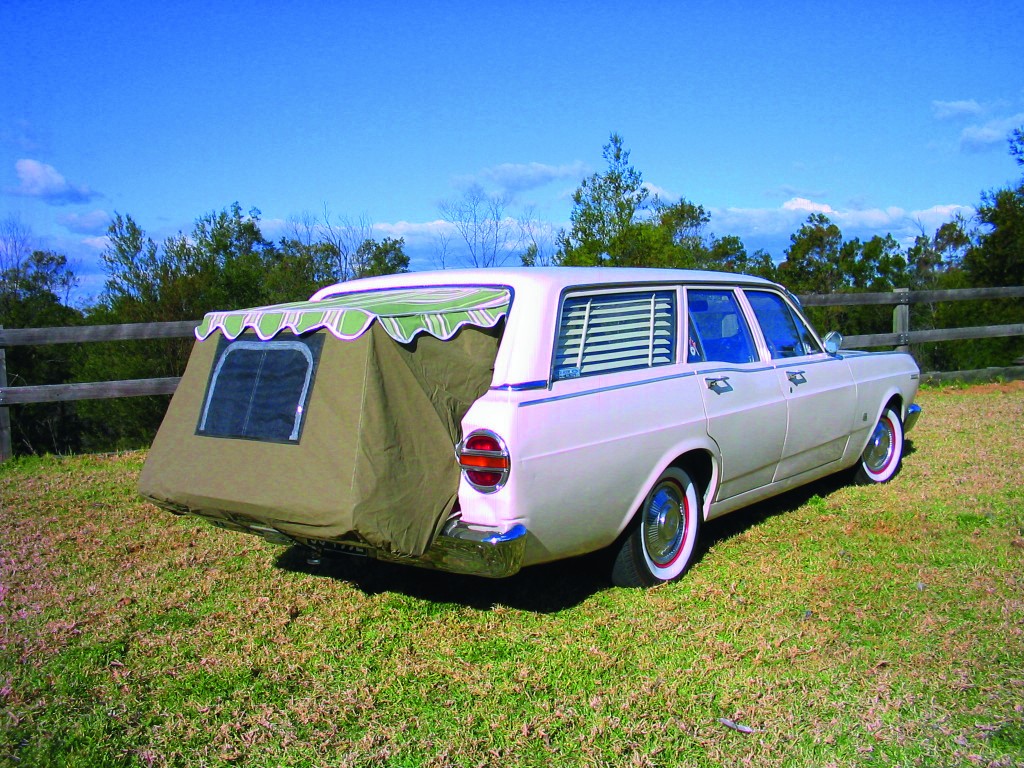 "I know it is reminiscent of the Torana's Hatch Hutch, but it looks like it might have been a period thing. All I did was trim to period, and that is something that people need to think about too. The age they wish to present will often help them determine the trim choice."
When asked what advice Steve had for anyone who was deliberating over a new trim/paint/wheel scheme, he had this to say: "Go to car shows and look first-hand. Often you will see the same model of car at any given show in a multiple range of colour, trim and wheel combinations.
"Naturally the internet has a lot of photos, but you can't stick your head in a photo and you certainly can't walk around it and talk to the owner to find out where it was done and how much it cost.
"Most of all – listen to your trimmer. Whoever trims your car will have done more trims than you have, so heed their advice. If you propose a trim colour scheme or concept that is a bit how you goin', the trimmer will gently steer you away from it in most instances. At the very least, try to remind yourself what happened last time you tried to cut your own hair. That should do the trick."
We walked out of there laughing and I ended up thinking to myself that I guess what my mum initially told me was right – it is what's on the inside that matters.
Yours Aye,
The Larrikin Laird.