In any man cave it is important to utilise the area and fill it with items that interest you. There are a few common themes that appear in many man caves that you should consider incorporating in your own space.
If you enjoy the occasional tipple, then the first thing you'll need is a fully stocked bar – and it can be far more impressive than just a little fridge in the corner with a bar runner mat on the bench. Across many of our residential and corporate projects we have seen how smart technology can make a bar more impressive. This includes automated lighting systems and integrated iPad control to keep you informed of your liquor supply and of your patrons drinking preferences. You can also include security to help protect your top-shelf bottles.
But if you want a really simple and cost-effective way to impress your mates, consider learning how to make a great range of quality and interesting drinks – and this is where technology can really help.
Once you have stocked your bar with all of the essentials you can use a smart phone app to unveil a world of mixed drinks and beverages that can have your friends thinking you are the greatest bartender.
There is whole range of apps on alcoholic drinks and bars but the following are my top three bar apps:
Top Shelf (iOS)

Top Shelf, for the iPhone, has hundreds of recipes organised into categories and types to make it easier to search and find drinks for you to mix up in your man cave. You can add personal notes to any recipe that you find, which makes it easy to tweak a specific recipe to suit your tastes, and the app also allows you to add in a list of the spirits and mixers you already have in your bar so you can search for drinks that only require items that you already have. Finally, when you find a recipe you like, you can add it to your favourites.
Price: Top Shelf is $0.99 in the iTunes App Store.
Liquor Cabinet (iOS)

Liquor Cabinet features a rich database of drinks and recipes. The difference with Liquor Cabinet is the app's interface. The app is nostalgic and looks like a liquor cabinet from the 1960s. The features of this app includes the ability to fill in your own home bar or liquor cabinet so you can filter and search by recipes you can make with what you already have, and the ability to make notes on the recipes you do find. The app also allows you to search for drinks you can make with one or two additional ingredients so you can try something new, or build a shopping list based on the things you want to buy.
Price: Liquor Cabinet is $0.99.
Drinks Master (Android)

Drinks Master has a database of over 12,000 drinks, cocktails, shots, punches, and non-alcoholic drinks. Each recipe will show you quantities of ingredients required to prepare the drink and the type of glass you should serve it in. You can search by ingredient or by type of drink, and you can add drinks you enjoy to your favourites list so you can get back to them quickly. If you find a drink that you like, or an ingredient you really want to use, you can tell Drinks Master to show you more drinks with the same ingredient.
Price: Drinks Master is free.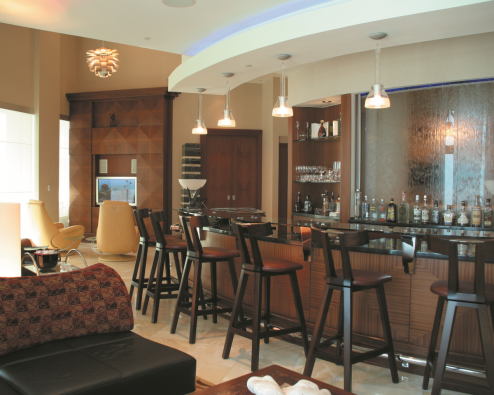 Now that you have found the perfect drink to help you unwind in your man cave, the next thing to set the mood is some music.
For many of our clients we have installed the SONOS music system which allows them the freedom of playing any song from the internet straight to any room in their home. The great benefit of this system is the ability to zone various areas of the home so that while you can have ACDC blaring in your man cave the kids can be listening to The Wiggles in the toy room. For more information on SONOS visit their website www.sonos.com
One of the last instalments to create your retreat is a flat screen TV. This will allow you to enjoy watching your favourite programs with no distractions. Below is a list of my key tips to help pick the right flat screen TV.
Pay attention to resolution – if you want true HD quality and enjoy the extra details, you should always look for 1080p TVs. This means it can support resolutions up to 1920×1080 pixels and for you this means that you can watch live sports with no drag.
TV Brand – people generally stick to a brand that they have had a positive experience. If you find a TV from a brand that you have never heard of packed with features, my advice would be to steer clear as they may not have a customer support network or legitimate warranty.
Price – It is important to know what you can afford and work within that range. This may mean having to settle for a smaller sized television with higher quality.
No matter how you decide to decorate your man cave just make sure it reflects your personality and interests, because that's what the space is all about.
If you have any questions, you can contact me via Twitter: @lior_rauchy