There is one thing that can get a sports crowd going more than a boundary line goal, a length of the field try or a six over the grandstand. And it's when an idiot (or legend depending on how you see it) decides to get their gear off and go for a mad dash on the field.
This list contains a shoulder charge, a couple of face-plants, a number of spear tackles and a whole lot of flesh.
Here is the top 10 streaking moments in Australian sporting history.
10. The cartwheeling streaker
At times test cricket can be boring. This 1989 test match between Australia and England was anything but when Sheila Nicholls came bounding onto the pitch in her birthday suit. She went on to become a pretty popular singer-songwriter. She certainly won a few fans that day.
9.Terry Alderman dislocates his shoulder tackling a pitch invader
Terry Alderman would roll his arm over a fair bit as a medium-fast bowler for the Australian cricket team but he wasn't expecting his arm would be rolled over quite like this. In the 1982 test match at the WACA, Alderman sustained a shoulder injury while tackling a pitch invader that left him out of the game for over a year.
8. Serial streaker Wati Holmwood
This wouldn't be the last time that serial streaker Wati Holmwood would streak at a rugby game. The big fella doesn't mind getting his kit off in front of thousands of people.
7.The 1989 VFL grand final Batgirl streaker
You don't need Superman's x-ray vision to appreciate this clip. In the 1989 VFL grand final, a masked woman took to the field in this Batgirl outfit that left little to the imagination. She's just having a bit of fun….why so serious security guards?
6. 'Serial pest' Peter Hore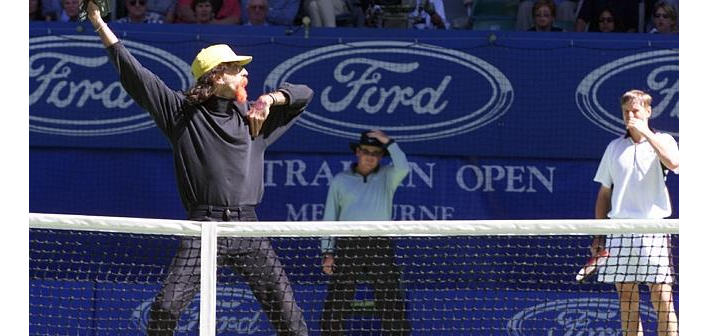 He's the man labelled a 'serial pest'. Peter Hore has made a habit of disrupting Australian social events, most notably the Melbourne Cup in 1997, Australia's world cup qualifier against Iran in 1998 and the Australian Open in 2000. When asked why, Peter simply said he wanted to be on the news.
5. Greg Chapell spanks a streaker
The 70's was arguably the golden age of streaking and by 1977 Greg Chapel had just about enough of it. A streaker who ran out onto Eden Park during a test match between Australian and New Zealand got a public spanking by the Australian captain. Reminiscent of what some of us would have experienced as a child from a mother, I think this streaker learnt his lesson.
4.The buck's party streaker
To see horses galloping down a stretch is quite the site to see…not so much this ghostly white portly fellow. This gentleman was at his own bachelor party with 26 of his mates and thought it would be funny if he was a late inclusion to the horse race. Race stewards at Moruya race track didn't find it as funny as his mates as the results of the race had to be scraped. I wonder what his soon to be wife thought.
3. Helen D'Amico at the 1982 grand final
The 1982 grand final was on a knife's edge. Carlton just scored to put the blues one point in front in the third quarter.  Stripper and Carlton supporter Helen D'Amico decided she would break the tension by going on a naked romp on the MCG turf.
2. Andrew Symonds bowls over a streaker
Cricket players aren't necessarily known for being particularly burly blokes but if you didn't want to crash into one Australian cricket player it would probably have to be Andrew Symonds.  That's exactly what this streaker did in the 2008 ODI cricket final between Indian and Australia.  No prizes for guessing who came off second best.
1.Wati Holmwood face-plants into history at the State of Origin
State of Origin is one of the great sporting events Australia holds dear. But Wati Holmwood couldn't hold his pants up and ended up face-planting naked right in the middle of the action. The mad dash in front of the 83,000 strong crowd resulted in this serial streaker being sentenced to two months behind bars. His antics resulted in a Queensland try being disallowed.  However, the funniest part of this video is probably Justin Hodges having a bit of fun with the ref; the face-plant is pretty great too.