We've come across some pretty sweet spaces around the country over the years so we've come up with our top 10 ManSpaces thus far.
Enjoy.
10. LEGGO LAND
John Leggo knows what he likes and he definitely knows how to display his assets. Leggo Land, as his space is aptly named, is actually John's second man cave, so he's had some practice. The reincarnation of Leggo Land in Traralgon is nothing short of spectacular and it's hard to imagine that the area where the garage sits was scrubland only 10 months prior to our interview with him. It's a big achievement and we quickly learnt that it reflected John's character as a whole.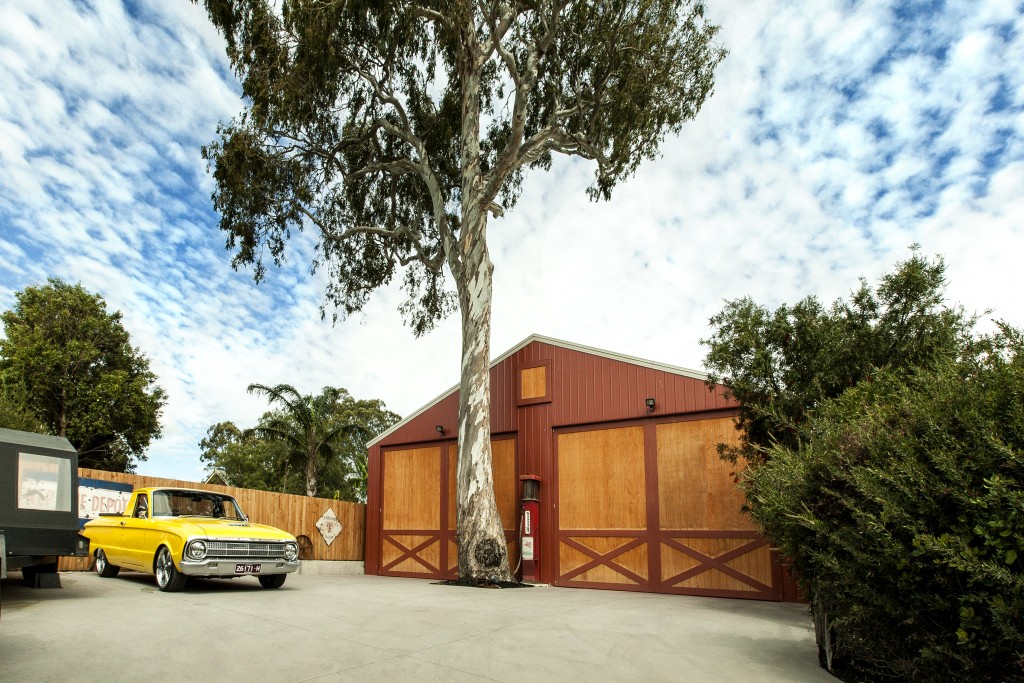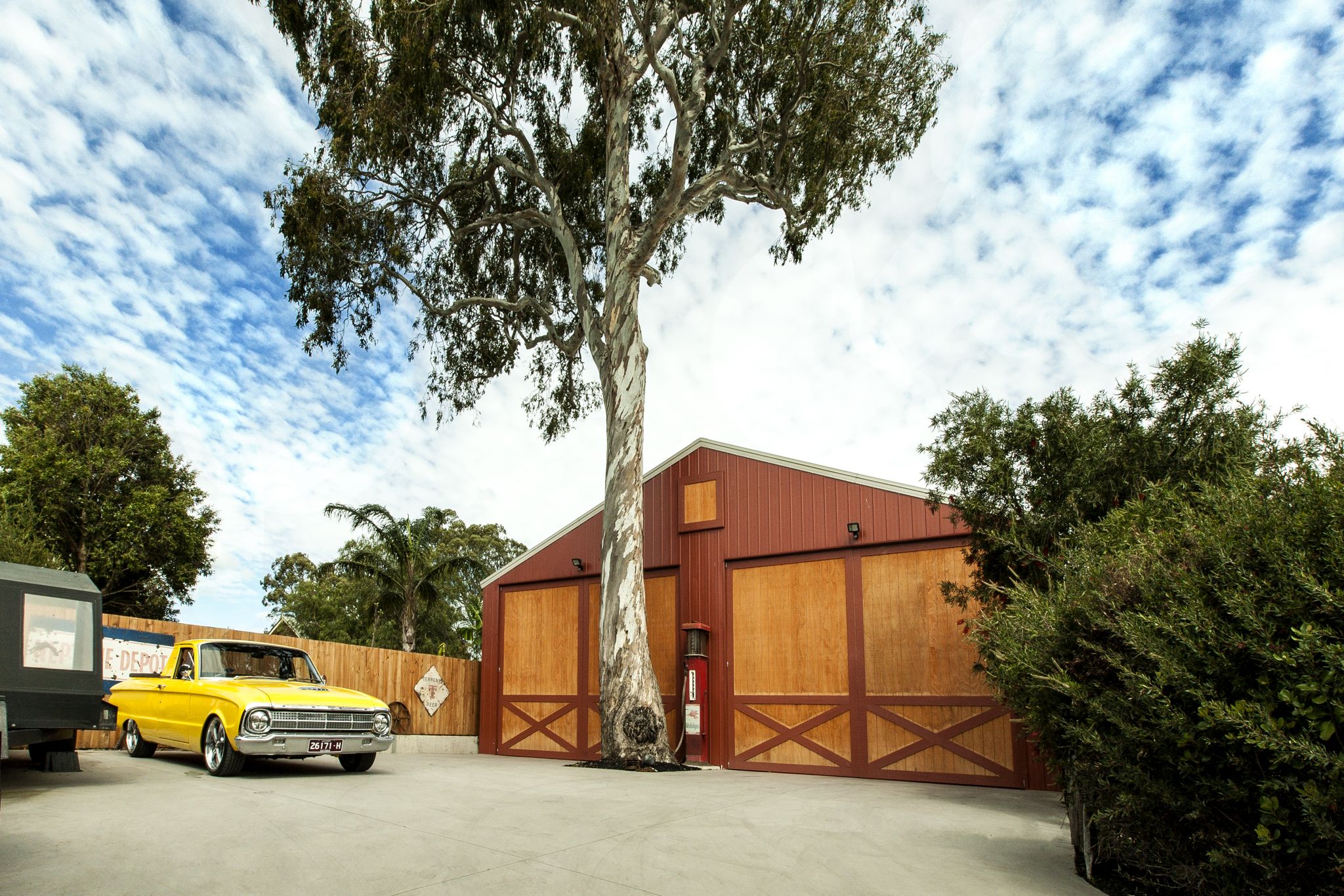 From the exterior, Leggo Land looks more like a barn than a garage but don't be mistaken – there's no hay or livestock in here. The cars reign supreme and there are eight of them sitting side-by-side. They're all Fords and each one is as pristine as the one beside it.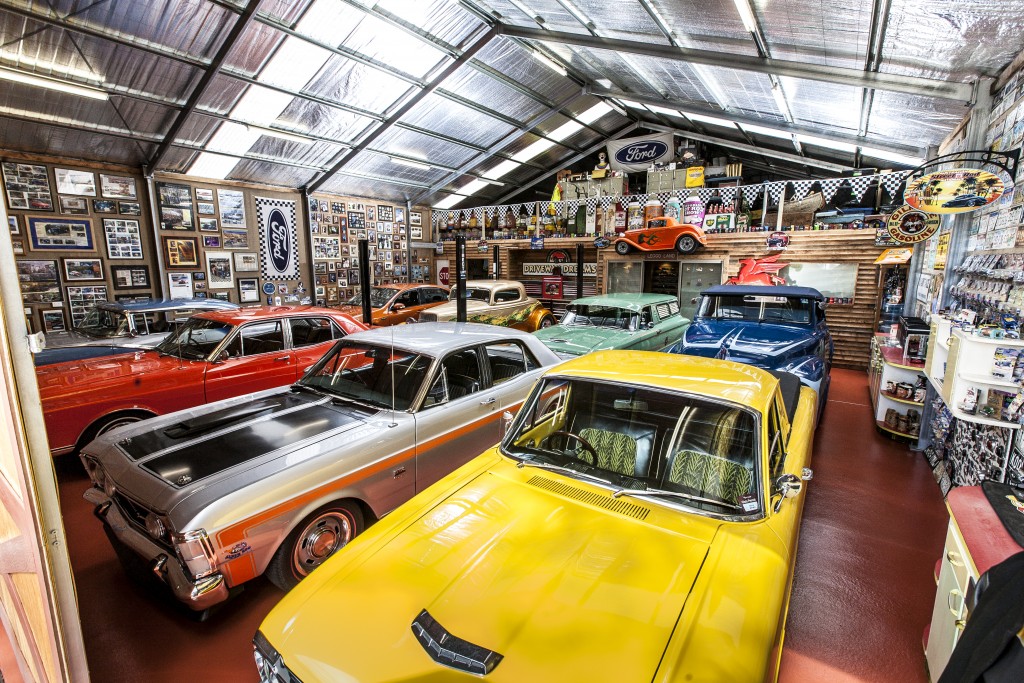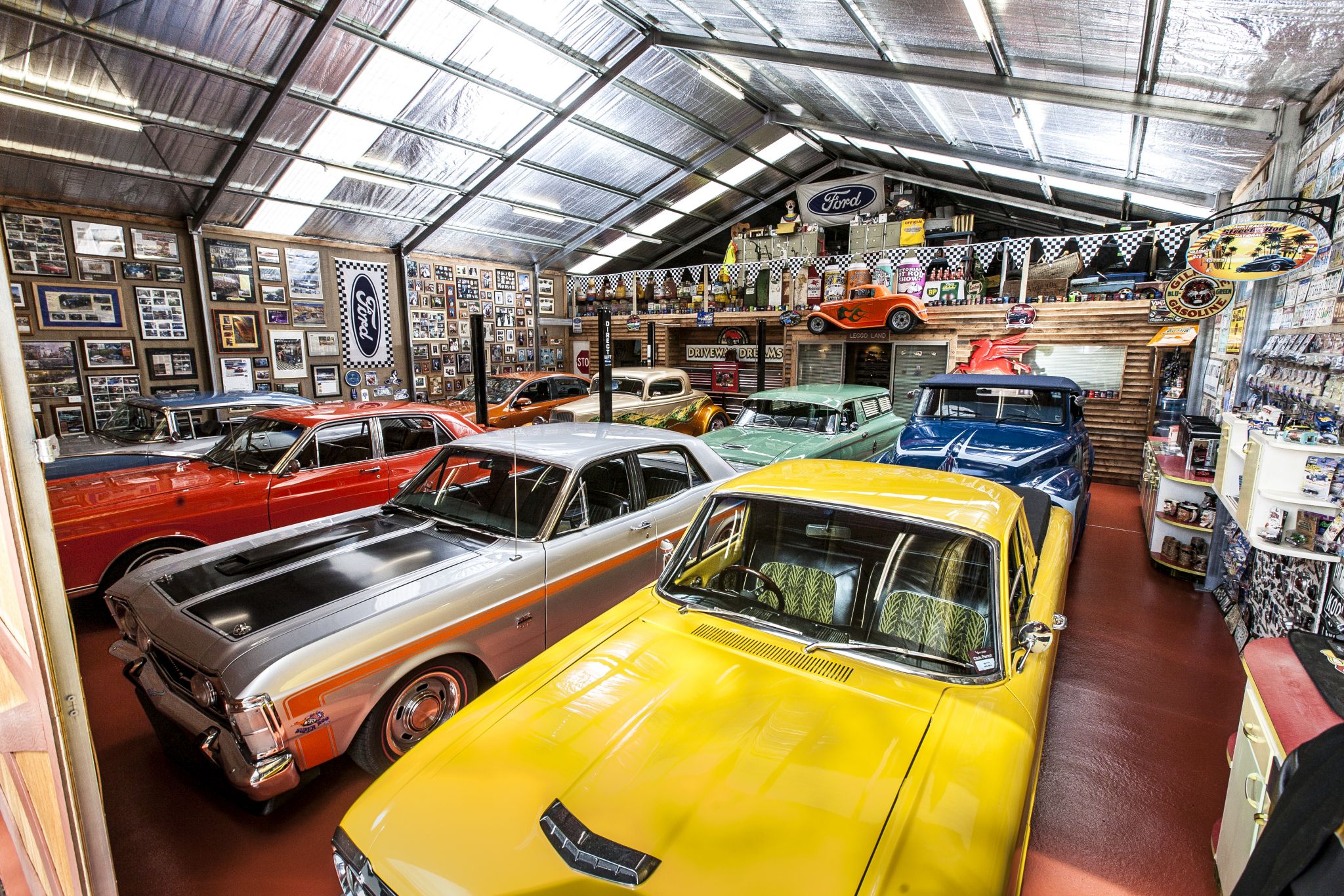 The walls are covered in number plates, signs and framed photos. You could eat off the floor and there's enough bling around to make Paris Hilton jealous. A wall and sliding door demarcates the showroom from the man cave which houses hundreds of model cars, a bar, lounges, a TV and more memorabilia. The model cars are displayed in custom cabinets and are divided into sections according to make or type.
The place is magic, seriously… just look at it.
9. HADFIELD'S HOT RODS
His name will resonate loudly among Australian Hot Rod enthusiasts. The man is a legend after all and with such a roaring passion for the unique vehicles, it seems fitting that the bloke who made street rodding famous in this country shares his name with his passion. We are of course talking about Rod Hadfield.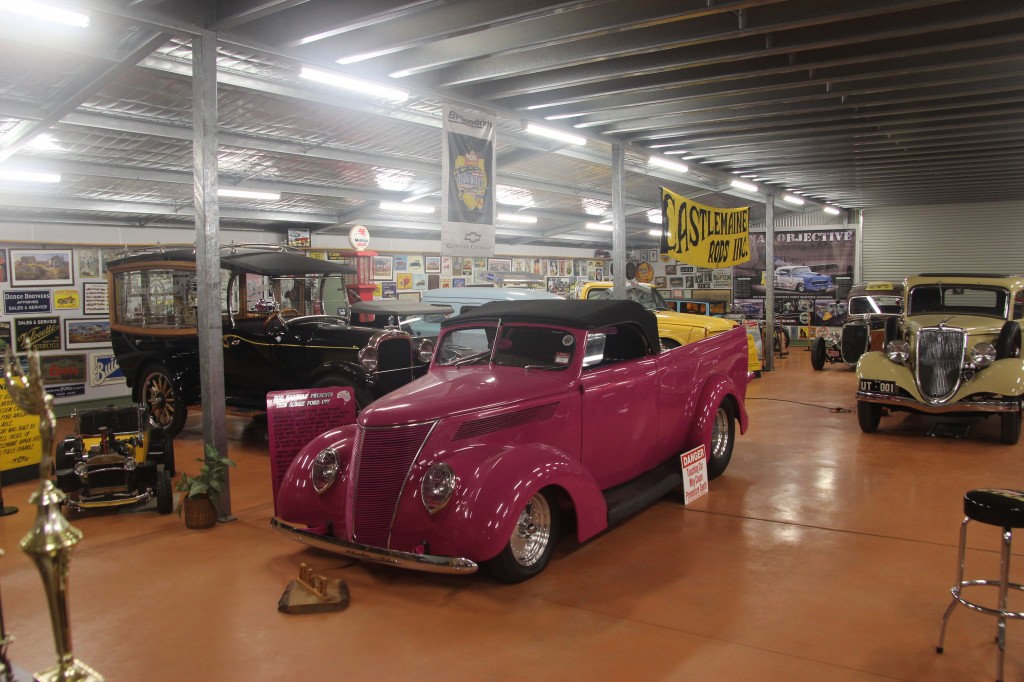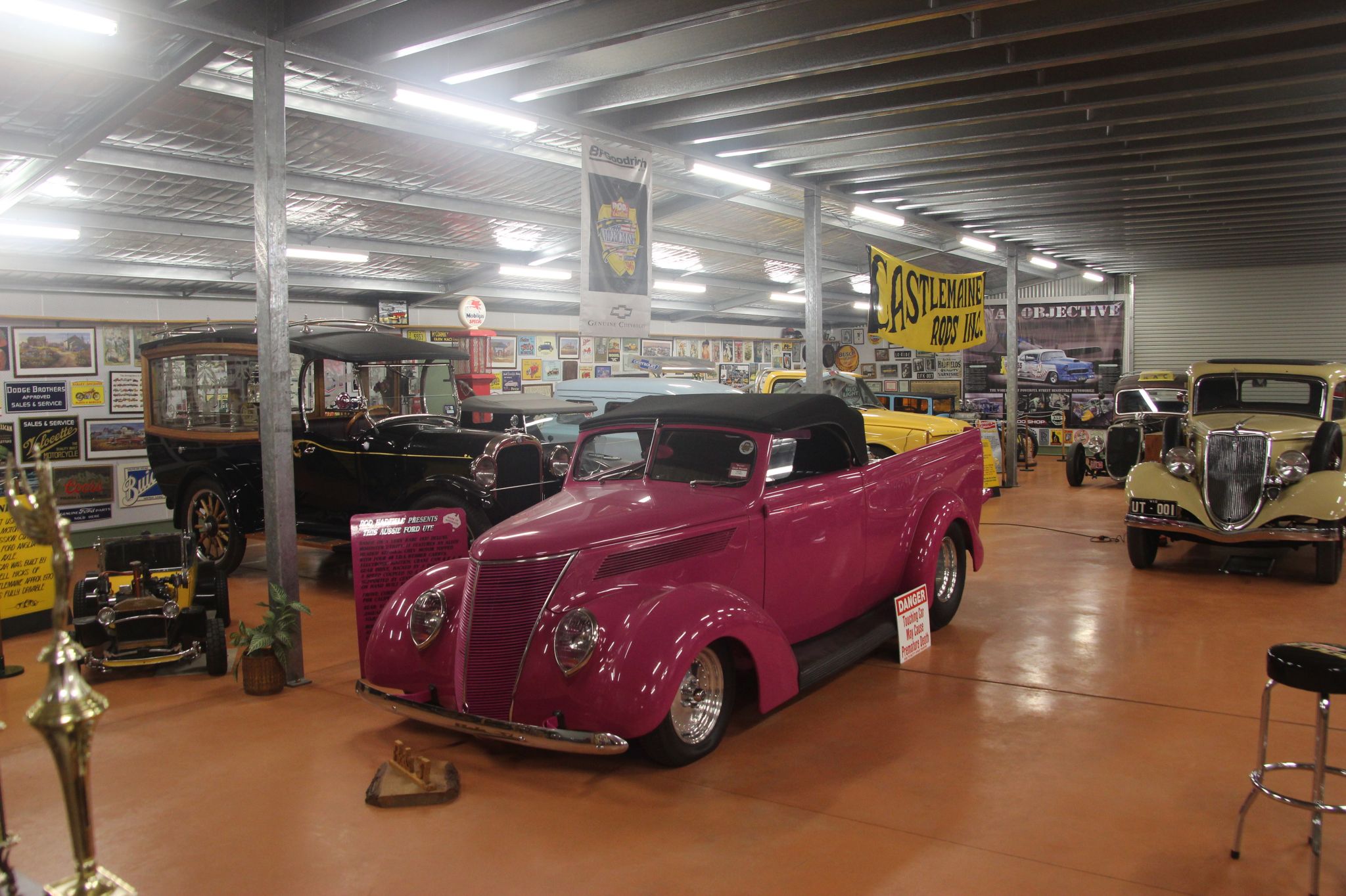 It's not just his history with hot rods that's impressive either… his shed is a sight to behold as well.
"It's a custom built shed that we built ourselves over the space of 12 months. You can't buy something like this, you have to make it," Rod explains.
The entrance is graced with the largest root beer collection in the southern hemisphere. Bottles have been sourced from around the world since the goldrush days and Rod can't get enough of the stuff.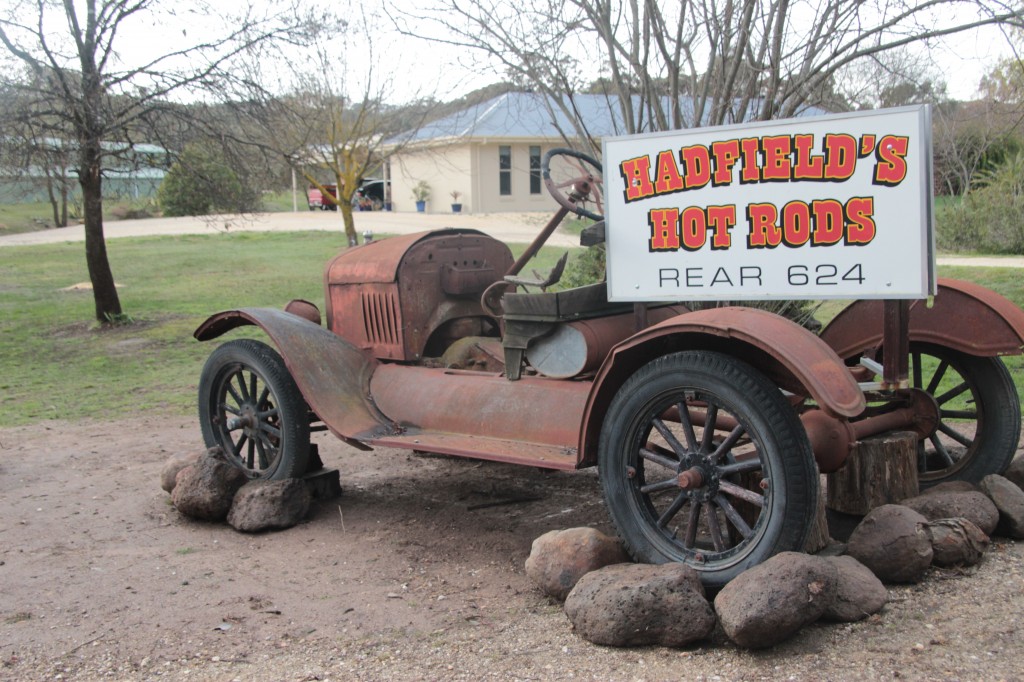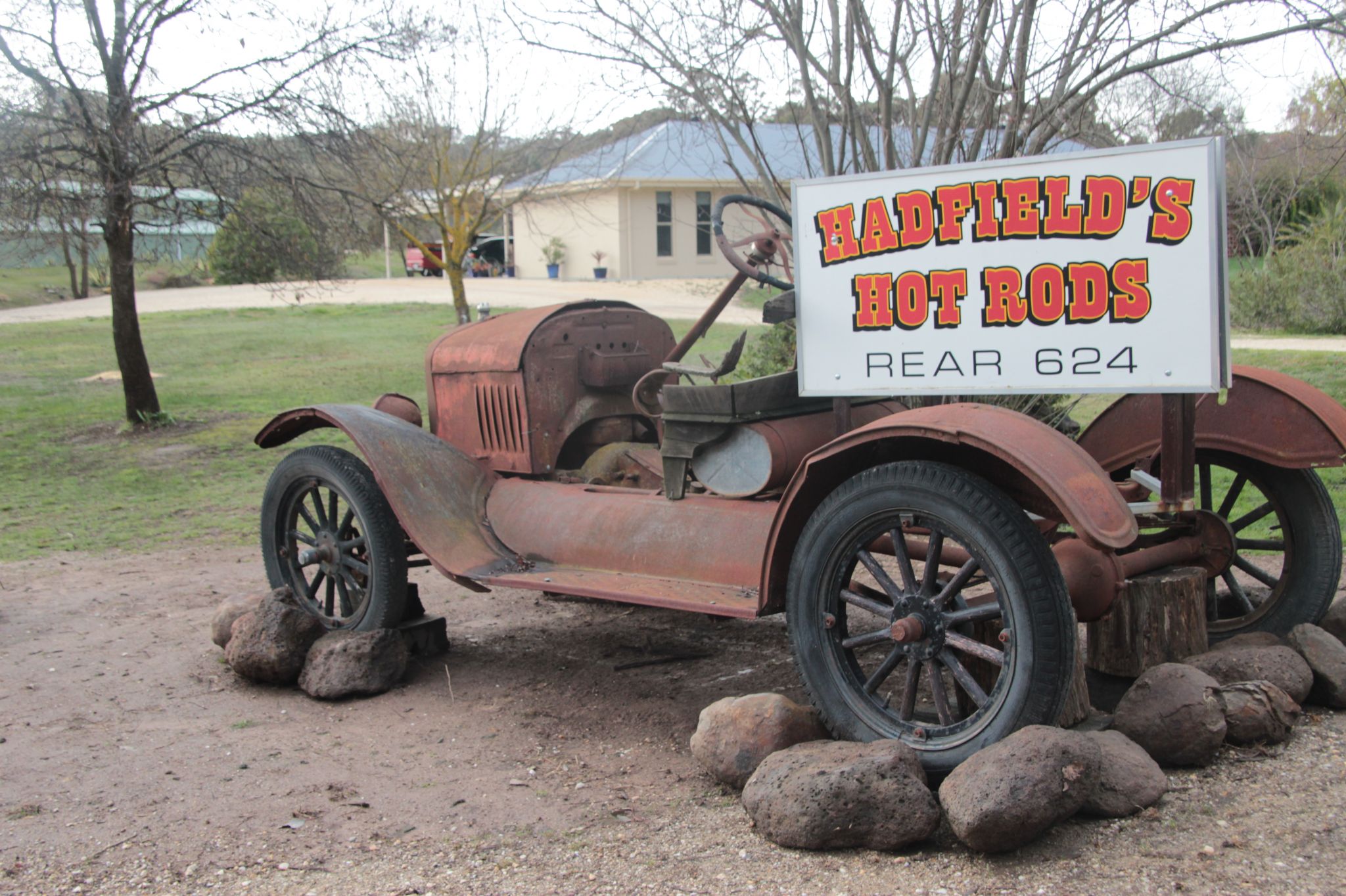 The main section of the shed is divided into two spaces. One half makes up the workspace while the other is an impressive showroom. It feels a little more like a Hot Rod museum than a personal collection. Over a dozen cars sit atop the floor and each with its own story to tell. There are posters and Hot Rod memorabilia adorning the walls, flags hanging from the ceiling and trophies on a stand. Everything has its place and it isn't messy or cluttered. The shed is impeccable and Rod is happy for people to come around for a look. "If I'm here, I'm open – it's not a business but a private collection."
8. VINTAGE APPEAL
TJ Guzzardi paints custom signs that are easily recognisable to the trained eye. Over the years he's developed his own style which is uniquely different to other sign writers and it is an art form that he taught himself.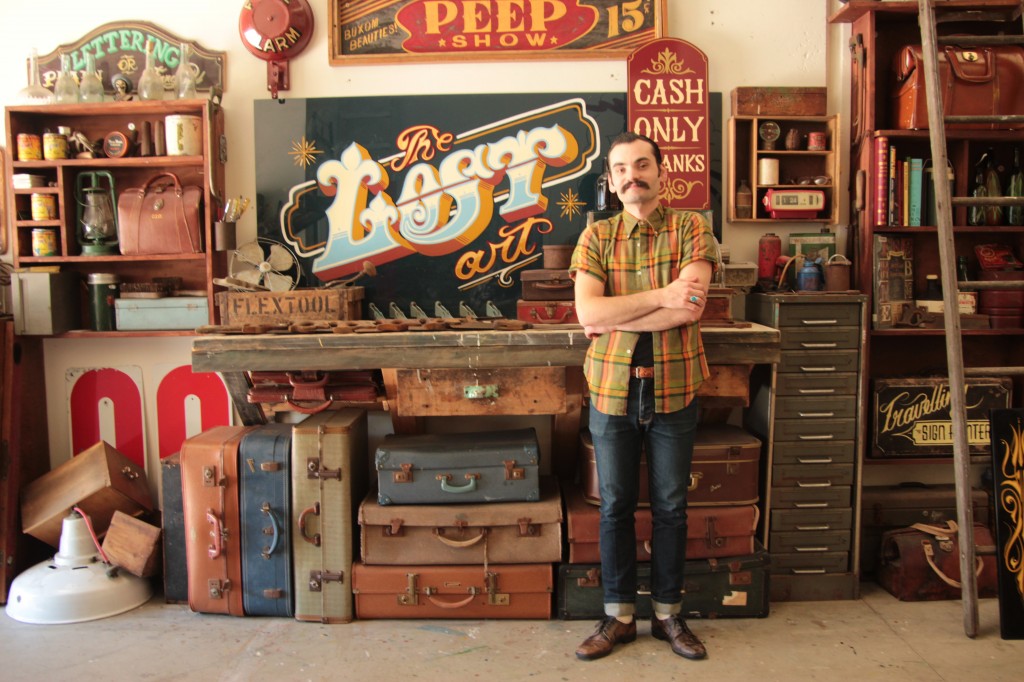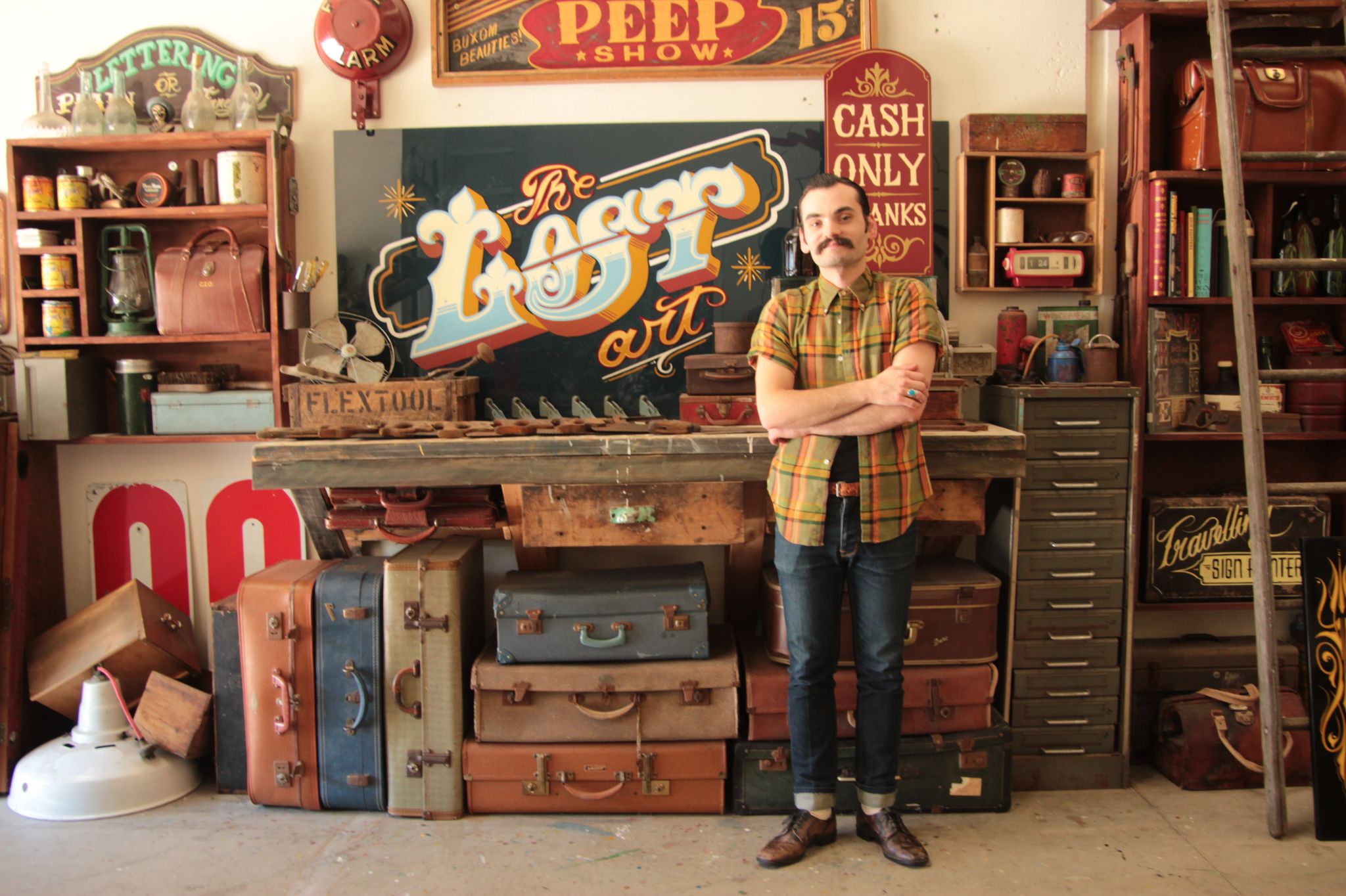 His studio or 'cave' as he refers to it, takes up the better part of the bottom floor of his factory in Tullamarine, Victoria. It is located in an industrial park but it's off the main street so it's well hidden from passers-by which suits TJ just fine.
It's an eclectic space and very much reflects its owner. The walls are lined with hand painted signs, paint tins, cutting saws and a collection of vintage trunks among other things.
"I didn't plan this space. It begun with my original work bench and then I started adding stuff around it. Once I bought the cash register it was all over from there – I just kept collecting. A lot of this stuff I've found around town or during council clean up. As long as it suits my style and my place, I'm happy to collect it. My favourite things are the trunks though and some are brand new. I don't think some people really know what they're throwing out.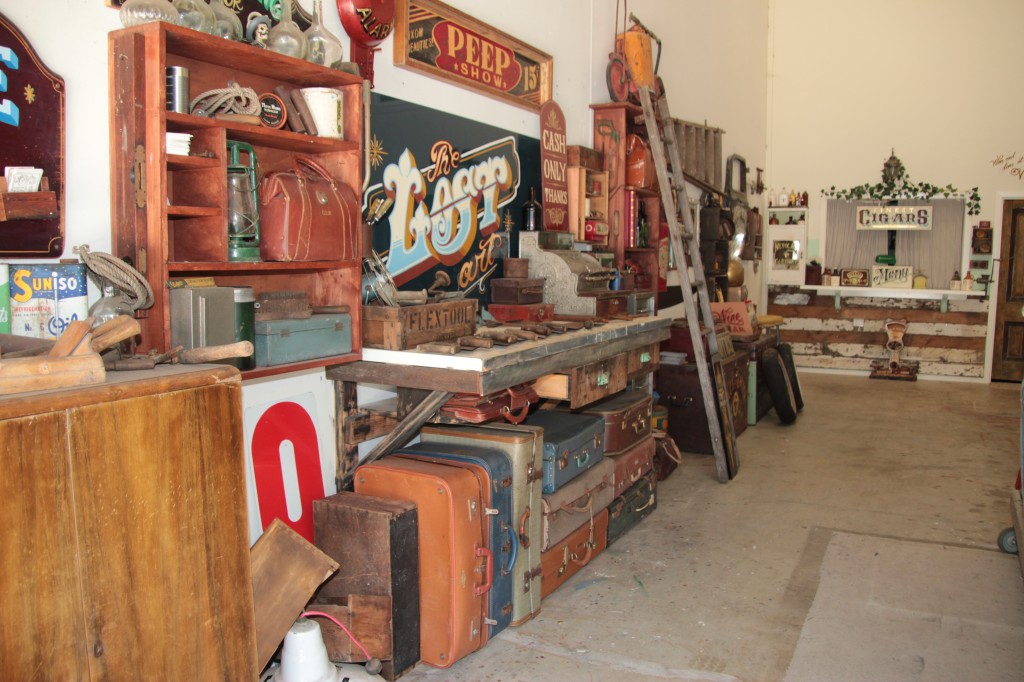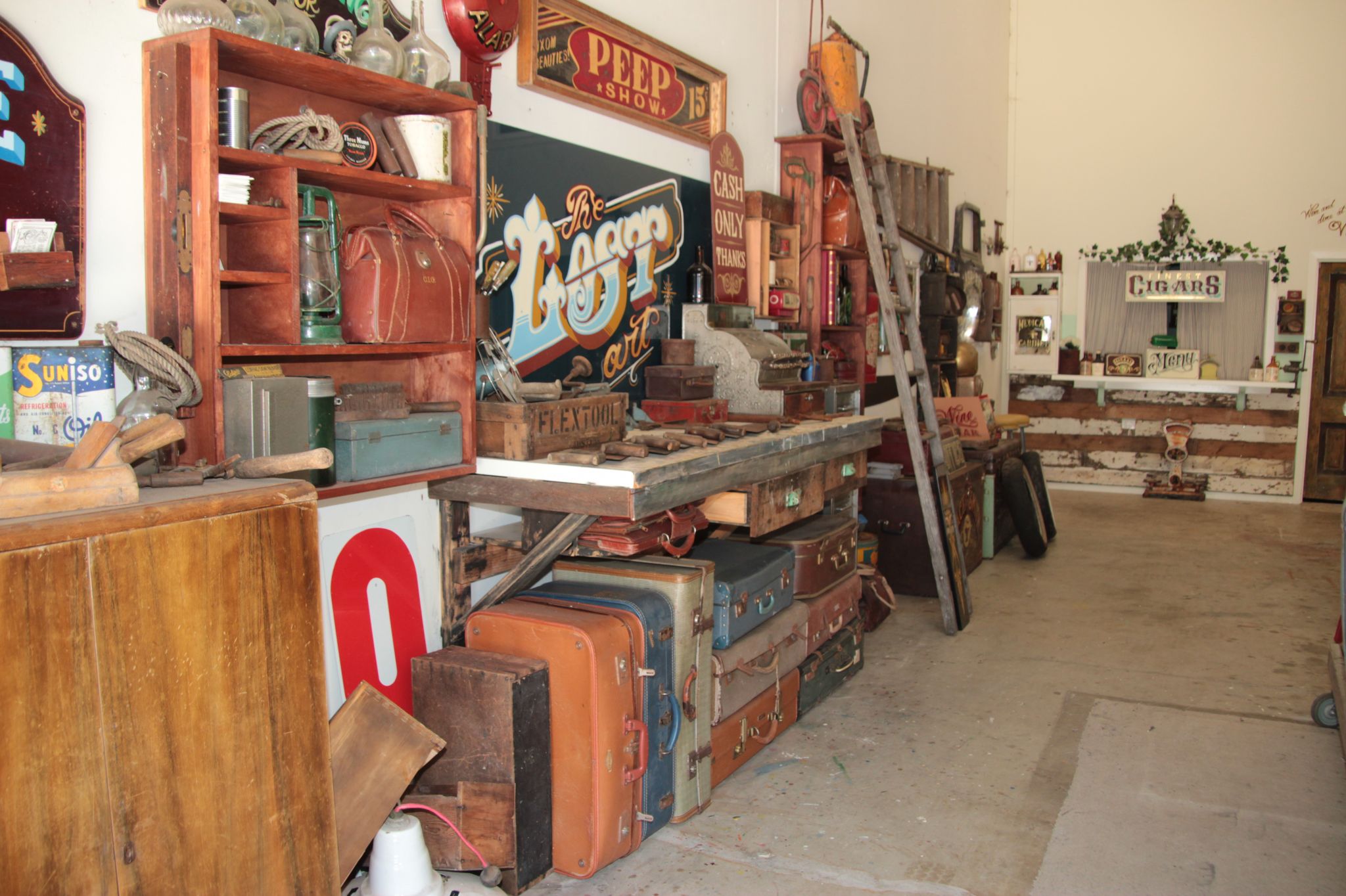 "I like the idea of being able to dress the place up to make people feel like they have stepped back in time. A lot of the new signs I paint are painted to look old. It's a style I have developed over the years. Some of the stuff looks like it's been pulled out from the '60s or '70s."
It's a creative space with a whole lot of character… and we dig it!
7. LOST IN THE 50'S
Glen Jennings' collection took us back to a time that we'd only ever experienced through television.
Lost in the 50s has been built within an old brewery that has been converted into what Glen describes as the ultimate man cave. The space is divided into separate areas, each with their own unique look and feel.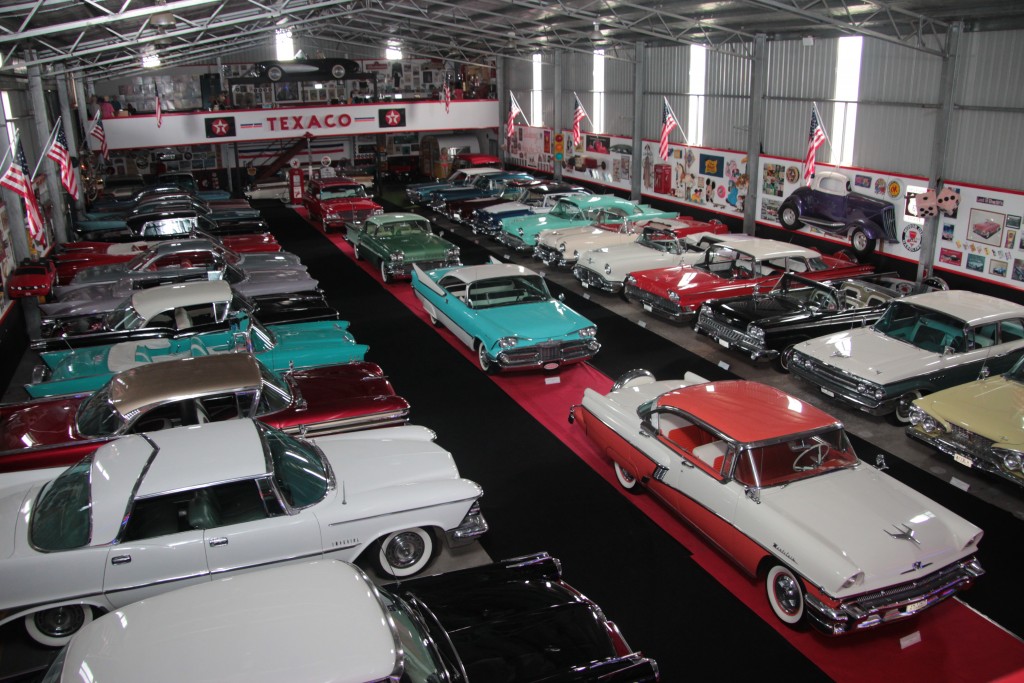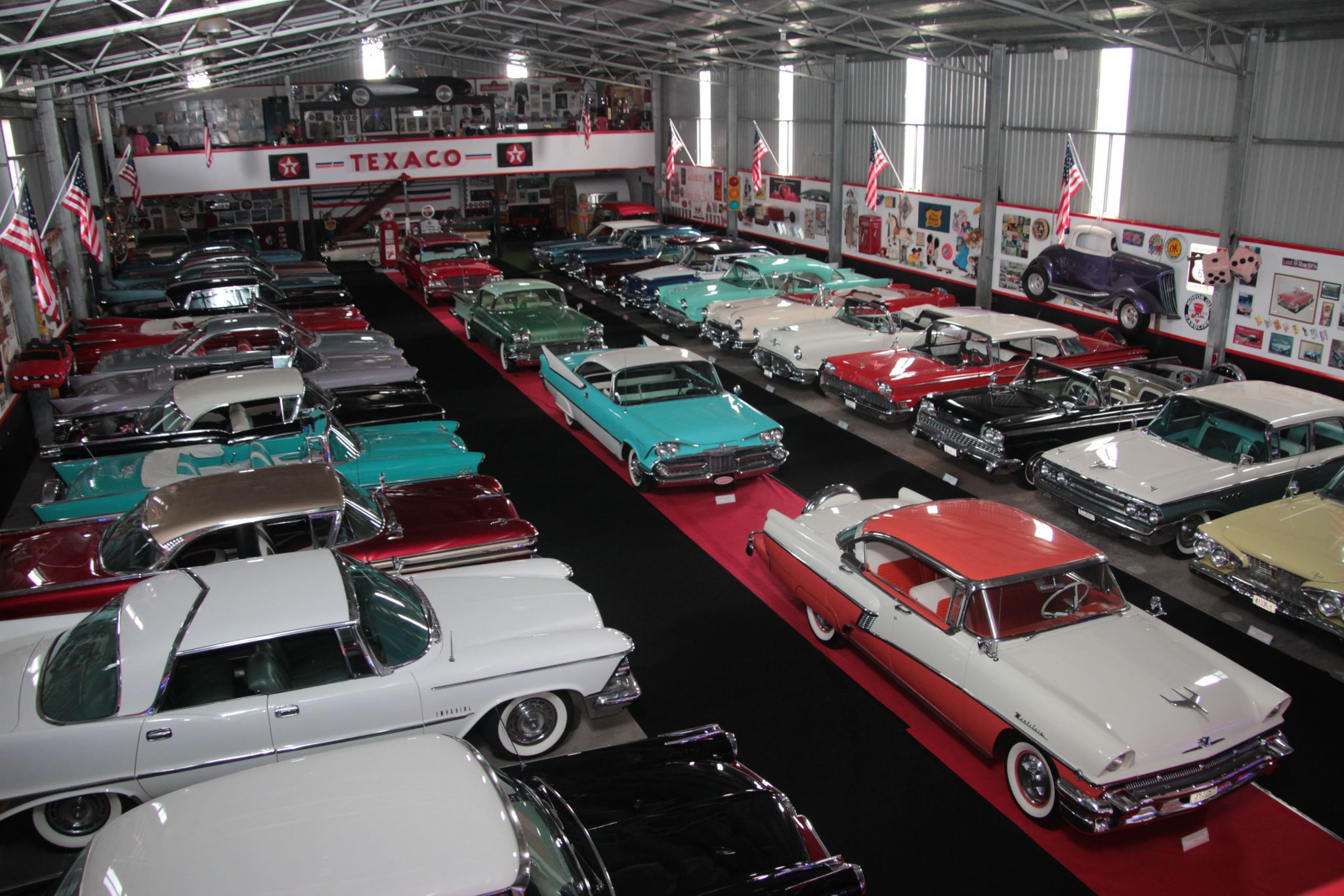 The Great Hall is a sight to behold with over 30 factory originals adorning the floor, while a modified car section hosts the 1966 Batmobile, a Delorean and a range of Corvettes among others. There's a diner reminiscent of Happy Days, a newly built mezzanine, a gift shop and a display case room. Pieces vary from quirky toys to vintage food packaging, soda machines to petrol bowsers… the list goes on.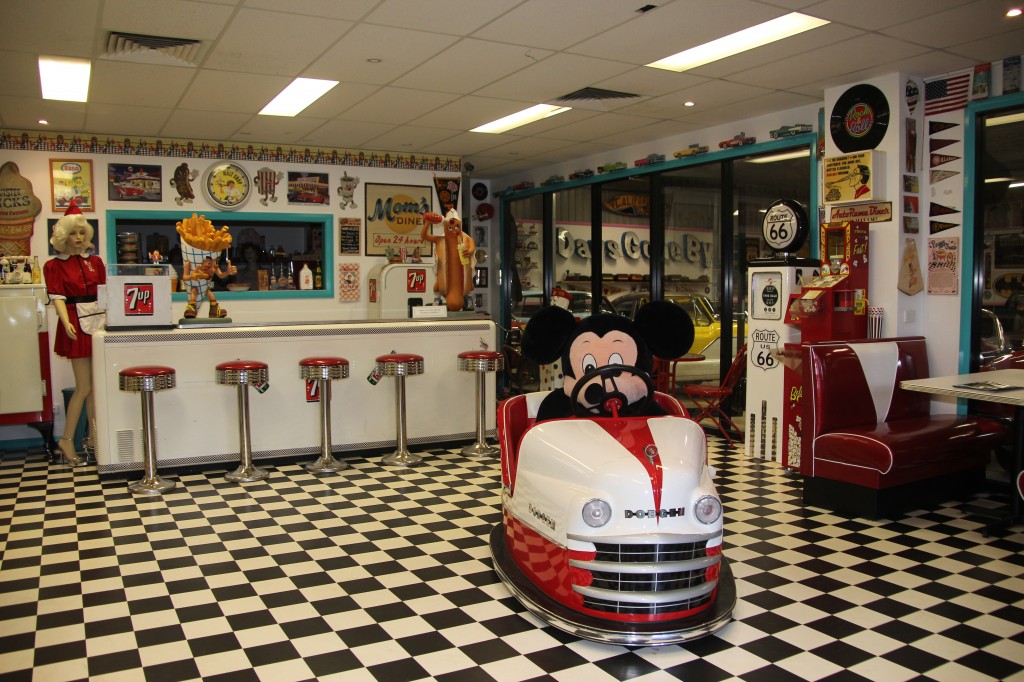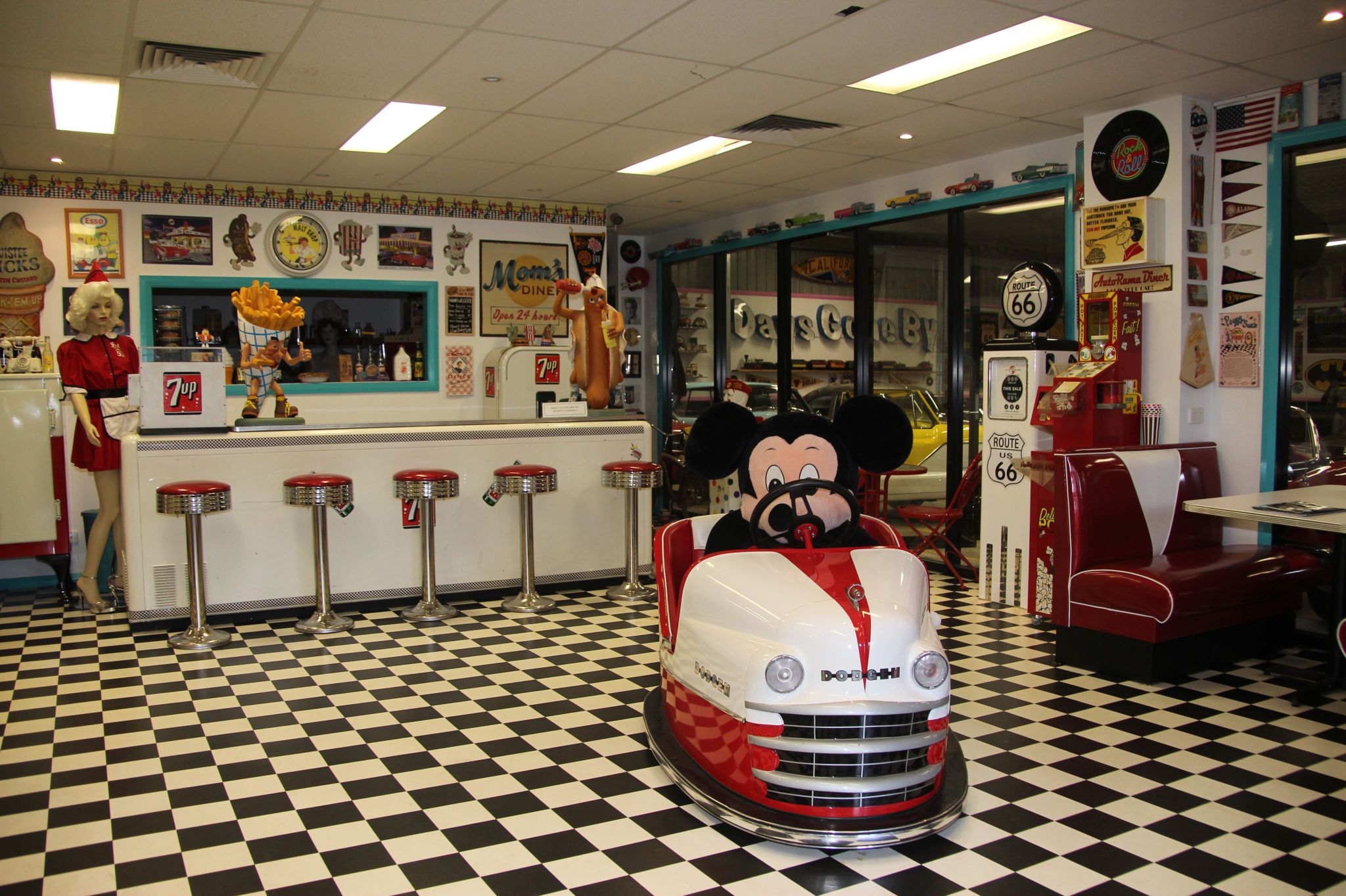 There aren't enough words to truly describe this incredible space. A visit during one of the monthly open days is the only way to gain a full appreciation. Even then, you'll be hanging to go back again – there's just so much to take in. Glen and museum manager Mark still notice things they can't remember seeing before… and they are here every day.
6. CHARLIE'S PLACE
Charles Schwerkolt has been collecting motor vehicles and other antiquities for the better part of 25 years and while his passion for Studebaker's kick-started it all, it has since grown into 'a bit of this and a bit of that'. While those words probably don't do the collection justice, it's the best way to explain it as there is far more than just cars on display here.
Enamel signs cover the walls, model cars adorn glass cabinets, beer cans and bottles fill an old truck in the back and then there are the sewing machines, vintage cameras and radios. It's a diverse mix but as Charlie admits, "Once you start collecting, things begin to find you."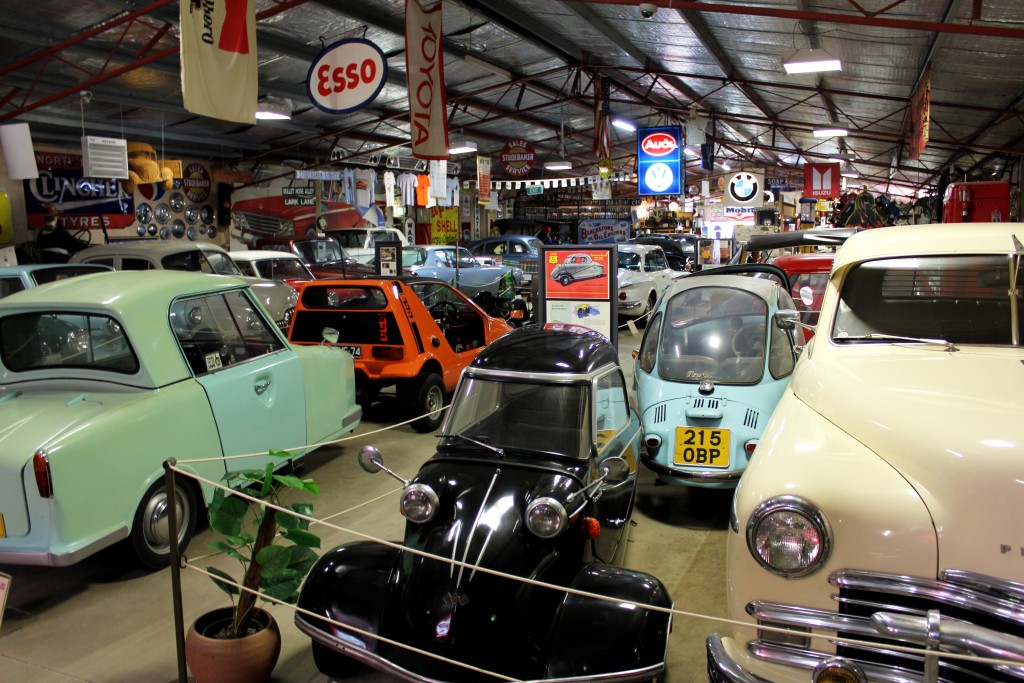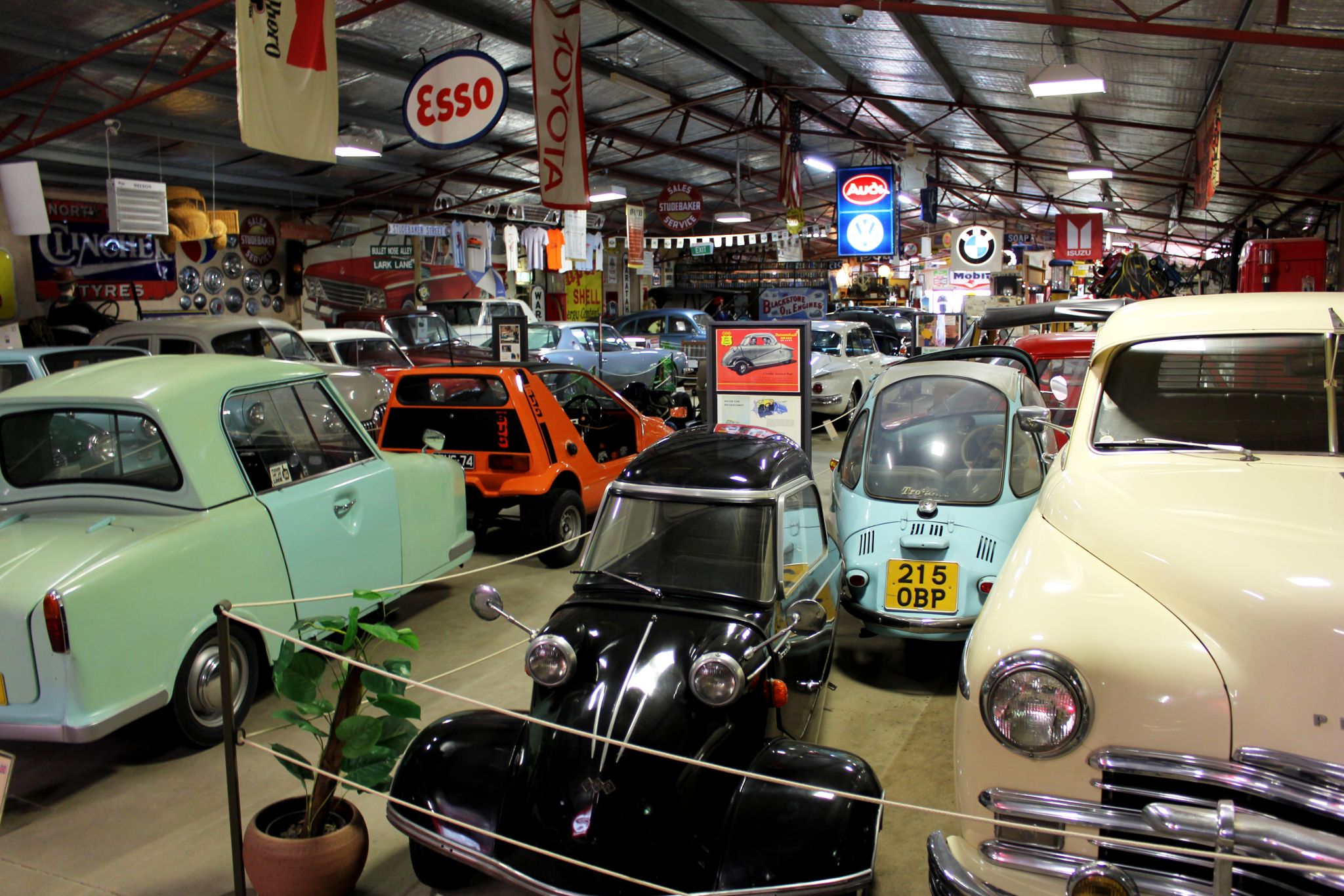 The front shed plays home to a couple of Maserati's, a Porsche, a military Jeep vehicle, two Bricklin SV-1s and a few three-wheeled micro-cars, among others. A host of Studebakers, a V8 Tatra 603, a 1990 model Avanti and his father's old bottle merchant truck culminate with others to fill the original, more rear shed. It's a diverse mix but that's what makes it so unique to Charlie.
If you're ever travelling through Victoria's Mornington Peninsula, be sure to stop in and see Charlie… it's well worth the visit.
5. Part Garage, Part Showroom, Part Gallery
The quite extraordinary garage of Ralph Plarre could be described as many things. It is certainly somewhere to store the cars (all 10 of them) and there is the space – and facilities – to work on them. But it also feels a little like a showroom, with the flexible space of an art gallery. And with a personal touch that gives it warmth and promotes a genuine social environment.
But most impressively, it is a place to relax, step out of normal routine and enjoy an amazing car collection – one that welcomes and encourages guests to do the same; even if they're not really car fanatics.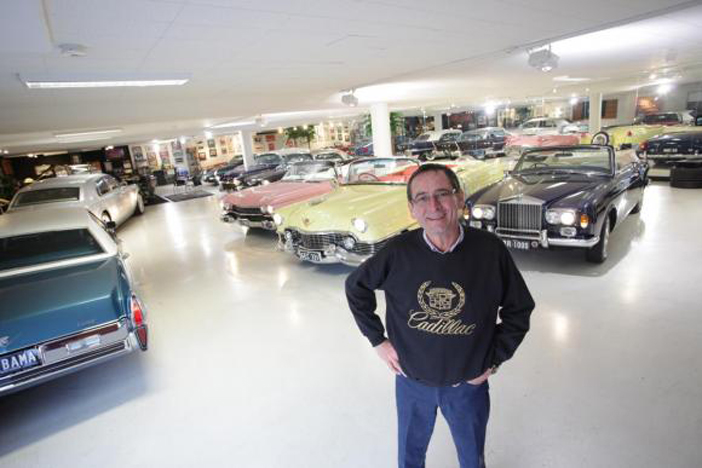 It is essentially the size of tennis court – including the space around the court. We can say that with some confidence because, after all, the garage is located under the tennis court.
That's where the tennis court became very important. The house is located in an inner city suburb of Melbourne with restrictions on building permits and street landscape. The land has a substantial slope upwards with the tennis court sitting high at the street front and the house located directly behind. By excavating the earth under the tennis court, Ralph was able to build the garage construction with street level entrance then lay the tennis court back on top, and not change the street landscape at all.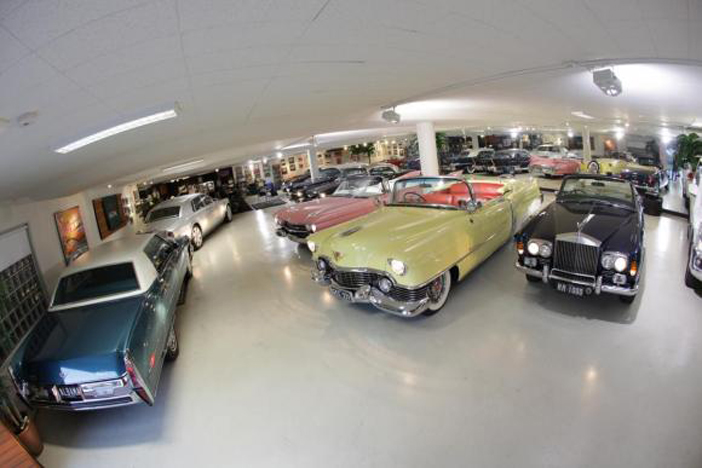 The tennis-court-sized dimensions mean that Ralph is able to park up to 10 cars on an angle down one side of the garage. There is a work pit (complete with safety drainage and exhaust systems) so he can work on the cars as required, and there is a relaxed casual area in one corner containing a high-quality home theatre and Steinway grand piano. Furthermore, there is still a clear, open space the size of a driveway through the middle so each car can be driven in and out without having to move another.
4. Massive Motorbike Menagerie
Think back to when you were a kid and you went to the toy store. If you're looking for that feeling again, then a trip to Antique Motorcycles might be calling your name. You don't even have to be a motorcycle fan to enjoy it – in fact, it's probably better if you're not because then you're less likely to want to take one home.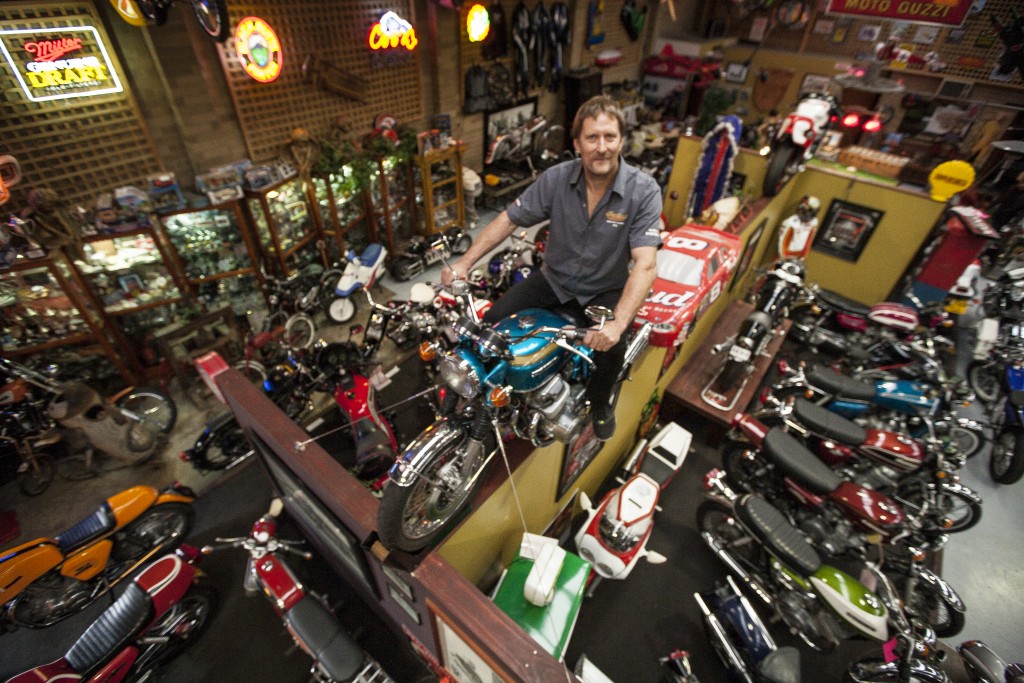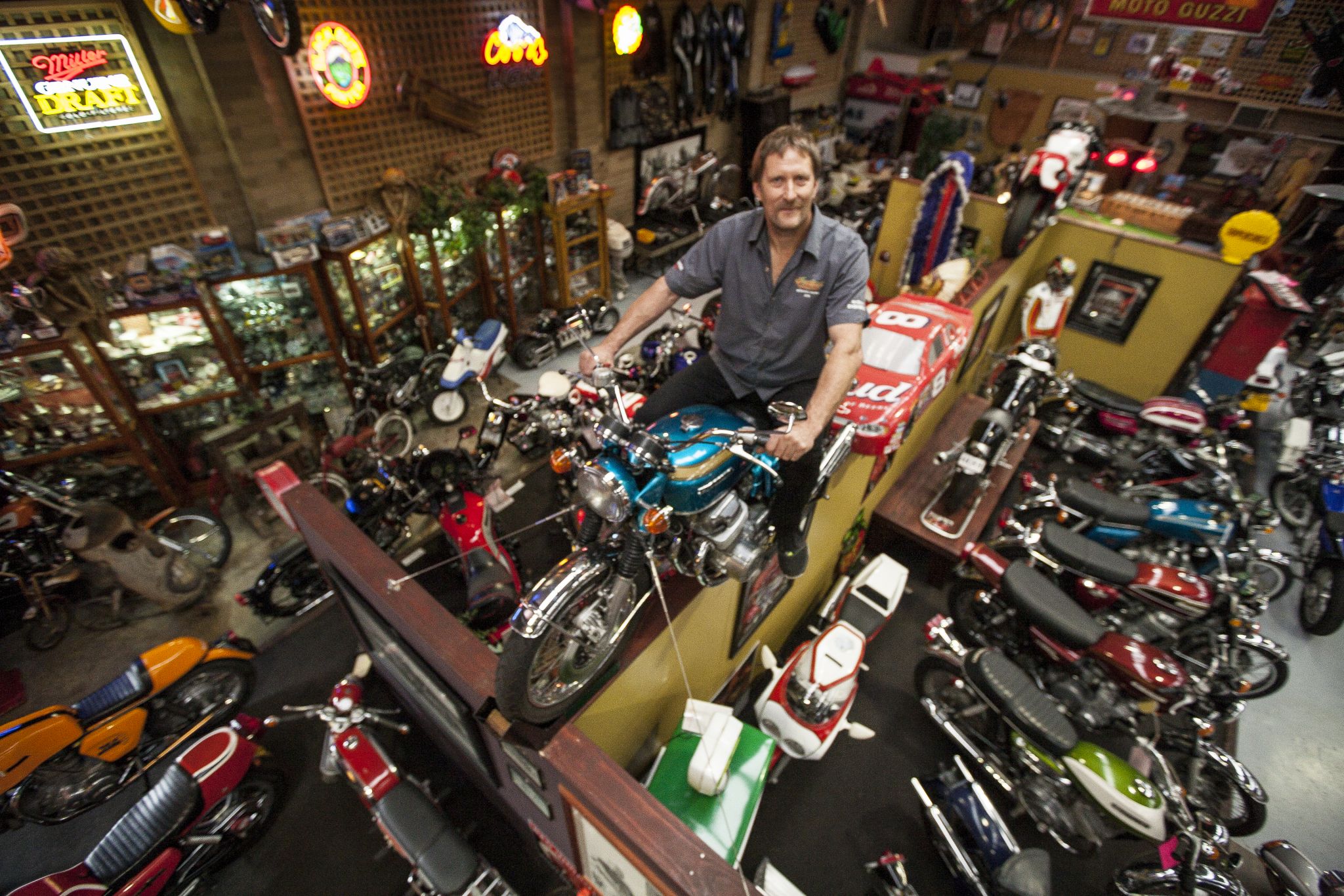 It is an enormous space filled with bikes, old advertising signage, neon lights, petrol bowsers, murals on the wall, display cases of models and toys, related paraphernalia, a pool table, a cafe… it goes on and on.
You could spend hours wandering around and see something different every time. And even if you thought you had a handle on it, you could come back in a month's time and find a whole lot of new items have been added. This is in addition to the fact that the displays are constantly moved around.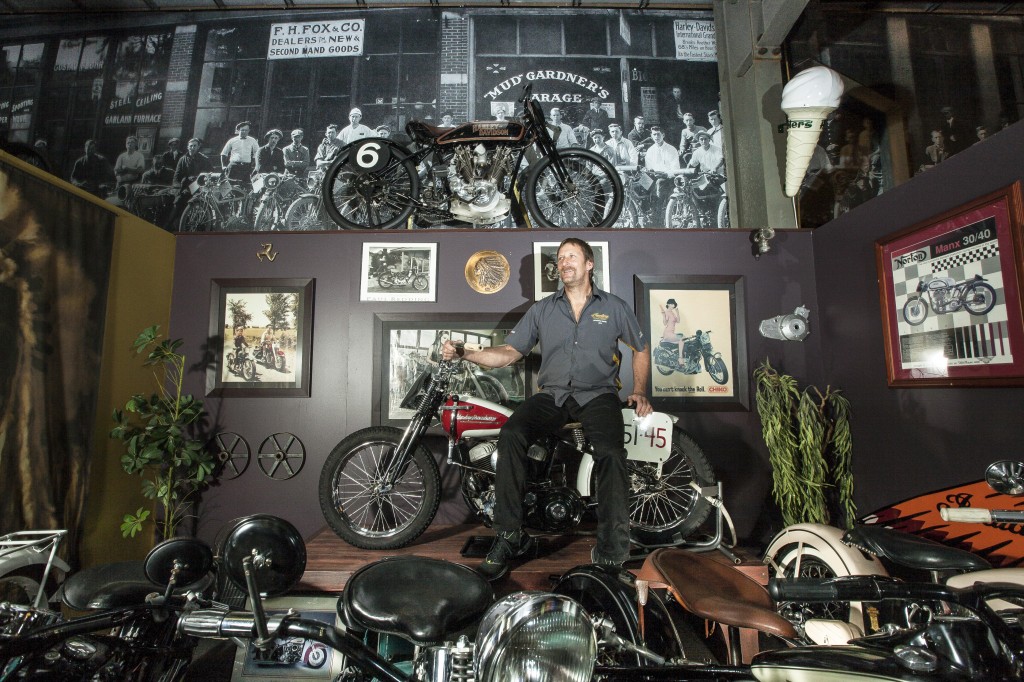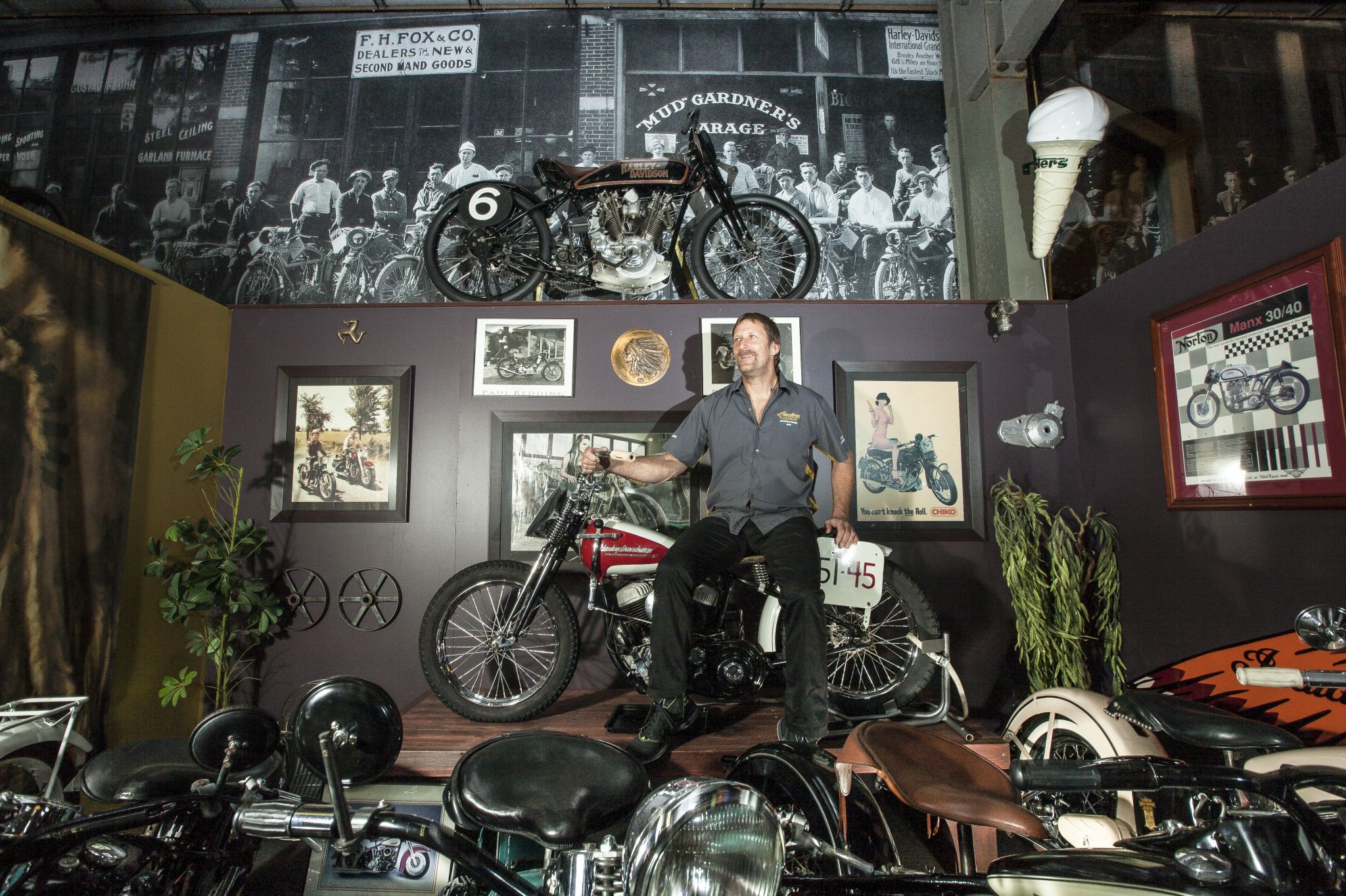 Furthermore, for anyone who has wandered around any sort of antique shop – be it motorcycles, furniture, bric-a-brac or anything else – here's the best part: the showroom is perfectly clean. I don't say that flippantly either. For one thing, it is a massive effort to keep that many items in such a large space so neat and clean, but also it allows you to take in much more.
It's about creating an experience and adding atmosphere to what is – at heart – a motorcycle shop. And that is exactly what owner John Gee set out to achieve.
"I love the fact this place is always evolving," says John. "That's what gets me out of bed every day. You've got to have ambition and want to keep striving.
It's a perfect blend of casual feel with professional engagement – so much so that you'd be forgiven for thinking that John has been doing this all of his life. On one level that is true, as motorbikes have been an underlying passion since he was a boy, but the business angle is undoubtedly the result of many years of diversified, hard work.
3. The Backyard Bar
Given his time as a sailor, Darren Gallagher did his fair share of holding up the bar in numerous licensed premises. As such, had plenty of time to map out what his man-cave might look like.
When Darren built a private shed-bar in his backyard, he immediately installed all those 'straight to the pool room' items had packed away: the 21st birthday pewter mug, or the cane toad holding the whiskey bottle received from an aunt one Christmas. There're all in there now, ready to be enjoyed.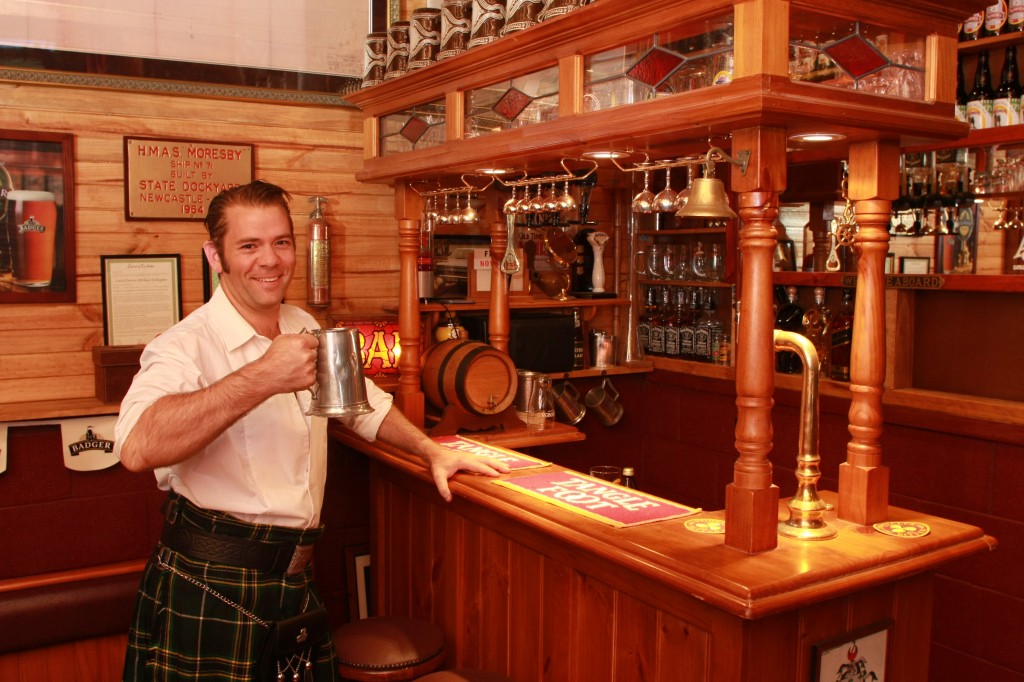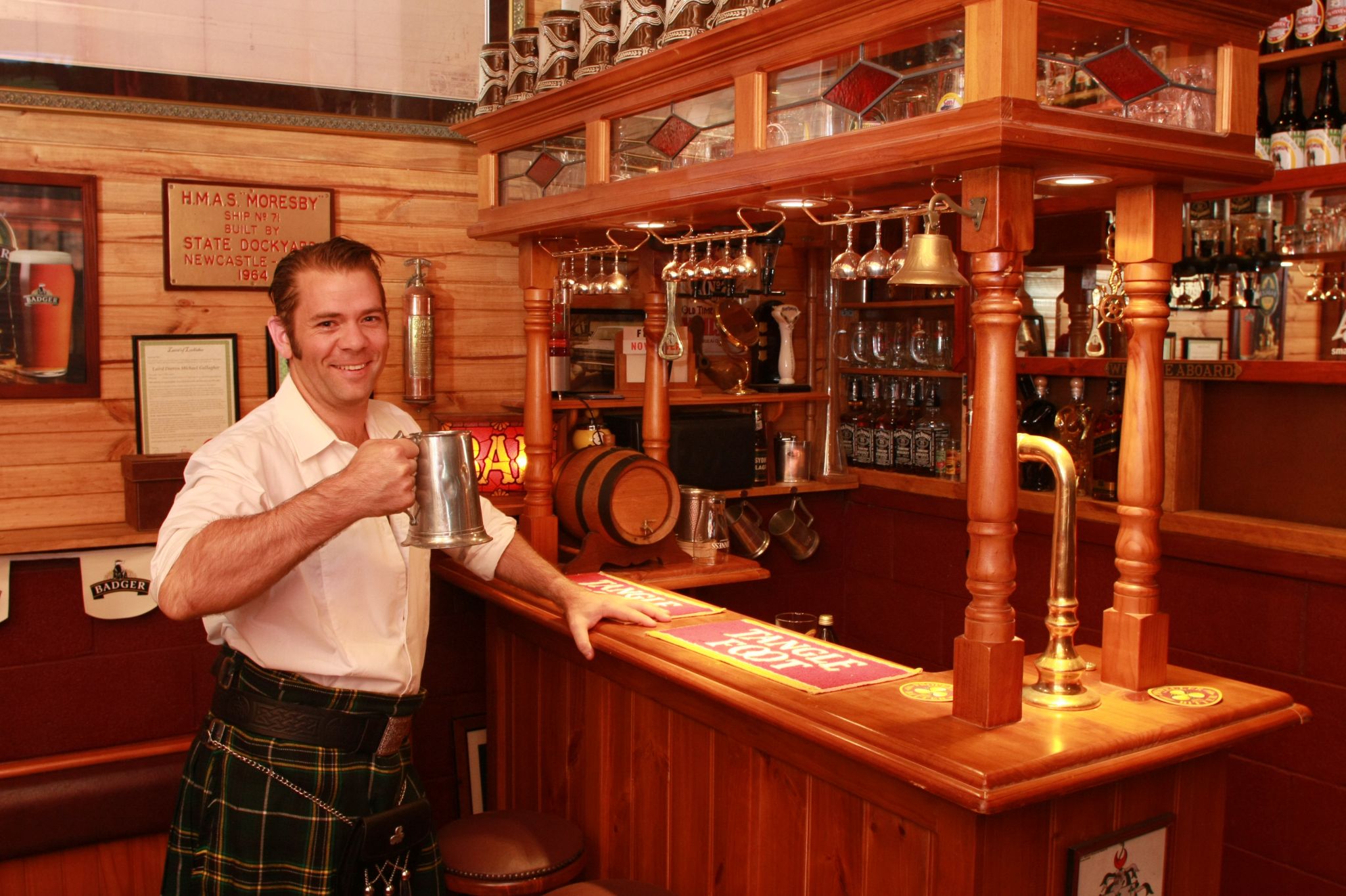 He wanted to give his pub a front that would allow people to step through into an adventure.  Darren's into old cars, playing bass guitar and listening to blues music while putting down a batch of beer. So it was his dream to create an interactive art project. Whether it's spending time alone out there admiring his old Ford, or with 20 mates over for footy on the big screen, the place sets the scene for some great camaraderie.
2. A Clear View of the World
John Bryant has a tower – in the front paddock of his 25-acre property deep in the Blue Mountains World Heritage area. It is not there for any industrial purpose, nor is there a great threat of marauding travelling adversaries, but it's fair to say that it has provided him with a clear view of the landscape – as much in a spiritual and emotional sense as anything.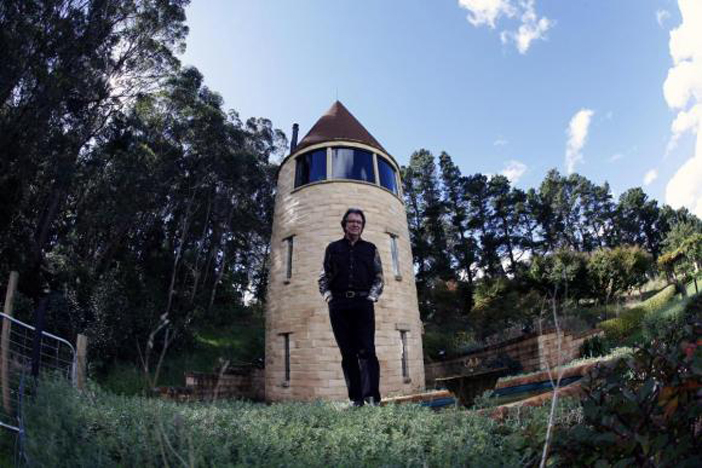 John's tower is constructed from an interesting locally-produced building material that looks like sandstone and contains 60% sawdust – thereby making it very environmentally-friendly, whilst still providing an authentic look.
He started by sketching out his ideas and taking them to his local council to check development codes. What followed was a number of official architectural drawings, some consultation with neighbours and a year-long debate with the town planner. It is the type of process that would put many people off, but John's tower is as perfect today as it was in his head – and he has remained friends with all of his neighbours along the way.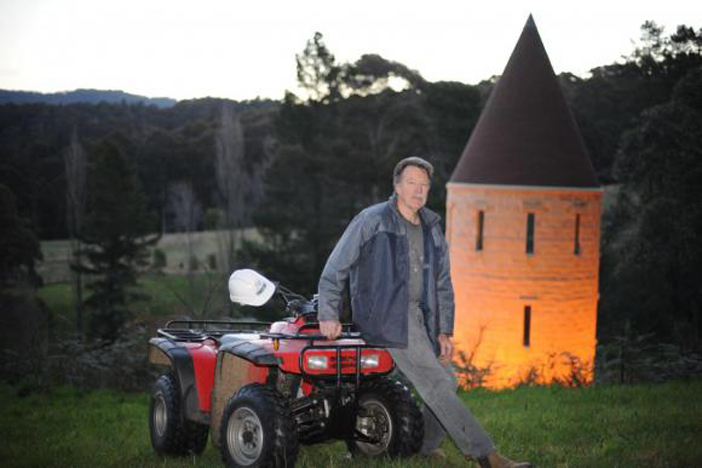 1. A Reflection of the Owner
Advertising guru Warren Brown's space is indeed impressive. Rather than opting for a spare room or the shed out the back, he took the extra step of getting a dedicated spot away from the house – and we mean, completely separate. The result is a large space in an industrial area of Sydney's northern beaches.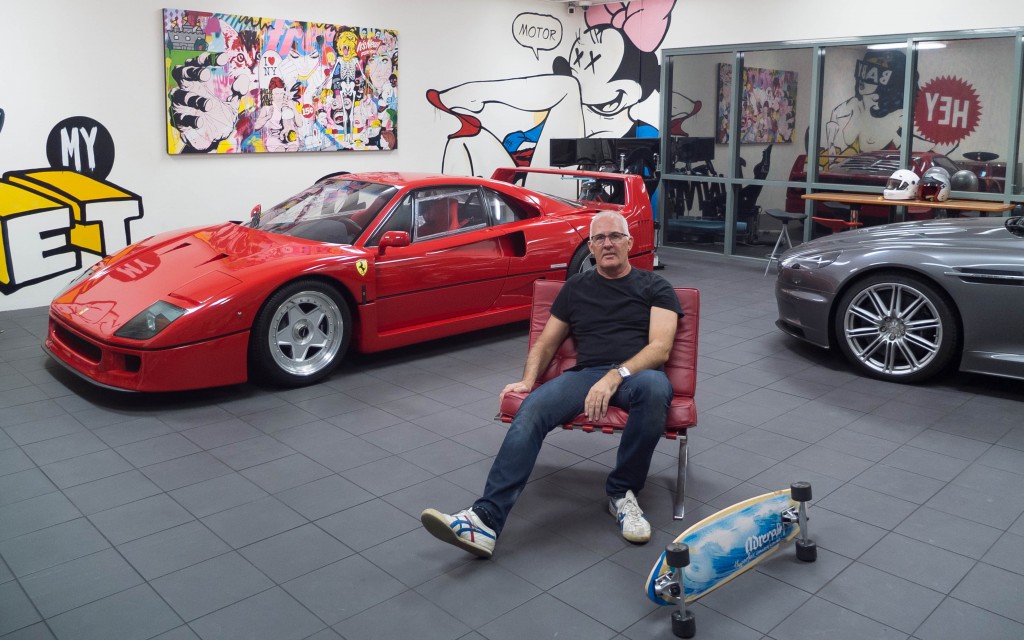 Warren's retreat has a few of the traditional elements of a quality man space: a glass fronted beer fridge, pool table and foosball table. There's also the obligatory large TV, with an excellent sound system and comfy couch. However, there are also some magnificent personal touches, such as a floor to ceiling photograph of Bells Beach where Warren surfed as a teenager, and a personalised piece of street art by Sydney artist Numskull using the words 'Hey baby get my motor running'. It is also a place to store some incredible cars, including a Ferrari F40 and a Ford GT40 – complemented by some motoring memorabilia and an impressive driving simulator.
It's a perfect mix of fun, entertainment, relaxation, personal reflection and room to move, but despite the love for his man cave, Warren is still always thinking about the next possible improvement – or perhaps even a new venture.