When it comes to whisky, I've long held a preference for scotch and basically anything that comes out of Japan. So when the opportunity arose to try an award winning whiskey from Portland, Oregon, I was keen to see what all the fuss was about.
Inspired by the region's unique culture, climate and natural ingredients, Westward Whiskey is described as distinct, rich, brazen and full of flavour.
Across the brands entire range, each liquid has a unique flavour that is achieved by following Westward's Minimalist Distilling philosophy.
Westward begins by brewing an artisanal American pale ale from scratch, using 100% Northwest two-role pale malted barley, ale yeast, and then fermented at low temperatures for extended periods.
The fresh ale is distilled twice in custom low-reflux copper pot stills that are designed to create a robust spirit, and transform the fresh beer into whiskey. Westward Whiskey is then aged to taste in new, charred American oak barrels, where Oregon's dry, hot summers and cool, wet winters create the ideal environment to raise a world class whiskey.
Given the fact I love American pale ales, I figured there was something in this drop that might just tickle my taste buds in the right way. And it did.
On the nose, aromas of nuts, honey and malt shine through, with a touch of spice also making its way through.
It's a seriously easy to drink whiskey. It's mild and not harsh on the throat, while still providing enough flavour to leave you wanting more.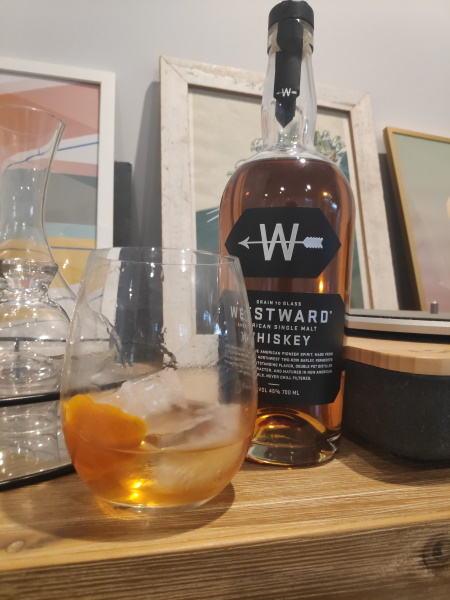 Mixed into an old-fashioned Westward American Single Malt was once again a winner.
It isn't hard to see why the distillery took gold at the 2020 San Francisco World Spirits Competition.
Each bottling is comprised of several single barrels, typically five to six for each batch. The whiskey is non chill-filtered and bottled at 45% ABV.
While it hasn't full converted me away from my usual drops, it's definitely made its way into a regular rotation on the top shelf of my collection.