If you haven't heard about White Claw yet, there's a good chance you're going to be hearing a whole lot of noise over summer.
After months of anticipation it is officially available across Australia – and it's set to provide a wave of pure refreshment just in time for summer.
Following the announcement of its impending arrival, White Claw has become the most searched-for seltzer in Australia, with Australians looking to discover more and flocking to social media to prepare to get their hands on what is expected to be the most popular drink of this summer.
The refreshing beverage has been brought to Australian shores by Lion Australia – the leading brewer behind some of Australia's favourite beer brands, XXXX, James Squire, Furphy, Byron Bay Lager and Tooheys.
James Brindley, Managing Director, Lion Australia, said: "We're proud to bring the hottest beverage on the planet to Australia. White Claw has become synonymous with summer in the US and it has also received rave reviews since the brand launched in the UK for its summer season this year."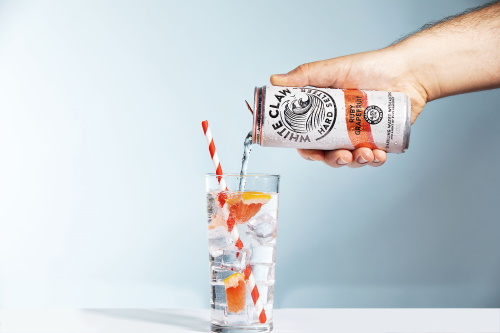 After reporting one of the largest surges in enquiries for any product before it's even hit shelves, Dan Murphy's launched a pre-order campaign. Following the announcement Dan Murphy's received unprecedented demand for White Claw Hard Seltzer with almost 1,500 customer orders placed within the first 48 hours.
Dan Murphy's managing director Alex Freudmann says, "This is the first time Dan Murphy's has hosted a pre-order of a ready-to-drink beverage, and we were blown away by the number of customers who wanted to make sure they would be amongst the first to try White Claw the day it launches in Australia. Thousands of our customers are looking forward to finally trying the most anticipated drinks launch of 2020 in Australia."
There will be three White Claw Hard Seltzer flavours available at launch: Mango, Lime and Grapefruit. White Claw Hard Seltzer is made using a blend of sparkling water, a gluten-free alcohol base and a hint of natural fruit flavour and contains only 95 calories per can.
"Excitement has gone through the roof in recent weeks and we've been delighted with the response and enthusiasm for the brand," said Brindley.
"If you haven't heard about it already, now is the time to see what all the fuss is about. This is going to be a game-changer that will take the iconic Australian summer to a new level."
White Claw is available now in a four-pack of 330ml cans at an RRP of $23.99 at all leading retailers & select on premise outlets.
To stay up to date, follow @whiteclawau.