If you've considered updating the man cave or garage floor, this intuitive DIY solution might just do the trick. Justin Felix explains.
Over the years I've been exposed to some pretty amazing man cave and garage flooring, some of which have included polished tiles and concrete, floorboards, carpet and checker plate. And they've all been clean enough to eat from. With that in mind it's fair to say I've come home from interviews a little envious on more than one occasion. So, with a propensity to give DIY a go, I went in search of a product that the Average Joe (me) could get his or her hands on and get started on adding a bit of flare to the man cave or garage floor.
It must be said that my search came with some pre-requisites. I didn't want a short-term solution that would peel over time and I needed something that avoided hot tyre pick up – you know the type of painted floor that ends up looking more like a mechanic's workshop after cars have rolled through. It needed to be easy to apply and, in an ideal world, dry in a short timeframe. With Melbourne's erratic weather, coupled with a lack of storage inside the house for all of my garage contents to hide away in, I didn't want something that would keep me off the garage floor for up to a week.
My search ended at Rust-Oleum's RockSolid floor system. Having used Rust-Oleum products to great effect in the past and with the promise of delivering on all of my pre-requisites, it didn't take much to convince me that this was a good piece of kit. On top of that, the positive reviews online far outweighed the negatives.
To find out more about this intuitive product, I caught up with director of sales at Rust-Oleum, Brian Hayes.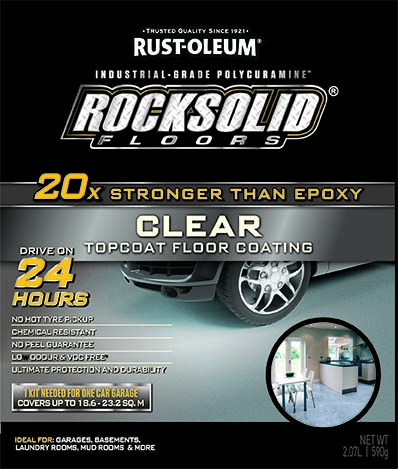 AN INTUITIVE FORMULA
"In essence it was born out of consumer need and a desire to provide professional results in a kit version that could easily be applied by the novice or DIY user," Brian says.
"It also contains properties that are quite unique and more akin to high-end professional installations. That was the original idea – to be able to allow home owners to achieve those beautiful high gloss finishes themselves."
RockSolid touts that its Polycuramine garage floor coating is 20 times stronger than epoxy paint, is impervious to all chemicals and dries smoothly. It can be installed in one day, walked on within 8-12 hours and driven on in 24.
This formula is different to standard epoxy, meaning it can be used on surfaces beyond just concrete. Polycuramine is a combination of three chemistries baked together:
Self levelling epoxy – users don't need to worry about roller or brush marks as the formula dries to a nice flat, smooth finish
Urethane – the component that leaves a high gloss, showroom finish
Polurea – this chemical is responsible for the fast cure and return to service time. Standard epoxy would keep you off the floor for three days to a week.
When combined you end up with a very flexible product once dried. You need flexibility for it to be durable, especially on concrete which can crack as building materials contract and expand with changing weather patterns. That flexibility also allows it to be applied on wood, tiles and table tops that would benefit from a durable high gloss finish."
Completely changing the appearance of a floor, particularly inside the house, can be a daunting prospect. Doing it on your own, without the help of a professional can further heighten that daunting feeling. With that in mind, Rust-Oleum has made the process straight forward by including everything in one kit.
ALL IN ONE
"To make it simple for the user, there's a burst pouch, roller, citrus based etch to clean and prepare the floor before applying the product, written instructions and a DVD."
Rust-Oleum RockSolid kits come with decorative colour chips for a light coverage, which when added to the formula before drying, adds a nice showroom finish. For a more extensive coverage across the floor, decorative chips are also sold in individual packets.
Once the room has been cleared of all its contents, Rust-Oleum advises that it's important to prepare the floor as best as possible. By doing so, you give the floor the best possible chance of ending up with a high performance based finish.
"We include a cleaner in the kit – a powdered citrus based etch. You mix it with water and then apply it to the floor with a stiff bristled broom before washing it out. We recommend rinsing it out a couple of times before allowing the floor to dry. Once that's done you're ready to apply the solution."
Each Garage Floor kit consists of one burst pouch (think goon bag) of coloured Polycuramine. The bag consists of a pressure sensitive seal between two parts.
"Standard epoxy or any two part kit generally comes in two tins – a tin of activator and a tin of base that you mix together and activate in a bucket or the like. With our kit, you roll one end of the pouch toward the other and when you reach a certain pressure the seal in the middle releases to activate the product. You can shake the bag and agitate the product in the pouch rather than mix the two in a separate container," Brian says.
"You simply need to shake the packet back and forth. You get complete activation in the pouch so there's no wasted product. You also get close to 100% of the product out of the bag after activation. You just cut a corner and squeeze the bag either into a tray, bucket or directly onto the floor, and then work it from that point."
As you would with painting a wall, it's recommended you cut in with a brush along the edges of the floor before working the product in 2 x 2m sections with the provided roller in an M & W pattern.
Unlike standard epoxy which possesses a strong odour, RockSolid contains zero volatile organic compounds (VOCs), meaning you need not worry about open flames or strong odours.
The Garage Floor kits come in a pre-tinted grey or tan; however metallic finishes are also available and only require consumers to add a small tin of tint to the bag before spreading over the floor.
"There is no other product at a DIY level on the market that can achieve this kind of look – usually two part epoxy. Water based or solvent based. The durability of two part epoxies, water or solvent based products simply don't stack up.  That's why Rust-Oleum touts that the Rock Solid product is 20x stronger than epoxy. It's a lifetime coating. Once it's down, it stays down."
With that in mind, I look forward to reporting back soon with some before and after shots of my own garage, so stay tuned.
POLYCURMINE GARAGE COAT KITS
Three kits are available:
1 car kit: covers 23m2
5 car kit: covers 46m2
Metallic kit: covers 23m2
Inside the kit:
Pre-tinted Polycuramine burst pouch
Foam roller
220 grams of decorative colour chips
Instructions
DVD
Stir Stick
Citrus concrete etch
Projects can be completed within a day and can be walked on within 8-12 hours and driven on in 24.
Contact:
Rust-Oleum
www.rocksolidfloors.com