With summer now in full swing, it doesn't get much better than ending the day than with a bottle or two of liquid gold. Even better, particularly for the health conscious, is the ability to do so with a lighter option.
We've seen myriad low carb beer options flood the market over the past few years as more health conscious drinkers seek to cut the carbs, but as sad as it is my friends, not everyone digs beer.
Launching just in time to celebrate summer, Irish cider brand Magners has launched Magners Blonde, a new cider offering with the lowest carb and calorie content in the cider market.
"Over the last few years, Australian drinkers have embraced cider as a drink of choice, particularly in summer," says Denis Brown, Managing Director of Bacardi-Lion.
"In Australia, we know we're a nation that cares about what we're consuming and what's contained in the liquid; so we wanted to offer an alternative to regular cider. One that kept the same great taste without the concern for high calorie, carb or sugar intake."
Magners Blonde contains 85% less pesky carbohydrates than most other ciders, and 75% less than the closest other low-carb cider available in Australia. For those calorie conscious consumers, Magners Blonde contains 40% less than most other beers or ciders on the market.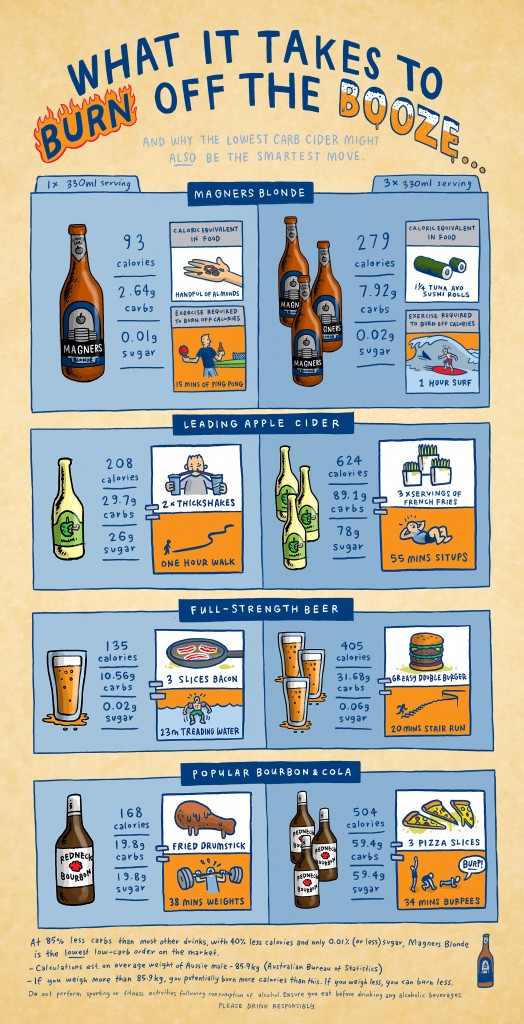 The best part? Magners Blonde is still crafted using the same 17 varieties of apples grown in the Magners orchards and then blended in their iconic cidery in Clonmel, Ireland to ensure the iconic Magners taste has not been lost.
Magners' new offering truly is the Perfect Blonde, without sacrificing on ABV or taste, and with reduced carbs and extra-low sugar content, Magners has created a sessionable drink to enjoy with mates this summer.
Magners Blonde will be widely available in Australia from November onwards in four-packs of 330ml Bottles.