Jacob Harris likes to tinker in his shed as much as the next man, and he's always on the lookout for a new project. So when he stumbled on a cigar box guitar site on the Internet, it started to sound like the perfect challenge…
There is something innately satisfying about building your own instrument. Not only is it an excuse to escape to the shed, but you'll (hopefully) end up with something that will continue to give you pleasure long after construction is complete. And if you're anything like me, the tweaks and changes you'll want to make after you're done will keep you occupied for quite a while too.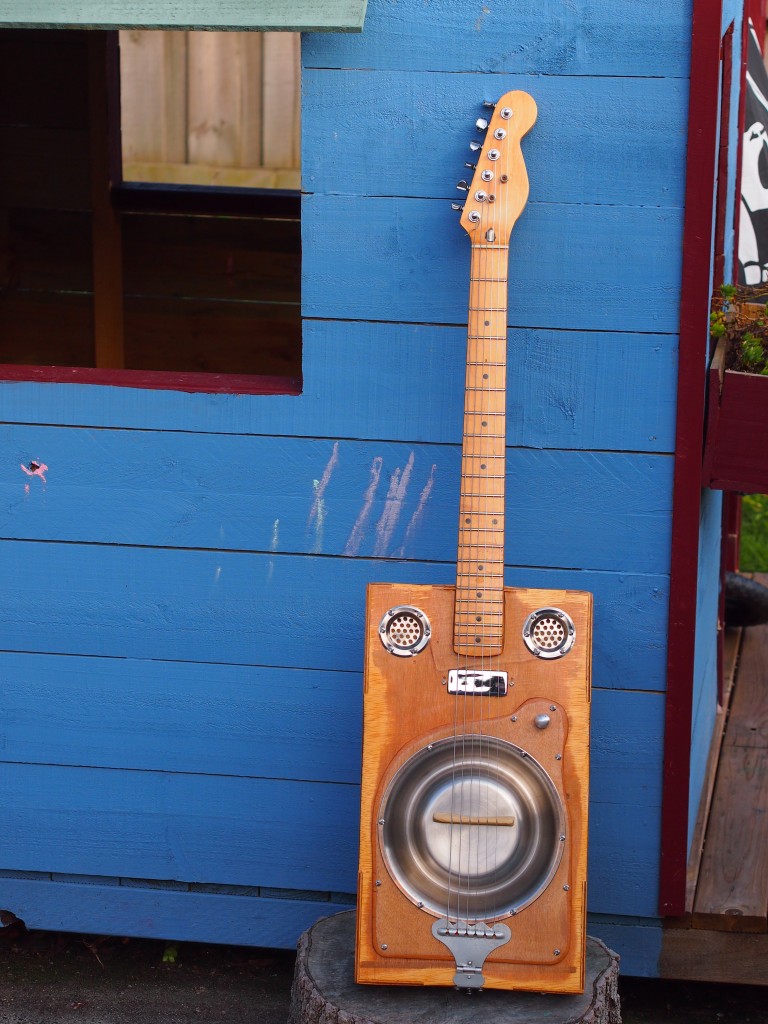 Unfortunately we can't all be master luthiers, crafting precision instruments in our spare time, but as I discovered recently there is a happy medium for those of us that don't have years to dedicate to the craft of guitar building.
There's something that really appeals to me about making something useful out of what would otherwise be rubbish, and there are a heap of everyday materials you can use that will perform surprisingly well acoustically. There are plenty of examples of guys getting great sounds out of things like car numberplates, old oil tins and pretty much any wooden object with a cavity.
If you're keen to have a go, there are myriad resources on the internet that will help you decide what you'd like to build and how you'd like to build it, so I'm not going to lay out a detailed step-by-step here. Instead I'd suggest you check out websites like cigarboxnation.com, where you'll find forums, free plans and links to instructional videos. Looking back to some of the instruments people were making in the depression era, when most people couldn't afford 'real' instruments, can provide some good inspiration too.
I decided I wanted to make a dog bowl resonator. I had always kind of wanted a resonator guitar but could never quite justify spending the money on one, so I thought 'why not try and build one?' I had a look at a few online videos, took some notes, and worked out a few tweaks along the way. These won't work for everyone but I thought I'd give you a quick rundown of what I did and hopefully inspire you to make some enhancements of your own.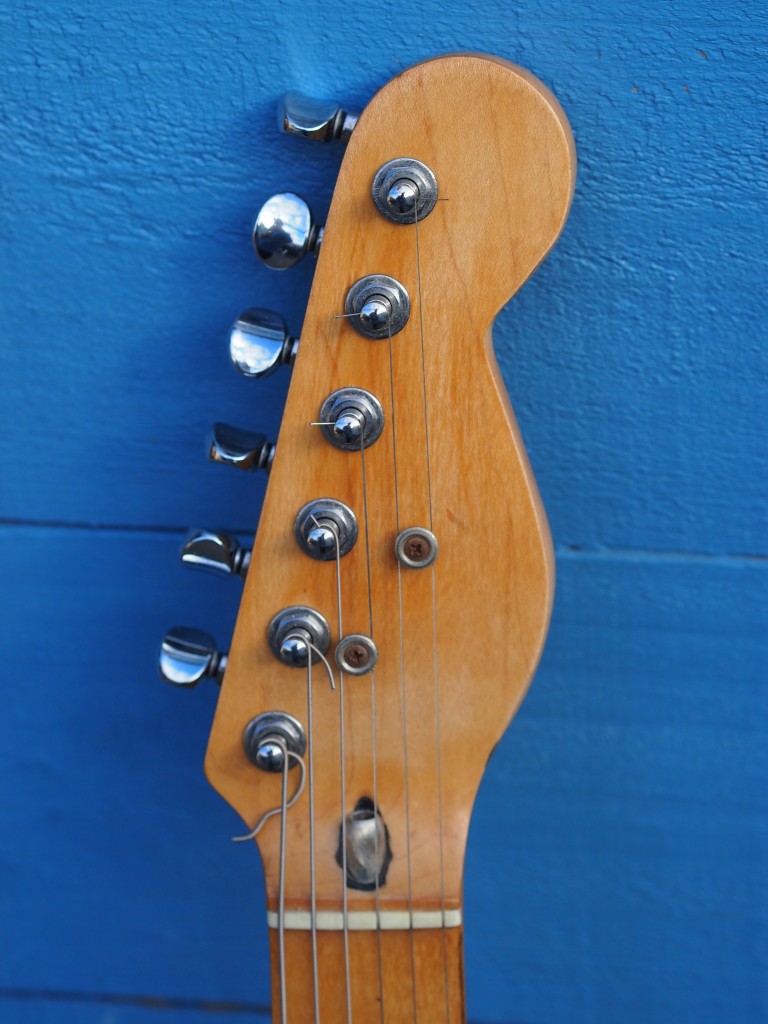 Dog bowl resonators use an upside-down pet food bowl cut into the centre any of a guitar body (often a cigar box) as a makeshift resonator cone. These look, and sound, really cool but often only use three or four strings. So I decided to upsize it a bit and build a box robust enough to support a standard six string set up.
I found some 4mm marine ply lying around the place and, while I'm sure there are many acoustically superior choices, thought I'd give it a go with that. After all, half the fun of this kind of project is turning scrap into something useable.
I considered building the neck from scratch, but had an old Stratocaster copy that had been sitting in the shed for ages (one of those things you see in hock shops for around $50) and thought the neck could go well on something with a little more character.
The bolt on neck that features on a lot of these guitars makes it easy to remove and re-purpose. I just unscrewed it, removed all the hardware and sanded the headstock back to bare wood and reshaped it a bit to soften some of the angles.
To work out a good size for the box I measured the length of the old guitar body. I also took note of where the bridge sat as this would need to be about the same as the centre of the bowl when cut into the box – this is important for getting the intonation right if (like me) you're not experienced in setting up guitars.
Once I'd determined the length of the box, I measured out the proportionate width and depth – this was highly technical and involved me holding the piece of ply as I would a guitar and more or less guessing.
I decided to join the box with a rudimentary tongue and groove system as I thought that would help to strengthen it and also add decorative effect. I reckon this turned out quite well in the end but it was quite tricky getting everything to fit together snugly.
Once the back and sides of the box were complete, I cut out slots for the neck in the top and side. Then I cut a block of pine so it fitted neatly in the top of the box and bolted the neck to it.
If you want to go electric there are plenty of wiring diagrams you can download from the net, and many cigar box guitar sites offer fairly inexpensive pre-wired pickups that can basically be screwed straight in. I tried to wire my own pick up with fairly mediocre results, so ended up buying a pickup and just wiring up the volume and output jack.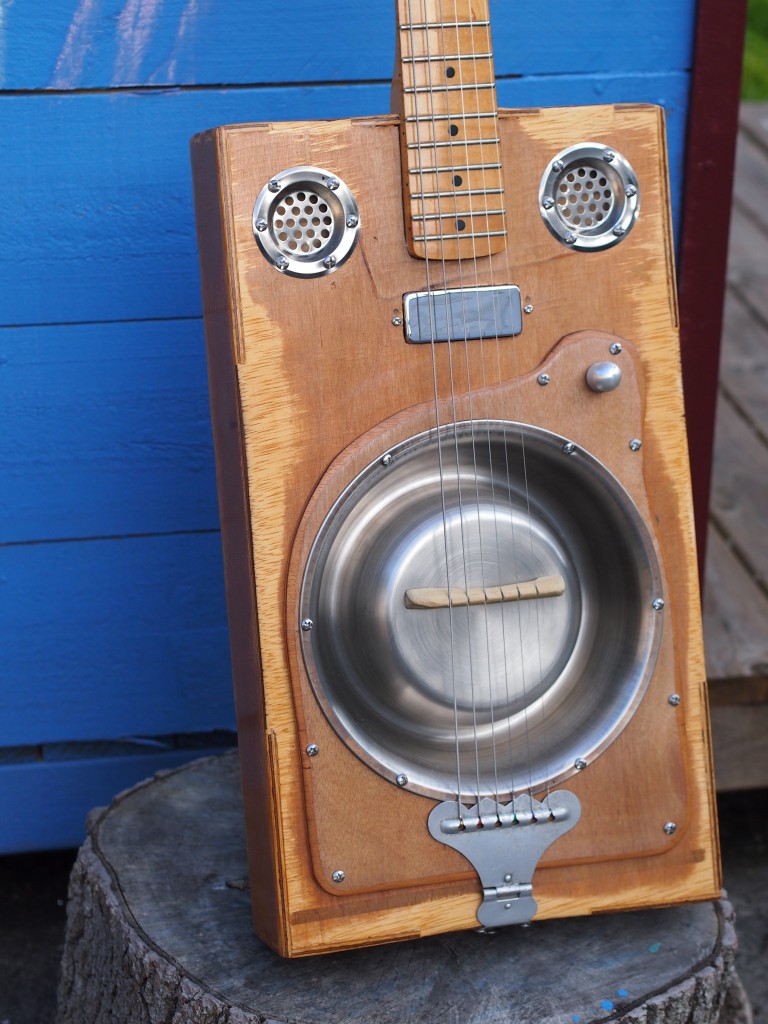 I wanted to go for a rustic, beaten up look so I sanded back the ply to make several layers visible then tried my hand at using shellac to give it a yellowed, aged look with a decent lustre. It was the first time I'd used shellac and (although my results would probably be scoffed at by a professional) I found it fantastic to work with and was really happy with the outcome.
I'm still fine tuning little bits here and there but overall the guitar plays really well and sounds alright too. It was a really enjoyable project to work on; I reckon I'll attempt a mandolin next and might even try my hand using some decent materials!
WORKING WITH WOOD
I caught up with Tom Norton, a Melbourne guitar builder, to get a few tips on wood selection for the layman. He tells me that, as many traditional European and American guitar building timbers become endangered and are subject to increasing logging restrictions, Australian timbers with similar qualities are undergoing a sharp rise in popularity.
"Many Australian timbers are just as good as traditional options in terms of how they look and feel and even how they sound tonally; a lot of luthiers are using them now. Every part of a guitar can be made using Australian timbers," says Tom.
"Traditionally, ebony and Indian rosewood were used for fret boards but there's an Australian replacement called Gidgee that is being used quite a lot now.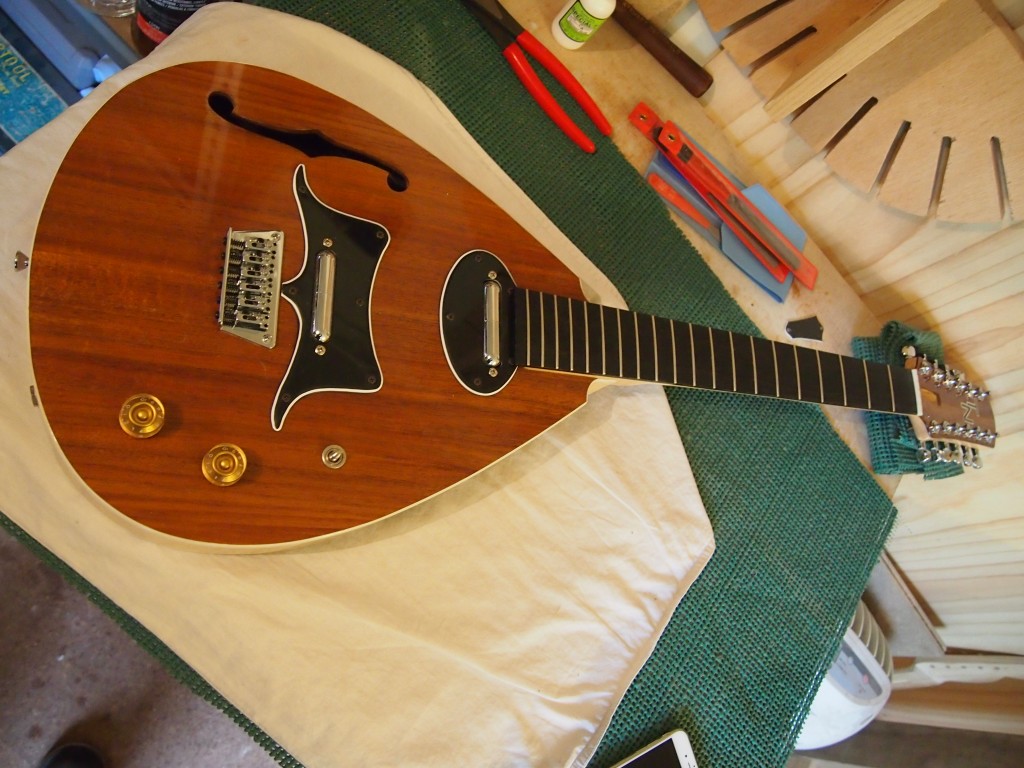 "Also, people are discovering that Huon pine is great for sound boards. Traditionally it's just been cedar or spruce, so it's cool that people are experimenting with a lot of those Australian timbers. Blackwood is a good choice for the back and sides and is getting really popular too."
Tom also tells me that beyond choosing the species of timber that's best for your purpose, there are also qualities to look for in an individual piece of wood.
"Imperfections can compromise the strength of a guitar, particularly on the sound board because that's where all the pressure from the strings is coming down, so you definitely want to pick a piece that doesn't have any defects. Have a close look and check for any little knots or burrs. Look for variations in the grain – where it looks like there might have been a branch just beyond where the slab was cut.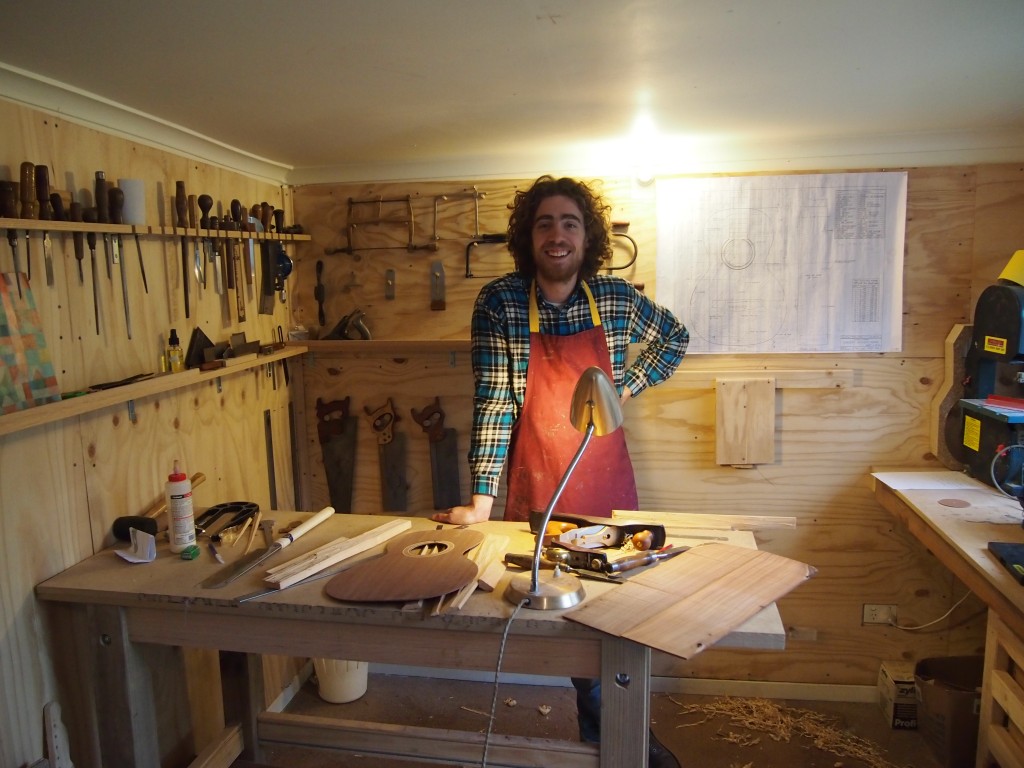 "Ideally, you want straight grain that doesn't run off to the sides and isn't wavered. Aesthetically too, symmetrical grain will work best. A lot of people get really worked up about having flame (horizontal ripples) in the timber, so that puts a lot of merit onto a piece of wood as well."