To provide a glimpse of what's possible with 5G, smart phone maker OPPO has builtthe world's first travelling, 5G-powered smart hotel. Packed full of the latest tech, it will be touring 5G locations throughout Australia.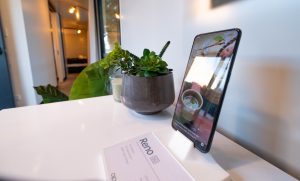 The 5G Hotel – a 40ft shipping container turned futuristic hotel – is available to book from August 1st to August 30th at HOTA for $150 per night*, with all proceeds from bookings being donated to local charities.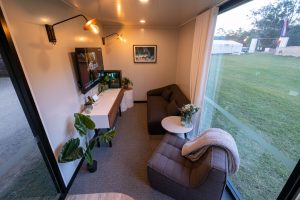 With a matte black exterior and minimalist interior touches to match, the 5G Hotel already looks like a classy, self-contained cabin. But it's what's inside that really sets it apart.
The luxury one bedroom suite is jam-packed with the latest technology including 5G cloud gaming, buffer-free streaming, a range of immersive AR apps and advanced smart home features – including a smart mirror.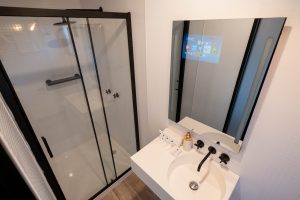 The entire hotel is powered off OPPO's Reno smartphone and the 5G network.
What can travellers expect from the 5G Hotel?
Smart Mirror – The hotel Smart Mirror has everything guests could wish for in a mirror, allowing them to connect their smart devices, watch the latest news, get updates on stocks, read the morning newspaper, watch movies, or get the ideal light for the perfect mirror selfie.
Game Anywhere: Through the hotel's 5G Gaming Suite, guests can experience a high-end gaming computer in the palm of their hand. Users can game locally on the PC, or leverage the 5G smartphone to access a library of games and play from anywhere
Get things done hands-free – The Hotel's Reno 5G device is connected to a Google Home Hub, as well as an array of smart home features. Guests can use their voice to control the lighting, play their favourite songs from YouTube Music, ask questions and get visual, immersive answers from Google.
Gain access to OPPO AR Apps – Among these apps are an interactive AR demonstration of the key features of the Reno 5G; and an AR wardrobe, merging the very best in tech with the very best in fashion, allowing guests to preview different outfits in a virtual AR runway. There will also be a number of additional AR apps to showcase the power of the OPPO Reno 5G and the network.
Access entertainment buffer-free – Download, stream and watch to your heart's content with 5G. Enjoy Netflix buffer-free or download a whole season of your favourite show while you make a cup of coffee, and watch it on the hotel's widescreen TV.
To book, or for more information on where the 5G Hotel goes next, head to www.oppo5GHotel.com