Belkin is on a mission to make charging your devices easier and faster thanks to its range of power accessories, suitable for both in the home and while on the go.
The new range includes two USB Power Delivery (USB-PD) enabled chargers, including a wall charger for the home and a car charger for those on the go.
USB-PD is a fast charging technology that is supported by certain iOS and Android devices, that delivers much higher levels of power than standard charging. USB-PD can charge your device up to 70% faster than standard 5W charging, delivering up to 100W of power. You can learn more about USB-PD in Belkin's resource centre here.
Check out three of the latest bits of Belkin kit below.
BOOST↑CHARGE USB-C Wall Charger 18W + USB-C to Lightning Cable 
A fast-charging solution for your home, this compact 18-watt wall charger offers USB-Power Delivery*.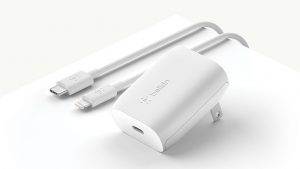 It can charge an iPhone 8 or later from zero to 50% battery in just 30 minutes with the included cable, and other smartphones/tablets at optimal speeds.*
Purposely designed to be travel-friendly, this pocket-sized charger easily fits to any environment at home or when you're out and about. A connected equipment warranty protects your devices for added peace of mind.
RRP $54.95
*Fast Charging for your USB-PD-enabled devices, including iPhone 8, iPhone X, XR, XS, iPhone 11
BOOST↑CHARGE USB-C Car Charger 18W + USB-C Cable with Lightning Connector
Make the most of travel-time when it comes to in-car charging with this sleek and nifty USB-Power Delivery enabled charger.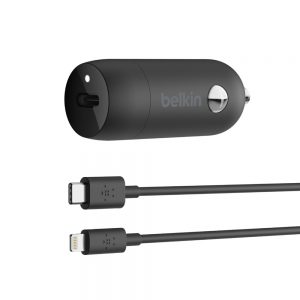 It will fast charge your iPhone 8 or later from 0 to 50% in just 30 minutes, or enjoy optimal charging for other compatible devices with USB-C and USB-Power Delivery. Designed for high wattage and a seamless fit to your dash, this compact car charger measures in at only 54mm by 20mm. Despite its small size, this car charger has plenty of power to offer, with 18-watts and USB-Power Delivery to fast charge any compatible device.
RRP $49.95
BOOST↑CHARGE™ Wireless Charging 10W (no adapter) 
Use this fast wireless charging option for all of your Qi-enabled devices. Offering up to 10 watts of power, you will spend less time charging and more time on your device.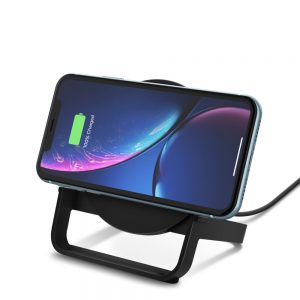 Engineered to work with lightweight plastic cases up to 3mm, you will also be able to charge without removing your case. Foreign objects between your phone and charger can disrupt your charge and even lead to wireless chargers emitting unnecessary power that can melt your belongings. Charge with confidence as a white LED light indicates your phone is properly aligned and charging, while an amber light alerts you to the presence of a foreign object.
Pad: RRP $49.95 Stand: $59.95