To mark the anniversary of Bundaberg Rum's Small Batch Distilery foundation, it has launched a limited-edition bottle titled 'The Hidden Barrels'. The one-of-a-kind blend was created using liquid from hidden casks, found when searching the Distillery's extensive barrel reserves.
Using rums from previous experiments, 'The Hidden Barrels ' is crafted using 16 year-old rum from heavy charred American oak barrels, 15 year-old rum from ex-port barrels, 10 year-old rum from ex-bourbon barrels, and 8 year-old rum from ex-sherry barrels, to create a truly one-off liquid.
The bold and complex liquid is one of the Distillery's finest, crafted as one of the smallest ever batches with approximately 9500 bottles released.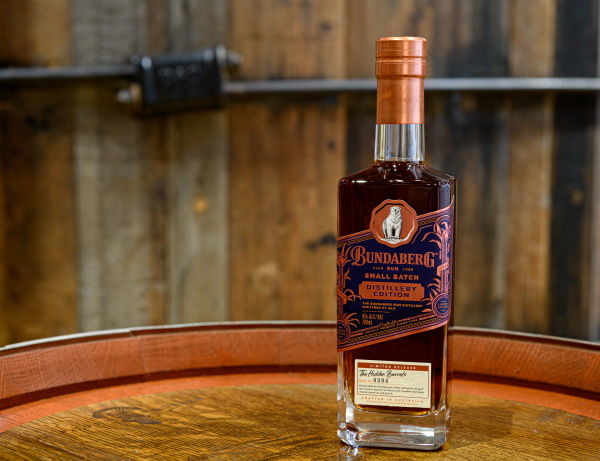 The new blend offers a full-bodied, complex, bold floral aroma, with rich oak, dried fruit and dark chocolate notes on the palate, surrounded by fragrances of black strap molasses, cinnamon and dried tropical fruits, that transcend into a long and incredibly smooth finish, accentuated with hints of burnt orange zest and ripe raisins. Perfect for enjoying neat, on the rocks or used in a Rum Old-Fashioned cocktail.
Bundaberg Rum Distillery marketing & experience manager Duncan Littler says, "Adding to our extensive collection, and straight off the back of our recent award win at the International Spirits Challenge, we're proud to launch 'Hidden Barrels' created from barrels that are almost too good to believe exist! Some were hidden away, some were thought lost, but were then re-found. You can imagine how excited our team get when previously unused rum reserves are re-discovered.
"'Hidden Barrels' is the first in a line of new annual releases. The very limited rums will mark the Distillery's birthday each year, consisting of experimental blends, young rums, old-aged rums, and never before crafting techniques as we look to push the boundaries of rum making. Watch this space…" Littler adds.
Bundaberg Rum Small Batch Distillery Edition 'The Hidden Barrels ' is exclusively available through the distillery and the Bundaberg Rum website – www.bundabergrum.com.au – the home of rare and hard-to-find Bundaberg Rum products. 43% ABV, RRP $79.95.