Winter is here, and with it comes the much-anticipated 2019 limited release of Coopers Vintage Ale.
It comes as the 19th in the series, and again, the Coopers brewing team have redefined the traditional ale with new types of barley and hops, while holding on to last year's innovative brewing methods, to produce an inviting and robust ale.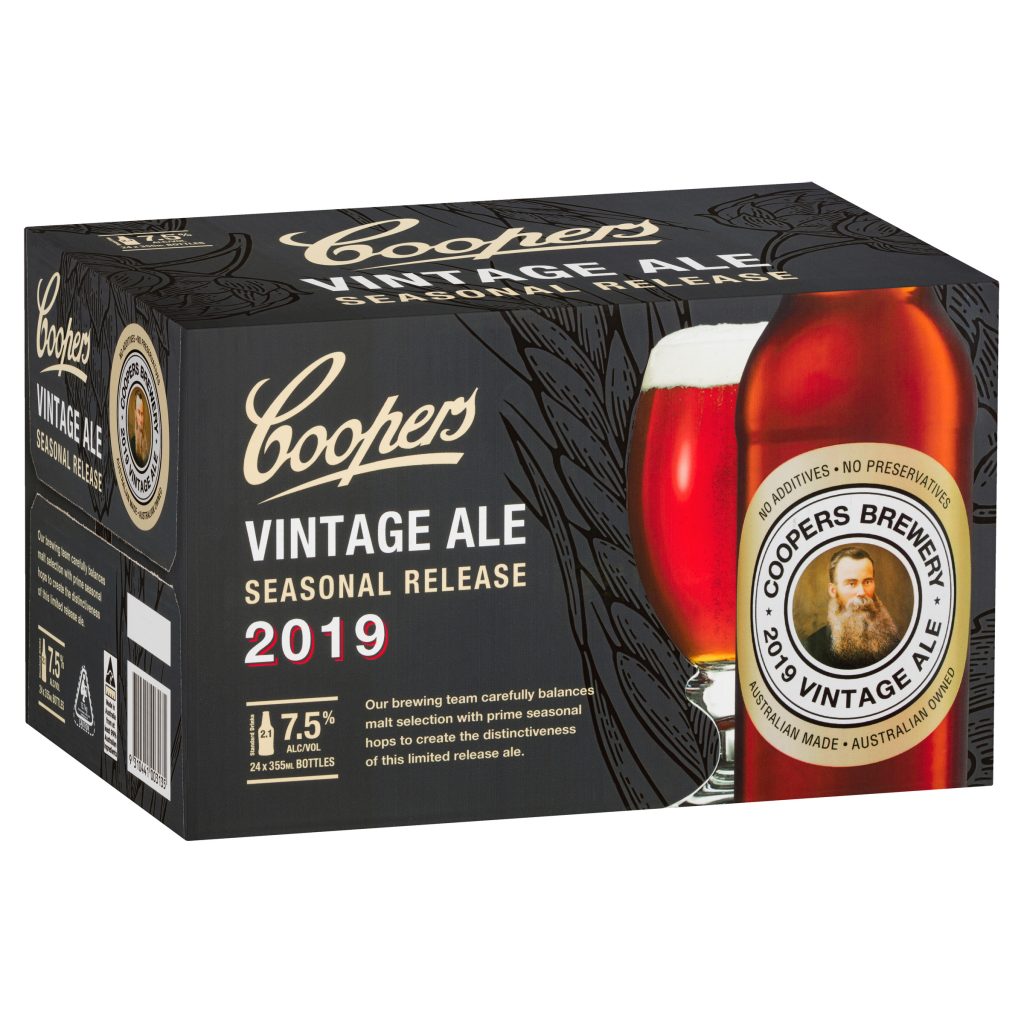 This year, the barley was sourced from the golden plains of South Australia's Mallee region and then malted to perfection at Coopers' own Regency Park Maltings. The Compass barley variety is hardy and high yielding, allowing the brew to deliver a heftier alcohol content, yet still retain a fine malt sweetness. Judicious blending with dark crystal malt has given this year's Vintage its alluring copper hue, which comes to life in the glass as it settles under a rich, creamy head.
As always, the brewers at Coopers love to introduce a new hop variety into Vintage Ale, and this year the star of the show is Mosaic. This American hop has enjoyed immense popularity among brewers since its release in 2012, and they've chosen to feature it with Cascade hops in both late hopping and dry hopping. This has resulted in an enticing aroma of apricot, citrus fruits and pine notes, that sets the scene for a palate of roasted malt, nuts and toffee, enhanced by a clean bitterness and a smooth, velvety finish.
Like all Coopers ales, this year's Vintage has undergone natural bottle fermentation, but with a twist. The team decided to continue a re-fermentation step at the end of primary fermentation to enhance the development in the ale of a delicate and smooth flavour. Coopers' iconic and cherished ale yeast is used in both primary fermentation and in the bottle, enhancing the aroma and flavour of the beer through its distinctive fruity esters. New technology in the brewery has allowed the beer to be bottle-conditioned with the yeast at its absolute healthiest, to ensure the finest flavour development possible.
Coopers 2019 Vintage Ale contains an alcohol level of 7.5% ABV – and with the strong malt profile, abundant hop character and live yeast, it is destined to become more complex when lovingly cellared. The sweet malt flavour and soft toffee undertones will become more dominant as the hop characters slowly recede, rewarding those who are dedicated to careful cellaring.
To appreciate this ale at its best, we recommend an ideal drinking temperature of 5°C, and served in a wide, tulip-shaped glass.
Limited stock will be available in key venues from 5th August.