We endeavour to use the 'events' section of ManSpace Magazine to show off some activities and experiences that are, perhaps, a little outside the traditional day out. We try to highlight some events you might want to make an occasion of or something outside the norm. And we don't just re-run press releases from organisers – we get out there and take part ourselves.
So far, our publisher Jeff Patchell has gone out to Field Days, Steam Days and spoken to a man who runs his own relaxed tours of iconic Australian pubs – all great events that take you to a different world and provide a real experience outside your normal life.
This is exactly the same approach we took to Tough Mudder. Well … sort of … I mean it's definitely a different world providing a unique experience. Yet somehow, Jeff wasn't available for this one. Oh no, this was one for the editor.
For those who have not seen anything about it, Tough Mudder is a 20km running course with 28 obstacle challenges scattered throughout. As the name would suggest, there is mud. Lots of mud. And hills, and ropes, and tyres, and mud, and hay bales, and a fire pit, and water, and mud, and ice baths … and mud.
Those who finish it will end up exhausted and most likely sore … probably for a few days after. You may even come out of it a little bruised or with a few minor abrasions. But those who complete it always talk of an extraordinary sense of achievement, a bonding respect with their teammates and an inexplicable desire to do it again.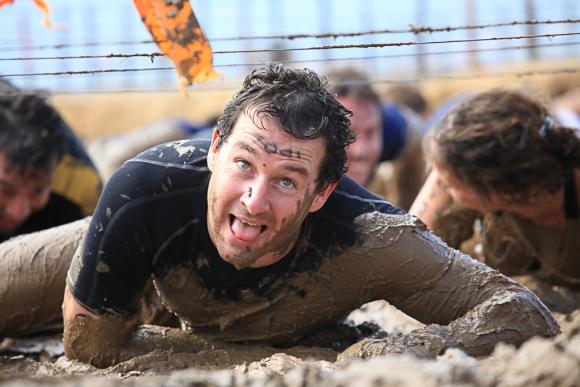 If the truth be known, I'd actually had my eye on this event for a few months – well before I even considered writing about it for this magazine. You see, I quite like to get out and exercise; it's part of my 'space' and an important thing I do to keep happy and healthy.
The thing is, I've never really enjoyed running – and I don't think I'm alone there. I'll go out for a run here and there, and I'm certainly not awful at it, but I seem to get bored with it quite quickly. There are people out there who can hit the road and their head clears as they enter a zone. I'm not one of them. When I run, I start thinking about when I'm going to finish. And the sheer number of group training programs and boot camps that adorn our parks, beaches and car parks would suggest I'm not alone.
This is where Tough Mudder has identified a big market, and presented something very clever. Most people who exercise like the idea of working towards something – it gives you a target and motivates you to keep going. But if you don't want to join a marathon, or you think that a triathlon is a bit serious, then there's not a lot out there. As such, an obstacle course that mixes up endurance with strength – all with great variety – has a certain appeal.
However, the fundamental beauty of this event is that it is non-competitive and has no timing aspect. The objective is to get a team together who will be of a similar fitness capability and help each other get through the course. If you want to charge through it like a possessed demon, that's your business, but you certainly don't have to – and the vast majority don't.
That's not to suggest that you should enter Tough Mudder without doing any training at all. It is – after all – 20km in total, and the obstacles include crawling through mud under barbed wire, jumping off a five metre platform and swimming across 50m to the end of the dam, plunging in pools filled with ice, scaling walls, climbing ropes and running the gauntlet of an electrified wire zone … to name just a few.
It does sound a little on the extreme side – perhaps even crazy – but when you stand in the middle of the event, you can't help but get drawn in.
It is the brainchild of Will Dean, a former counterterrorism officer with the British Foreign Service. While working in Pakistan, Will organised a 'kabaddi' league (a south-east Asian sport that involves wrestling, chasing, tackling and a ball…), and the success of it clearly got his ideas running.
When he left the Foreign Service to do an MBA at Harvard, he was required to submit a comprehensive business plan as part of his course. Drawing on his experience from the kabaddi league, and his natural skills in business, Will put forward an idea for a company that would run adventure races – with the key difference being that they would be harder and tougher than anything else on offer. His submission was a finalist at the annual business plan contest, but was ultimately knocked out by the Harvard Professors on the basis that they did not think the event could attract the required 500 participants as required in the brief.
Will was confident it would work, so asked his friend Guy Livingstone to come on board as the chief operating officer for his company. Working on a measly $8,000 marketing budget, they used Facebook to generate interest, amassing more than 4,500 willing participants for the first official Tough Mudder event at Bear Creek Resort in Allentown, PA in 2010. Since then, the number of Tough Mudder events has increased exponentially with 14 events in 2011, and 28 scheduled throughout 2012
Only three years since that initial rejection, the Melbourne staging of Tough Mudder attracted a staggering 21,000 participants over a single weekend. They are serious numbers by any business plan
Event day
I had actually done a reasonable amount of training for Tough Mudder and so felt fairly confident, but nothing can truly prepare you for what awaits when you drive into the car park.
The sheer size of the event is intimidating and exciting all in one. People are sent off at different times – and because we have a mid-morning start the day is well and truly underway by the time we arrive.
Music is thumping out from speakers all round the place and large banners direct where to go. There are obstacles in plain view of the start line and hordes of people are lining up to complete their registration or stretching on lawns in preparation. Some people are dressed up; I can see a couple Power Rangers, a Japanese Schoolgirl, Mario & Luigi and a disconcerting number of Borats in 'mankinis'. Others, more traditionally dressed, are pacing in anticipation.
It all adds up to create a genuine sense of occasion for the day. You know you're here to experience something a bit different. The energy is infectious, and the atmosphere electric – though that might just be the 10,000V electrical wire obstacle at the finish line…
At registration, I receive my 'participant' wristband and get an individual number written on my arm and my forehead in permanent marker.
"Why on my forehead?" I ask meekly.
A man in the queue behind me jumps in before the attendant can answer.
"If by chance you pass out or get knocked out, they can roll you on your back and see who you are by your number," he says flatly.
"Oh, I suppose that … makes sense."
With more than an hour to go before our allotted start time, my team – largely made up of people I train with – decide to wander around the course and check out some of the obstacles. We discuss strategies for the best way to get through each challenge – these strategies would turn out to be completely useless and largely forgotten in the heat of battle.
As we walk by the finish line, some of the first participants are making their way through the final obstacles. They look completely exhausted … and yet logic says that they must be some of the better participants … I'm suddenly not so confident.
Our time arrives, and we move to the start point. With a sense of theatre, they make us scale a timber wall into a small waiting area and talk us through what lies ahead. They yell questions, we yell answers. There's shouting, hollering and whooping. It's as manufactured as American cheese, but in this setting  … well, it makes sense.
The MC asks us to kneel and recite the Tough Mudder oath:
I understand that Tough Mudder is not a race but a challenge.
I put teamwork and camaraderie before my course time.
I do not whine – kids whine.
I help my fellow Mudders complete the course.
I overcome all fears.
I had heard that in America they play Star Spangled Banner at this point.
I wait.
They play AC/DC here … that also makes sense.
The event starts well. The Mind Over Mudder team (a very deliberate and bad pun) is working together well. We keep a steady pace and ensure we're all in good shape.
At this early stage, the ethos of Tough Mudder is very much intact – I'm lifting complete strangers over 4 metre walls, and complete strangers are pulling me up to the next one. I've never met these people and, by the looks, we would probably barely exchange pleasant nods standing at a bar together, but in this environment we're all mates.
The first real shock comes when we reach obstacle four – the aptly named, Arctic *****. In short, it is a plunge pool that you need to jump into and wade your way across to the other end. As we approach it, I see an attendant breaking open plastic bags of ice and tipping the contents into the pool. There is, in fact, a full layer of floating ice cubes on the surface. I jump in (there's a crossbar of wood topped with barbed wire at the half way mark to make sure you go completely under) and get out as quick as I can to find my team. Our faces are stunned, we're soaking wet, my legs are bright pink from the cold shock, our shoes are squelching and we are beginning to understand what really lies ahead … yet we're laughing like it's the time of our lives. Go figure.
As we work through the course the fatigue kicks in, but the good humour remains. We crawl through mud on our bellies (not soft mud I might add) – jump off a 5 metre platform into a dam and swim across – slide down a giant plastic covered slope with trickling water (heed my advice … don't go head first) – scale ropes – crawl through trenches and semi-submerged pipes – run through a fire pit – and too many more for me to go into detail here.
Unfortunately, as the afternoon goes on, the sheer number of people on the course starts to cause problems. Queues form at obstacles and people become impatient. Some start taking the help of others but are no longer reciprocating – others simply push by or skip challenges. It's frustrating and, perhaps worst of all, the camaraderie on the course begins to wane. People are still supporting their own team, but there's less looking out for others.
The event may not be a race against time – and that is one of the great positives about it – but for those who've trained to test themselves, it is a major negative to be standing around for more than 90 minutes throughout the course.
Pleasingly, my team remains positive and generally in good spirits. Though the frustrations are obvious, they manage to block out the negatives and we stay together, supporting each other to the end.
The last obstacle is a dash through live wires. Long tentacles hang from a canopy and hay bales scatter the ground to complicate the path. These tentacles have a combined total of 10,000V running through them, though not every wire is live – adding a certain drama when you get the inevitable shock from one half way through. It is an obscure finish to any event (one that you've paid to enter I may add…), but once again, it somehow makes sense.
We cross the line and are handed the customary, and official, Tough Mudder finisher items; a t-shirt, an orange head band and a can of cold beer. And I can tell you – a beer has never tasted so good.
This is not your traditional 20km run in the park, but dare I say it, a traditional 20km run wouldn't be this enjoyable. Our mud-soaked clothes and bruised limbs are as much a trophy as the orange headband, and promote nodding approval from fellow participants.
I take my shoes off and throw them on a massive pile that they say will be washed and given to charity … I feel bad at that thought – I'm not sure anyone should have to try and make something from those shoes. There is a large open shower area with bottles of shower gel at your disposal. It doesn't surprise me that the water is cold, but when I realise that the best pressure is coming from an attendant with something that resembles a fire hose, things seem to take on a prison feel – and by the end I'm pretty much waiting for someone to throw a handful of delousing powder at me.
I'm shivering with cold, only partly clean, my muscles are tightening and bruises are coming through – I have every reason to be a bit fed-up with the day; yet I'm walking around pretty ***** happy.
There may have been far too many people for the course to handle – I hope we can put that down to a 'first staging' mistake – but every other part of Tough Mudder exceeded my expectations. The course is the challenge, but the structure of camaraderie in a non-timed event makes it an experience that is extraordinarily enjoyable.
I'm not suggesting it is for everyone, but if you like to exercise and want a challenge, then it might be one to put in the diary for next year – it's already in mine! Just make sure you get a good group of people who will stick together and approach it with the right spirit. And for that, I need to pay respect and offer complete gratitude to Talei, Dani and Claire – Team Mind Over Mudder.