There's something endearing about old trams – perhaps it's the way they were so elegantly constructed or the fond memories attached for those old enough to have travelled on them. Ian Kenins caught up with the Melbourne Tramcar Preservation Association to see how some have been re-invented.
Most of us, when we were young, envied friends who had a model rail set at home. As grown-ups plenty of us are still impressed by mates with a room or shed filled with tracks and rolling stock. But few sets are more impressive than the 650m long, full-scale track circling Tony Smith's property in Haddon in central Victoria.
What Tony and his mates have riding those tracks are vintage W Class trams that were once part of Melbourne's public transport fleet. When the trams first arrived on the three-acre site they were in a sad state of disrepair. After decades of use they then sat in depots for years as emergency stock. One had even been reduced to the ignominious role as a backyard woodshed.
But now six of the eight trams on site look brand new, probably even better than that, given the years of dedicated work and considerable expense that has gone into restoring them. You see, Tony and some 40 others make up the Melbourne Tramcar Preservation Association.
Tony is the association's secretary and fount of all knowledge. He'll tell you that older trams were built with padded seats in the saloon and wooden seats in the centre section.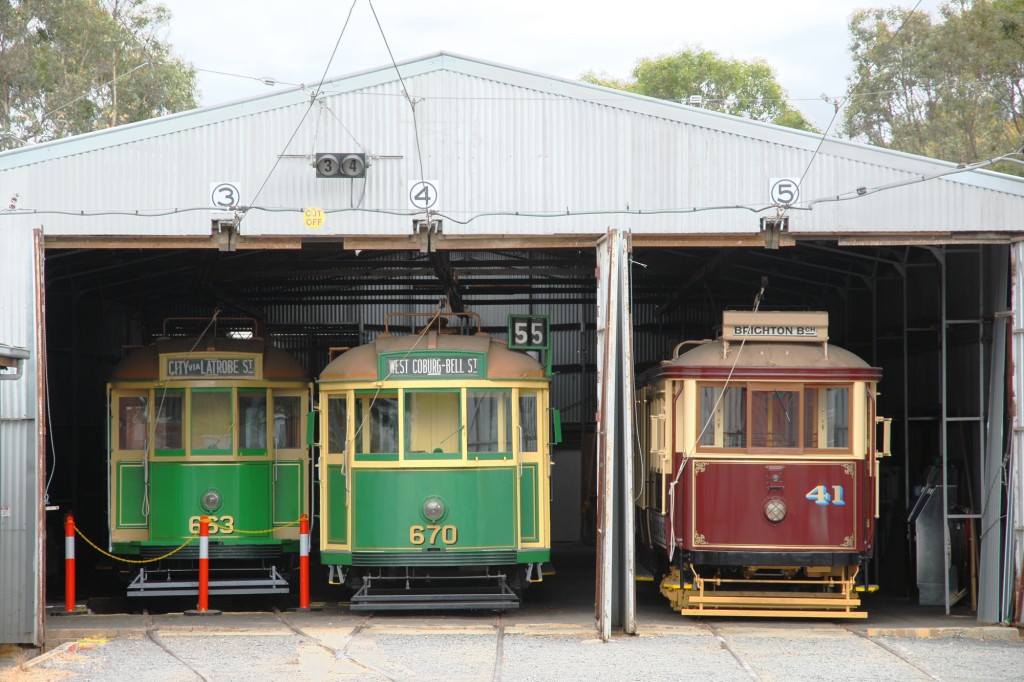 "The saloon section was originally for ladies and children and the centre section was the smoker's section when we had smoking on public transport." He'll also tell you that tram W5 357 was built in 1935 in the Preston workshops. "It was chocolate and cream instead of green and cream and it had three equal spaced canvas doorways in the centre as distinct from two wide and one narrow, the reason being to allow more room for prams and pushers." And that tram 103 is classified L under the M&MTB code. "It was built in 1921 by James Moore who were commercial body builders in City Road. There were six of these particular trams and they were built for the Prahran & Malvern Tramways Trust, which was a council-run tramway, as most trams were prior to 1920 when the M&MTB was formed to form a unified system."
The MTPA chose Haddon, a sleepy town some 130km from Melbourne, way back in 1974 because Tony had contacts in nearby Ballarat (where he was part of that town's tram restoration group) and because Haddon was, "Far enough away to allow for the type of construction we were doing here," said Tony. The local shire issued the appropriate permits and over the next eight years in went the track and up went three big corrugated iron sheds and a substation.
During that time they acquired the models that encompassed the W Class range (built from 1923 to 1956). Then in 1985 Tony and his wife Jacqueline moved to the property in – you guessed it – a W Class tram. The driver's cabins at each end were converted into wardrobes, the two adjoining passenger sections became narrow bedrooms and the centre section the living room.
Since then MTPA members have devoted weekends and holidays to the painstaking task of ensuring every part of every tram looks just the way it was when passengers first hopped aboard. For tram VR41 that was 1923. After 34 years of service it was scrapped and stripped of all mechanical equipment before becoming a woodshed until being rescued by Tony in 1977. "When I retrieved it, it was very derelict," said Tony. "There was no canvas on the roof, the boards had lifted and the side panels had all bulged." With help from the Bendigo Tramways museum, "Thousands and thousands of man hours over four years," and some $200,000 of members, benefactors' and donors' money, tram VR41 was rebuilt to perfection.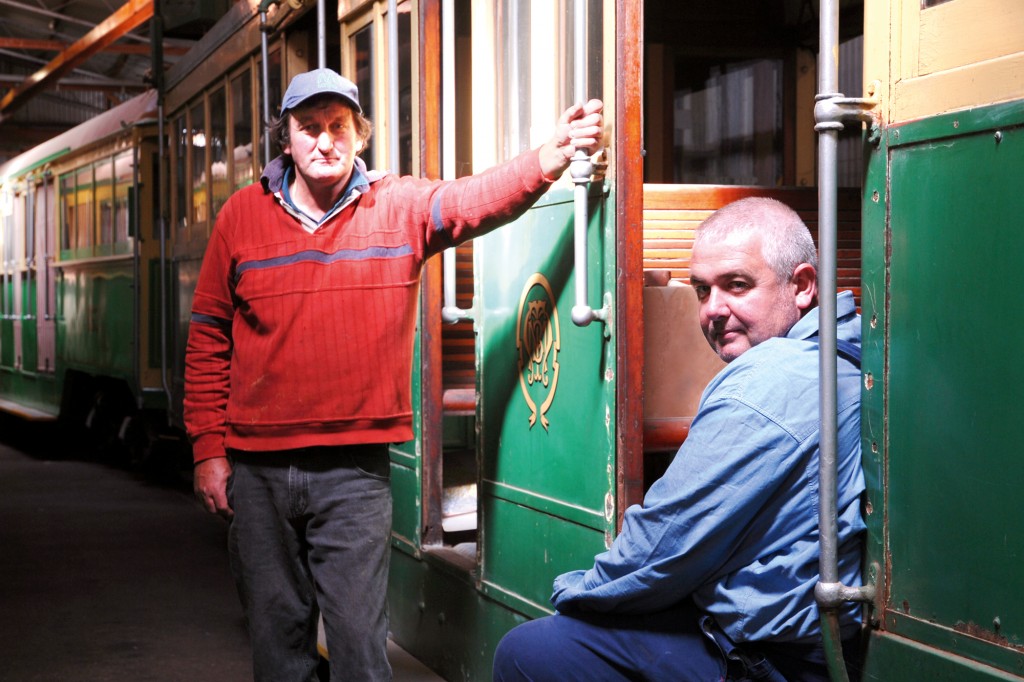 "Before commencing each tram's restoration members do an inventory of the mechanics to see if there's anything missing," says Tony. "We've changed wheel sets and traction motors, fitted an air compressor and re-wired a tram. There's no point doing the full body work if you're crawling around greasing everything."
Tony says painting is the most tedious task. "If you don't put the preparation in, you don't get the [immaculate]finished result. And when you're dealing with 48 feet of tram, that's a lot of area you have to prepare." The wattle yellow used in the 1980s and 90s is such a thin paint that it requires five coats. "It's a learning experience because none of this came with a text book." They'd like to fix a lot more but, "We have champagne ideas but a beer budget," lamented Tony.
What they do have plenty of is spare parts. Over the years the MTPA has collected and/or purchased windows, doors, ticket boxes, strap hangers, bell cords, storm curtains, lampshades, signs, conductor's bells, headlight lenses, windscreen wipers, axle boxes, gears, bearings, and every bolt, nail and screw (all brass) that's needed. What few parts the MTPA don't have they'll approach one of the 16 other clubs registered with the Council of Tramway Museums of Australasia and offer up a trade. And if it still can't be found then it's off to the workshop to make a replica.
Once a tram is restored the fun part is taking it out for a test run on the demonstration track. "The first time you make it move under its own power, the elation you get from doing that work, bringing it back to life is fantastic," said association president Kym Smith, whose love of trams is so deep that he drives from Adelaide to Haddon every few months to help out.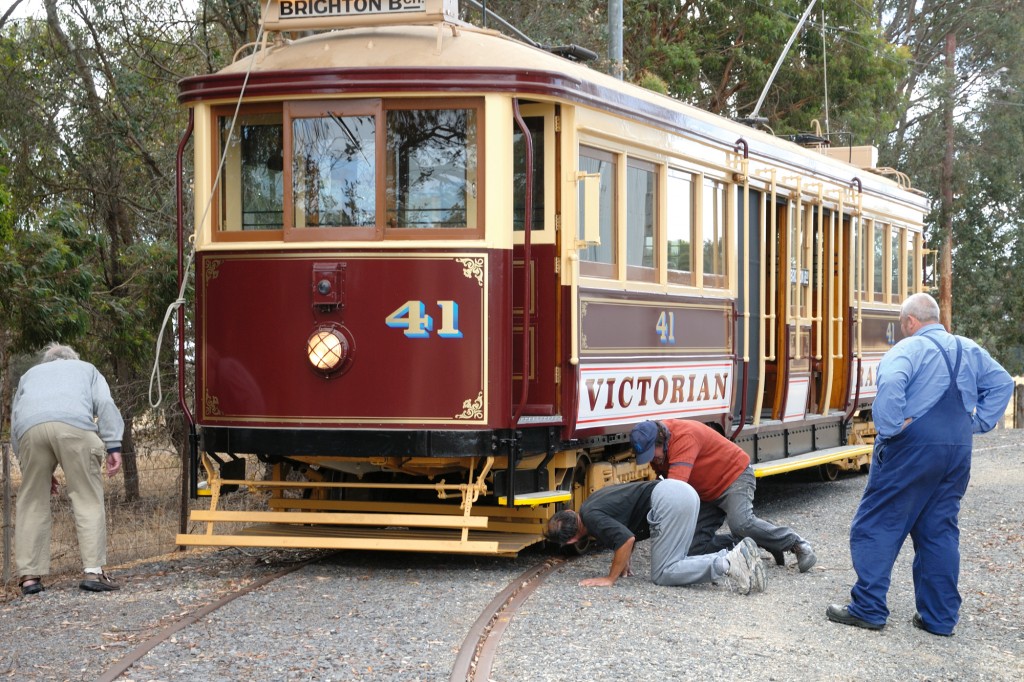 Stephen Tyrrell makes an even longer journey, from Brisbane, motivated by the acoustics. "Riding a tram, it's the feel of it, the sound of it. It's like it's alive to you. The [ticker ticker ticker]sound of the air compressor building up is like music."
These MTPA guys are also accredited rail operators under the Safety Act Victoria 2006. "I have to have the same safety management system as V-Line or any of the other [rail]operators, scaled down, mind you," said Tony.
The MTPA regularly holds open days and is also available for group tours, and their objective is to present exhibits that are alive, not static. Visitors get to enjoy rides on the different trams without having to avoid a ticket inspector or give up their seat to an elderly lady. And then there's the free history lesson you get courtesy of Tony Smith.
To visit the tram museum, contact the MTPA by phone on 5342 4642 or visit www.mtpa.com.au/visitingus.html