There aren't that many professions that can impress both the boys at the pub and the attractive lady at the bar in equal doses.
Brain surgeon? Might impress the ladies … likely to get blank faces from the guys. Car demolition expert? The lads are cheering, but the ladies are walking away. Dentist? Scares most people.
What about … "I design cars for a living." Now we're getting somewhere.
"Actually, I just finished a prototype design for a futuristic Mad Max car."
I think we have a winner.
Not that I'm suggesting that any car designers are plying their trade to impress their mates or use their profession to pick up at the bar … but you have to admit – it's a pretty cool job.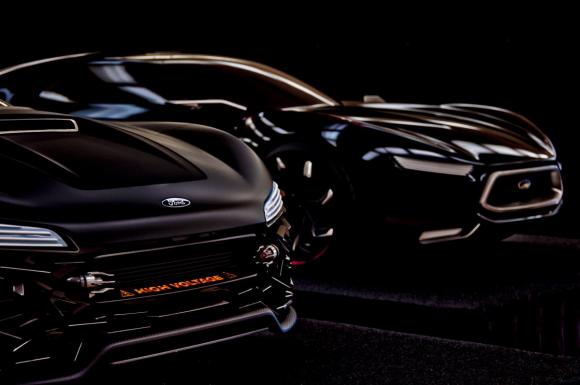 It might actually surprise some people to know that there is an active automotive design industry in Australia. While there is nothing wrong with imported cars or even cars that are 'assembled locally', it is still pleasing to know that a number of the cars on our roads are designed locally to reflect our needs and style.
As a fantastic platform to demonstrate some of the talent on offer, Ford Australia ran an internal competition to design a futuristic version of the Ford Interceptor; the car made famous in the iconic Mad Max films through to the late-1970s to mid-1980s.
"The brief was based around what the car would look like in a post apocalyptic time in the future," explains Ford Australia product communications manager Peter Fadeyev.
"The idea was suggested to us as the rumours of a Mad Max 4 started surfacing. Like everyone else, we don't know how the plans for the film are progressing, but we thought it was just a great idea. Firstly, it gave us the opportunity to showcase the process of designing a car, but also the talent that lies within the Australian design industry. We could have put out a design competition for a new station wagon or family sized car, but the freedom of creativity open to the team with this idea was fantastic."
The brief was put out to the entire design team and largely consisted of … well … watching the Mad Max films. I figure it was the best brief these guys have ever been given.
Interested participants then set to work designing their own futuristic Interceptor, with Ford exterior designers Simon Brook and Nima Nourian selected as the two entrants to be taken to concept stage.
As such, two different creative visions were brought to life as 40% scale models.
Both Nima and Simon have worked on Ford staples, such as The Territory, and have also been involved in some of the finer details of performance cars such as the Ford Falcon XR6 – but this was clearly a very different style of vehicle.
"I guess the great difference with this project was that we had a lot more freedom in where we could take our designs," says Simon.
"There are some fairly legitimate restraints when designing a family car, a performance vehicle or an off-roader, but this brief was all creative interpretation."
"Normally you have to look at the market, the needs of the market, practicalities, usability and design trends, and then put those together to come up with a concept," adds Nima.
"Once that concept has been established, we will work on it as a group and get input from a lot of other areas. But in this case we basically just all sat down as a group and watched the films, then went away and worked on ideas on our own based purely on how we thought the car would look and function in a post-apocalyptic world. It was great fun."
The process was essentially treated like any other new car, with the designers starting from a brief and then being given free licence (pardon the pun) to create their own vision.
The designs started with a sketch, which was then turned into a 3D model and then ultimately created into a clay scale model.
In some ways it seems a little strange to think that the exterior styling of cars we see on the road are developed with clay; but having said that, I don't really know what else you would use.
"It does surprise a few people, but we do literally create the model out of clay," says Simon.
"That way we can shape it or add to it as we need to, right down to fine detail. It can be difficult because it's constantly moving or shrinking or slightly changing shape, but I couldn't imagine designing in any other way."
"We do have fantastic skilled model makers who basically do the sculpting," Nima quickly adds.
"We provide the brief and the instructions as to how we want it to be and they work with the clay to create the model."
It's important to note that no one who worked on the cars was paid any more to work on the project. It was, quite simply, a labour of love.
"It's a creative outlet," says Simon.
"Sure, it's pretty close to our normal job in skills and we did it in our normal work environment, but it was a different mindset – and that made it fantastic. I have friends who go home and walk out to the back shed to do some wood working or something to relax and get some space. I got to do the same working on this car."
Nima says he couldn't tell you the amount of hours spent working on it, but does acknowledge that it would have been "a few hours a day", with a project span of six months from the first sketches to the current state of modelling.
"You're not really thinking about the time when you're working on it, because you've got this opportunity to create something so unique," he says.
"It was more of a situation where you work hard because you want to see it created.
"There were some restrictions around the availability of the clay modellers, but everyone was so fantastic in helping out whenever they could."
Given the millions of dollars that are put into any car development, the role of the designer is – understandably – very secretive. As such, the guys had to undertake all the work at their normal work stations.
"We were doing all the designs and styling at our desks, but it felt very different," says Simon.
"We still had daily commitments to take care of as this was purely a side project – but I was always really happy to spend time on it.
"Our desks are literally next to each other, so once we'd gotten past the first stages of design, we'd actually help each other out a bit or just ask the right questions to help refine the style."
That's not to suggest it was a care-free project. There is a certain amount of expectation that comes when working with such a well-loved film – after all, nobody wants to do a bad cover version of an iconic song.
"In some ways, our job was to be progressive thinkers to predict what might happen in the future and therefore what sort of car they would need for that time in those conditions," says Nima.
"My car has the matte look and sits a bit higher for off-road driving, while Simon's has the sleek polished look and runs lower. But that's the great part about this, normally we have to work with a lot of data and research and come up with designs that meet current needs, but this was our own interpretation of what may happen," he adds.
"You're trying to pay respect to the heritage of a well-loved film, but consider how the lifestyle of the future would be," says Simon.
Should the film eventually be made, there is no guarantee that either design would be used, but you get the feeling that neither of the guys would care too much. There's a subtle difference between creating something from a specific work directive and adjusting those same skills to design something from a creative perspective.
In any respect, both cars look incredible – and we have indeed had a glimpse of the local talent on offer.