The story of this road train model began at Northline Speedway in Darwin after a race meeting one Saturday night. Local Sprintcar Champion, Brooke David, had won the Sprintcar feature that night, and Chris Renehan had won the go kart feature.
They were celebrating over a few beers when talk turned to trucks, and Brooke, owner of DirectHaul, challenged Chris to make a model of one of his road trains. Chris admits that it may have been the alcohol talking but he agreed and told Brooke he was up for the challenge.
With a fascination for models and a background in architecture, Chris is no stranger to building things. His architectural skill sets lend themselves well to building models and as such he's built a number of train carriages for his brother who has a fairly hefty train set. He has also been commissioned to build a couple of carriages for museums in Katherine and the Adelaide River. They're incredibly intricate and Chris spends plenty of time making sure they're as accurate as possible.
"When it came to the road train I did plenty of research to work out whether or not it was possible. I rang some hobby shops that I frequented as a kid and all of them directed me to Auslowe. I got to know Nigel Lowe quite well and when I got the catalogue I was astounded by what they produced.
"I couldn't believe how big the model truck scene was. I worked through what was available, discounted a Kenworth T904 and settled on a Mack Titan instead. DirectHaul employ both in their pride of the fleet. I knew I'd give it a red hot go as I had the skill set but I'm not quite sure I knew what I was in for," says Chris.
Chris spent a lot of time at the Directhaul depot photographing and studying the road train combinations.
"The tankers vary in detail quite a bit, as there are different manufacturers, and different signage."
The Mack Titan Highway tri drive was fairly standard, as supplied by Auslowe, with the exception of the 'icebox' aircon for the sleeper, and the safety exhausts to be used when carting fuel tankers.
"Once I had ordered all of the parts, and all of the boxes arrived, it looked overwhelming. I think Nigel was even overwhelmed. There are 90 hand turned Auslowe Ali wheels, each made of four pieces. As it was such a large order they made a special compartmented box with each wheelset wrapped in tissue paper.
There were 44 airbags to paint and brake assemblies to construct." Chris explained that it was repetitious and tedious, but as time went on, he could see the tankers and prime mover taking shape. A sense of achievement started to build and as many can relate, that alone can be enough to drive a man to completing a project.
Painting the cab, sleeper and tankers proved to be a problematic task. In the humid tropical conditions, Chris couldn't get any shine on the paint. "After all the work to get it to painting stage, I thought I would have to start everything again, and to be honest, there was no one to ask, as there are few modellers in Darwin," Chris explained. Through experimening he worked out that if he sprayed
slowly, working into the model like MIG welding (pushing rather than dragging) then he got the lustre he desired. In the end, Chris applied about ten coats of thin paint but it certainly looks like the real deal.
"I had to fabricate all of the bogies for the tankers, and lower them to Australian profile which was made easier thanks to all of the good gear from Auslowe. Fabricating the chassis for the B tanker was a challenge but I worked out that I had to add brass stiffeners to prevent sagging.
"I mainly used superglue, with Araldite for items that needed to be positioned and held. Maybe it's my motorsport background but all of the bogies and chassis are held to the tankers with screws as I felt they needed a mechanical fixing."
Chris knew that the model was likely to be transported to trade shows so he wanted to maintain its strength.
"When it came to the decals, Yves from White Fang made it easy, but it was still a lot of hard work measuring and getting it right. Each of the models is based on a real member of the DirectHaul fleet, including the dollys, so they all have corresponding fleet I.D., number plates etc. If the model is ever involved in an incident, they can just ring the number on the hazard sign and it will get them through to Direct Haul's reception. After I had applied the decals I was excited in a big way as it was finished," Chris says.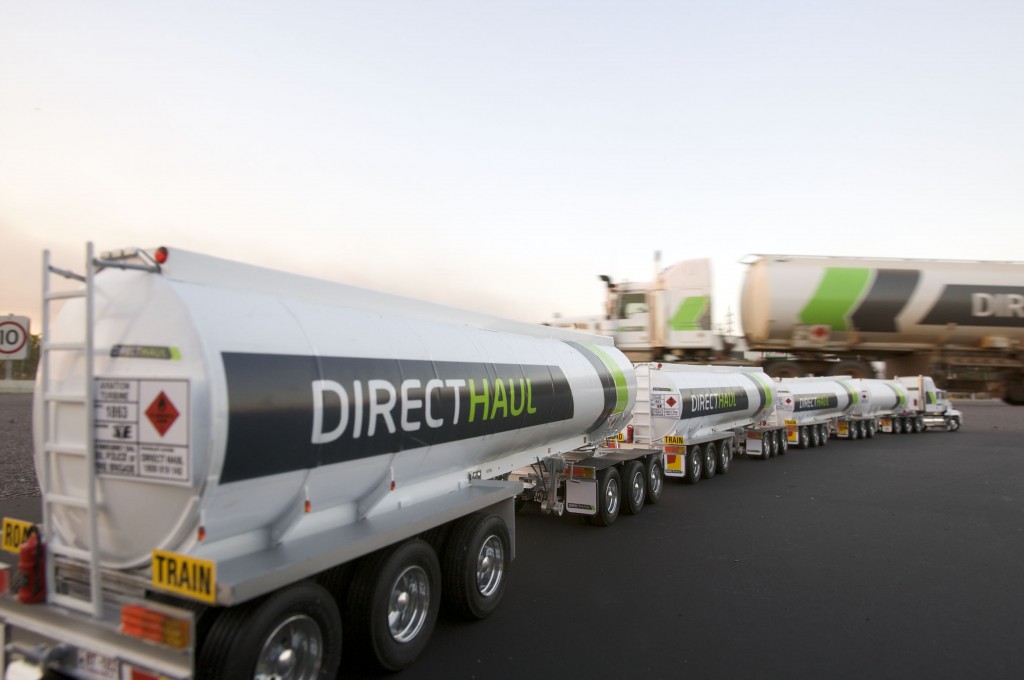 The model up close and personal with the real deal in the background.
"I had a display base made by a cabinet maker, and a Perspex cover (they are both 2.7m long). Before it was to be put in the case, I got my photographer mate Dave Hancock involved, and we went to the Directhaul depot in Darwin to try and make it look real in the photos. I bought a sheet of fibre cement and painted it matt black to employ as a base because the gravel in the bitumen was out of scale. We only had one afternoon to do it.
Unfortunately there were grassfires about which subdued the light, but it does give it a surreal quality. I showed the photos to an old truckie one day and he was looking at them for ages trying to work out if it was a real truck or not," Chris laughs. "He eventually got me, as he noticed a lack of pins in the Ringfeder."
Not to be outdone though, Chris has made sure the pins are in now!
"When I eventually mounted it in the case, I was scared of damaging the model," Chris says.
He had invested so much time and effort in to it, and was reluctant to transport it to Directhaul.
"Eventually I bought a layer of compressible foam to sit it on, dropped the tyre pressures on the ute down to 22 psi and dropped it off. Needless to say Brooke was rapt! It sat in his office for about six months for him to admire. It was eventually displayed in the reception area."
The project spanned some three years and Chris worked on it during his spare time between Speedway and work commitments. In Chris' own words, it nearly killed him but he's prepared to do it all again for a roadhouse at Emerald Springs.
"After they saw it, they asked me if I could do one for them and I said of course."