Whether it's cleft-chinned Kirk Douglas and Michael Douglas, AFL superstars Gary Ablett and Gary Ablett Jr, or the local butcher and his apprentice son, they all have one thing in common: the offspring have chosen to walk in their dad's footsteps.
Obviously, this isn't the case for every family. Some father-son relationships are fraught with misunderstanding or conflict, and prolonged contact could be the furthest thing from the minds of both parties. Others may choose to take their lives in a completely different direction. But most of us will know of a family or two where the bond between a father and his son has resulted in the latter choosing a similar, if not the same, occupation.
This is all the more common when it comes to a family business. If someone has put the time and effort into getting a business of any sort up and running, it means the world when future generations can carry the torch for the family.
Take Peter and Robbie Sands for example. Their Melbourne-based workshop has been around for the better part of 35 years and it is here, in their 'shed', where they work tirelessly to design and manufacture quality timber products for the home and, more recently, the kitchen.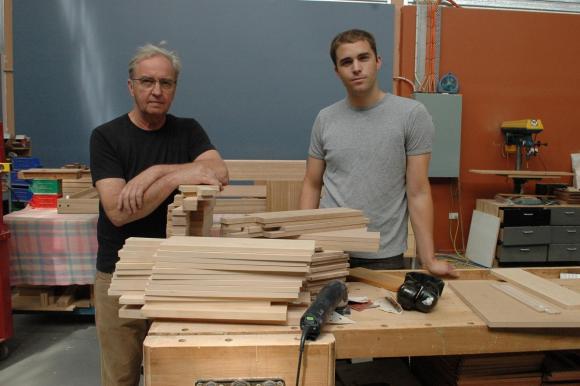 The legacy began when Peter decided to move out of his existing job in publishing and work for himself. In 1977, he started to create designs for timber furniture.
"I thought that there was room for freshness, especially in country homes and city apartments. We quickly became successful and started winning awards for design – that was the real principle of what we did, and still is," he says.
"It was different in those days. The idea of design wasn't really applicable in Australia; it was about labour and materials. The Europeans on the other hand understood that a good product was made up of three components: labour, materials and design. If you didn't have the latter, it wasn't a working product."
This concept was encapsulated in the first product that Peter made. The bed won Best Furniture Design in Australia when it was first launched and it's been selling ever since (he reckons it's passed the 10,000 mark by now).
Most of the interest has come through word of mouth and, as we sit down for the interview, Peter says he is expecting a visit from a customer whose parents bought her a model of this particular bed when she was just 18. Now, decades on, she has spent weeks trying to track down the manufacturer so she could buy her own daughter a custom-made bed of the same calibre. Eventually she found Peter and, suffice to say, was glad that he was still in business.
"There's that transition between generations and we get a lot of that. Usually they are people who are looking for a product that is not cheap, but has a value that comes from its longevity and design," he explains.
Living in such close confines to his dad and his work, it was only natural for Robbie to develop a creative flair himself. About seven years ago, he decided to move to Japan in order to work on product design in a virtual sense – as in, designing websites. As if by fate, this decision eventually paved the way for Robbie to transfer these skills to his dad's business when he decided to return home.
"A lot of my work was coding, so rather than creating a strict graphic it was more about writing lines of complex code to get a result. The key with that style of design is that you should never see it. And it's not dissimilar to what we do here in a way; the design is almost hidden so there is one smooth operation," he says.
"While it was amazing to see someone using the website that I had helped to create, I really wanted to move into actually holding an object. There is nothing better than to hand over a stunning item and see a customer's reaction."
He has introduced the brand Sands Made, which aims to provide products that are in the best interests of a customer's wellbeing as well as the environment. Looking at the product line available today, it is clear that Robbie has brought a fresh outlook to his dad's existing business. Geometric, minimal designs allow the beauty of the timber itself to be a central feature and he is currently working on generating more public interest.
"I guess my speciality is that I'm bringing a public viewpoint to the business. When we send something out, I make sure that the first impression is a really good one," he says.
Working with the motto that 'everything old is new again', Robbie often digs up his father's older product designs and reworks it to suit a modern customer base. One such example is Stix for Cooks for the kitchen – a timber stick that can stir food more efficiently than a wooden spoon.
"Cooking Stix is a bit of an old product that has been aging in people's kitchens. I'd say I resurrected this," he explains.
"I think about how to present it best, looking at the finish of the product and the packaging to reflect the idea of being able to give it to someone as a gift. The aesthetic also closely matches a lot of other products, so it's this idea of simplicity and complexity intermingled to show off the natural beauty of the wood."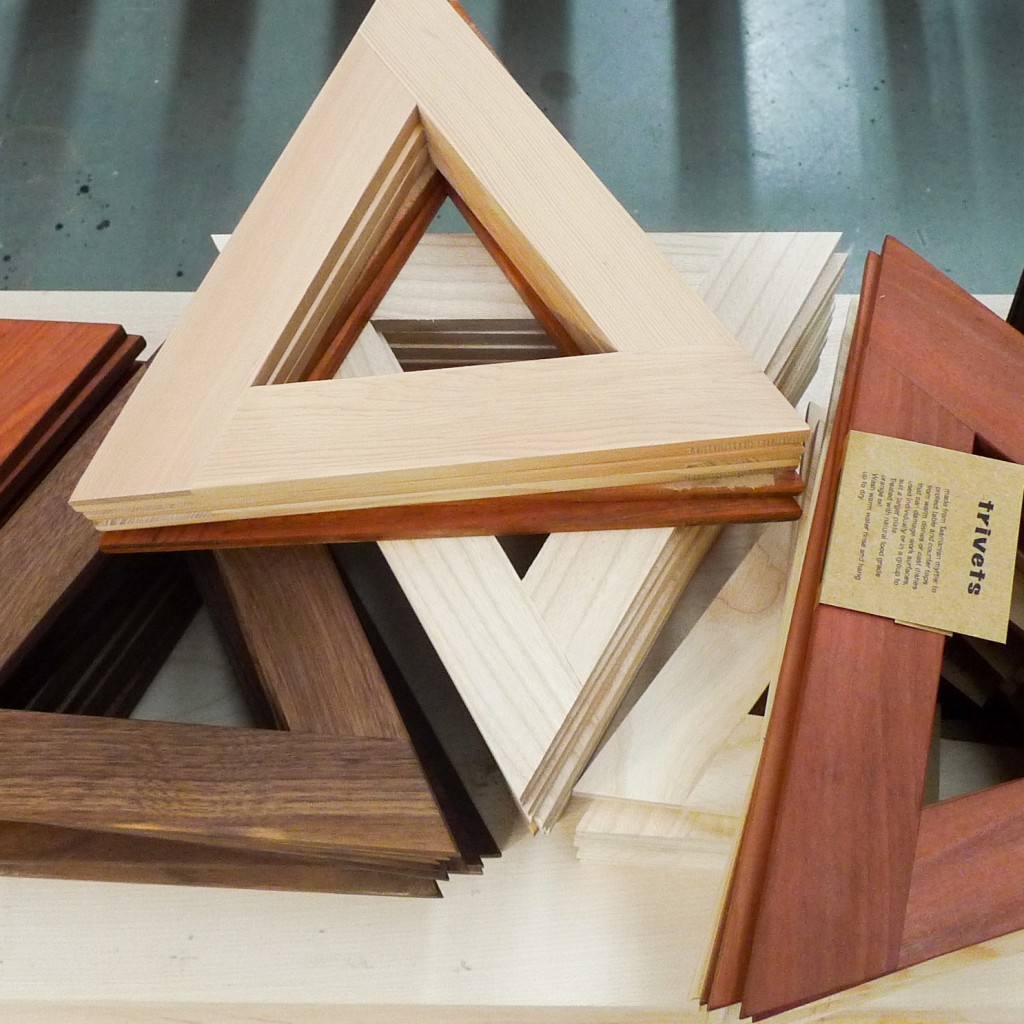 Listening to an explanation of the different types of timber they choose to work with, there is no doubt a story is behind every product. Boxwood from the Otway Ranges that has fallen into the rivers system is often pulled out and dried for 10 to 15 years, resulting in a beautiful satin finish with a high oil content which makes it perfect for timber cooking products. In another case, ancient mineralised Red Gum that is dug up around the Murray River region transforms into a durable timber that can be used as the feet of a chopping board, for instance.
"If you find a beautiful block of wood, you need to create something that justifies it being cut down. I guess you have to honour the original tree by making something special out of it. For instance, there is a particular bed that my dad refuses to sell because the grain around the headboard is so beautiful."
While the timber itself undoubtedly guides and inspires the design of a particular product, so too does the simple fact that Robbie is working together with his dad, following in his footsteps and sharing his developments and successes.
"More than anything, it's a really unique opportunity to gain someone else's knowledge with a lot of integrity. There's a shared connection and understanding as well as a transfer of knowledge. You can compare it to an apprenticeship, but it's a step beyond that," Robbie says.
"You're gaining more than just a physical trade – it's a concept and a way of thinking. My father probably sees it as a nice way to pass on his hard-earned knowledge over the years. At the end of the day, his style of design has affected my work over the years and it will continue to do so."