The quite extraordinary garage of Ralph Plarre could be described as many things.
It is certainly somewhere to store the cars. All 10 of them. And there is space – and facilities – to work on them. But it also feels a little like a showroom. With the flexible space of an art gallery. But with great practicality. And with a personal touch that gives it warmth and promotes a genuine social environment.
Oh … I don't know. Let's just say it's a lot of things.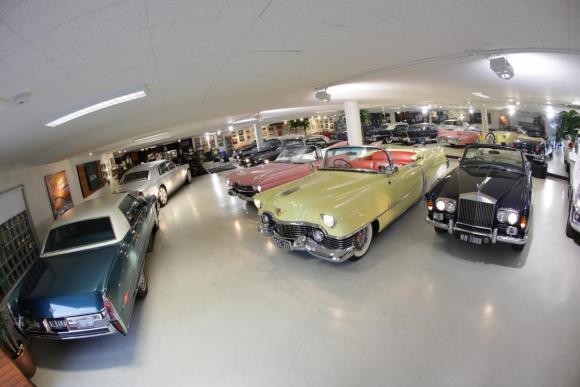 But most impressively, it is a place to relax, step out of normal routine and enjoy an amazing car collection – one that welcomes and encourages guests to do the same; even if they're not really car fanatics.
Ralph's business work is well-known to a huge number of people. As the recently-retired production director of Ferguson Plarre Bakehouses, his efforts grew the business into one of the country's most loved and recognisable bakeries and ensured generations of Australians continued to enjoy beautiful pies, cakes, desserts and other baked treats.
Having passed the bakery steering wheel to his sons, Ralph is now travelling the country as an Environmental Ambassador, sharing his passion and knowledge in how 'going green' can give any business a competitive advantage.
Although this new role keeps him busy, there has been a little more time recently to enjoy his … well … garage.
It can be considered a little rude to assume, so I started by politely asking Ralph if a little less time at work has led to a little more time down in the garage.
"Mate, I practically live down here!" he replies.
My mistake.
"Quite obviously I built this for my cars," he continues, "but my main time down here is actually spent on the piano. In the last four years or so I've really enjoyed getting back to playing the piano. Down here I get to belt it loudly and not disrupt anyone or be disrupted."
I'm sorry; did I not mention there's a piano in the garage? Perhaps I should try and explain the scope of Ralph's garage.
It is essentially the size of tennis court – including the space around the court. I can say that with some confidence because, after all, the garage is located under the tennis court.
"For years I'd been looking for a big garage at home. I didn't want to leave the area; we've been here all our lives and love it – but it was definitely a challenge to find something. And we quickly worked out that even if you found somewhere that had enough space to build one, it can be very difficult to get a permit for something of that size."
That's where the tennis court became very important. The house is located in an inner city suburb of Melbourne with restrictions on building permits and street landscape. The land has a substantial slope upwards with the tennis court sitting high at the street front and the house located directly behind. By excavating the earth under the tennis court, Ralph was able to build the garage construction with street level entrance then lay the tennis court back on top, and not change the street landscape at all.
Unsurprisingly, a project such as this requires considerable work.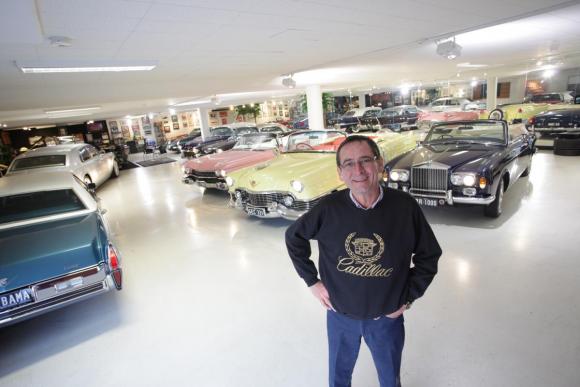 "It's a fairly high-tech construction," explains Ralph. "Obviously we had to remove the tennis court and excavate out the dirt. Then we had to consider how best to construct it for strength and tightness.
"There's a post-tension slab on the top because I was worried about leakage – I've seen a number of concrete roof constructions in the past, and once you start getting any leakage, you know you're in a lot of trouble. The post-tension slab has stainless steel cables running through it in opposing directions which are tightened through the setting stage – and that ensures it is incredibly strong and won't crack. Then we waterproofed it and treated it again, so when we put the tennis court back on top we knew there would be no problems.
"The walls are tilt-up concrete panels which were constructed with a series of braided hoses around each panel. During construction, these hoses had a two-pack solution pumped through under high pressure which then leaches out in the concrete to fill into all the little gaps. This solution starts off as a liquid then becomes more like a gel which is hydrophilic – which means that should the gel come into contact with water, it expands to make sure nothing can pass through the concrete."
The primary purpose for the garage is obviously to store vehicles and Ralph wanted it to be a clean space with minimal dust so the cars could be seen and enjoyed without needing to constantly clean them. As such, he cleverly installed smart ventilation systems and exhaust fans to keep the air clean.
"I know a few people who have taken large spaces out of the city areas to store their cars and it was something I did consider – but my ultimate aim was always to have something located with my house is so I could truly enjoy them. This way I got a large area to create exactly what I hoped for, and by keeping the tennis court as a stack construction we've got value from using that space twice."
This impressive construction and clean space gives the garage a 'showroom-type' feel, yet not in a stifled or sterile manner. Full length mirrors adorn one complete wall and gentle spotlights help show off the cars to their full potential, while acoustic tiles on the ceiling stop it from feeling like an empty warehouse.
"The original idea was far more rustic with corrugated iron and a fairly rough sort of feel," says Ralph.
"But there was a tipping point where unfortunately the builder I employed went broke so I took over the role of project manager with the garage half constructed. At that time I obviously became far more intimately involved and so started to look at all the options and how it could work. And with that, it transformed from a rustic barn feel to more of a car showroom feel – and to be honest, that worked better because it's given me more flexibility in space and reduced the amount of clutter."
Despite the modern showroom feel, the corner social area is very homely; adorned with second-hand furniture and a traditional drinks cabinet.
"I always had the idea that I wanted a little nook that could be an informal social spot – as well as somewhere to put the piano. To be honest, I couldn't have imagined how well it would work, because now I have this multi-purpose space that covers some really important parts of my life: namely cars and music. And the way it ended up has allowed me to share that with others – and that's what I get the most pleasure from."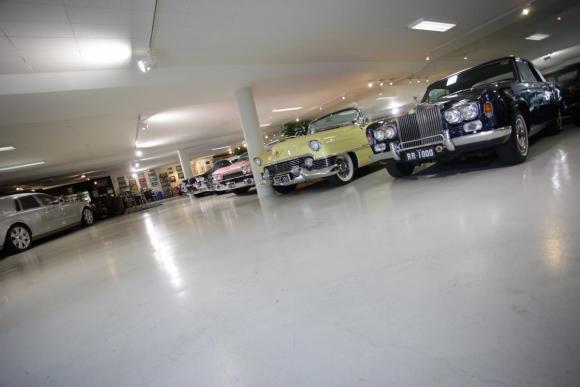 The tennis-court-sized dimensions mean that Ralph is able to park up to 10 cars on an angle down one side of the garage. There is a work pit (complete with safety drainage and exhaust systems) so he can work on the cars as required, and there is a relaxed casual area in one corner containing a high-quality home theatre and Steinway grand piano. Furthermore, there is still a clear, open space the size of a driveway through the middle so the cars can be driven in and out without having to move another.
In fact, Ralph regularly opens up his garage to run events for various clubs and organisations he belongs to. These occasions range from an informal meeting of the Cadillac car club or the Rolls Royce car club, through to small recitals and music shows where the space through the middle can be filled with chairs. During these times, the garage transforms into something more like an art gallery where people can enjoy a social event in a clean open space – but instead of a painting on the wall there is a large collection of pristine cars.
Part of the reason these events can work in an area that large is because the garage has excellent acoustics. When Ralph took over the project half way through, he realised that the wiring had not be laid into the concrete as originally planned.
"I would love to take credit for the acoustic tiles and mirrored wall but, to be honest, they really only came about because I was trying to find a way to hide the wiring. As it turns out, we were able to run the wiring behind the mirrors which in turn gave us an excellent feeling of space and light. Equally, we used the acoustic tiles to hide ceiling wiring, but that has worked beautifully for when we use the home cinema or play the piano.
"I couldn't have imagined it would be this acoustically good in here. We had a concert here recently with roughly 80 people all seated through the middle, and the sound was just as good at the very back as it was at the front."
Whatever the occasion, there's no denying that the first thing you notice is the cars. Nestled within 10 extraordinary cars – including a 2005 Rolls Royce Phantom and an E-Type Jaguar – are four Cadillacs from the '50s. The exaggerated lines, massive fins, bubble headlights and sheer enormity of size draws most visitors' interest and Ralph clearly has a love and passionate understanding of the make.
"The great part about these cars for me is that they reflect the mood of a country at an exact moment in time," he says. "The likes of the J.D. Powers surveys say that the optimism index in America was at is absolute highest in 1957. Everything was being inspired by space travel, the end of the war was still in people's memories and growth in infrastructure and industry was extremely high. Fuel was unlimited and cheap and no one was aware or concerned about pollution. And these cars reflected that mood with exaggerated size and lines that were purposely styled to be way over the top – the sky was the limit. You wouldn't even consider making something along those lines in a production car now, but it was very reflective of the mood of a nation back in the 50s."
The pride and joy of the Cadillac collection is probably the least obvious. To those with only a passing interest in the brand, a 1957 Cadillac Eldorado Brougham could come across as a stylish and relatively subdued model. Yet hidden under a stainless steel roof (yes, stainless steel), are 'standard features' that would be considered impressive in a modern car, including; electric memory seats, power windows, dual heating and air-conditioning, an automatic trunk opener and closer and self levelling air suspension.
Let me repeat, this car was built in 1957 and these were considered 'standard features' – although at a touch over $13,000 (when a standard series Cadillac 62 came in at a little over $4,700), it can go down in history as the most expensive production car ever to come out of America.
It should be noted that given Ralph's dedication to the environment, he keeps mileage records of all of his cars and plants trees as carbon credits.
As someone who has an interest in rare and classic cars, I personally can appreciate the effort in maintaining a collection such as this. And, as many people who share my interest will say, unless someone makes that effort these rarities can easily fade away and be forgotten. The beauty in Ralph's garage is that he is able to share these cars with others, and he does so with generosity and warmth. And clearly, he enjoys sharing his pride and joy, otherwise it would be like buying a precious piece of beautiful jewellery and keeping it locked in a safe.
"It's not just a storage facility; it's a place to go to and have my own space and time. The nice part for me is that place also happens to be where I keep the cars! The fact that I can share that with friends and family is the real bonus."