Something unique about American homes is their basements, which often span the same area as the living quarters above. And naturally they lend themselves to becoming fair-sized man spaces where you can hide away, entertain some mates, make a bit of noise and barely cause a stir in the rest of the house. Perfect.
I was recently in the US mid-west and on a frosty Saturday morning I found myself in the partly-renovated basement of a house in an Indiana gated community, around an hour and a half south east of Chicago. From the outside, the house I visited looked reasonably mild-mannered and suburban – but inside, let me tell you, the basement really rocks.
My host was Jesse Nunez, a larger than life character who fits perfectly in his role as the front man and executive producer of a local Chicago cable TV show called The ManCard Crew.
By day, Jesse is a high-end AV installer and also knows his way around the construction business. Over the years, Jesse has done his fair share of installing AV systems, large format TVs and home automation in many a man cave, but decided he wanted to go one better.
He reckoned there was an opportunity for a TV program (which he would underwrite and personally produce) to clearly demonstrate the process of building a man cave – and we don't disagree with him. With a market of roughly 10 million people living within a sweeping arc west of Chicago, you can understand where he is coming from.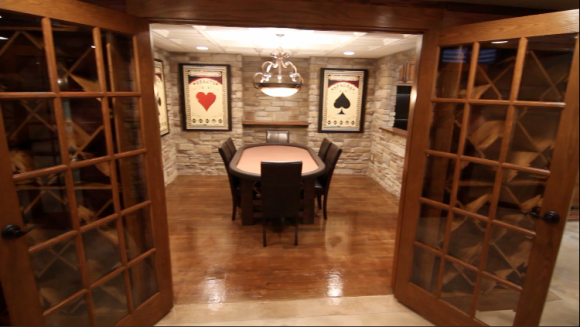 Jesse's popular ManCard Crew program walks viewers through a serious man cave renovation from the ground up. First comes the CAD plan drawn up from the client brief and then he details and demonstrates the role of the various trades who come on board to fulfil the dream.
The trade contractors and sponsors put in their time and materials, recognising that their involvement in the TV show comes with the added benefit of attracting further business in the local area.
In Jesse's day job, clients hire him for his design concepts, project management skills and AV/home automation installation work – this comes in very handy for the TV show, as entertainment is a major factor in any man space.
And if that's not enough, some of the guys from Jesse's contracting firm are very adept with the video camera, microphone and post production skills. Between them, this great team bumps out an impressive TV show.
In the case of this Indiana basement, the owner originally wanted to spend around $30,000. After Jesse's design presentation and enthusiasm for the outcome, he raised his budget to $40,000 (and what a wise investment that was).
Trust me; this basement-come-man-cave is no ordinary room in a corner.
The owner had taken full advantage of Jesse's program, which transforms 'blank canvas' spaces to demonstrate just what can be done with some imagination and a budget. The result is spectacular and, aside from not having a bedroom, a man (and a few mates) could virtually live life to the full in this man cave, 24/7.
The original basement area Jesse started with was a sizeable 170 square metres. After allowing for the services area for boilers and other equipment plus some dead space behind a rear-projection screen, the usable area was 135 square metres.
As the plan shows, this was not your average man space tucked away in a corner. It boasted a fully-fledged kitchen/bar, wine cellar, poker room, pool room and home theatre with a massive rear-projection screen.
While walking through the project, I entered what was going to be the wine cellar and noticed the timber floor – but wait a minute, that doesn't feel like timber I thought. It was in fact an epoxy coated designer concrete floor that had been made to look like strip timber. The floor treatment in other rooms featured a highly polished marble-look finish. As luck would have it, the designer was there onsite that day, so I had a chat to her.
Audra Lynch Nanay runs a company that specialises in the artistry of concrete – and it virtually knows no limitations. By coincidence, she had just returned from completing an artistic commission on the footpath of a suburban shopping centre in Melbourne.
Best of all, Audra says that we will start to see more of this decorative work in Australia in the near future. You see it in commercial buildings but it is also growing in popularity for garages and other man spaces.
Her techniques allow you to put virtually any image you like onto a conditioned concrete surface, using epoxy coatings, overlays, thin-stamped and troweled techniques. And that provides considerable creative flexibility for anyone dressing up their shed or garage.
As this particular project required 95 square metres of flooring, I asked Audra to explain how she achieved the finished product.
"First we profiled the floor. There had been excess concrete, paint and some other contaminants from the original construction. This was done with a grinder and diamond blade. Next we properly cleaned the floor and took it from 'water saturation' to 'surface dry'. Once this was done, we applied the base or bond coat of the Elite Crete Systems overlay, which I use. This must dry completely. We then trowelled on a smooth coat which was integrally coloured with a custom colour. In preparation for the 'wood look', we added a slight grain texture first, followed by the colouring.
"My company (Audra Lynch et Cie) has a unique colouring process which we used to achieve the marble and wood looks. We used a variety of custom colours selected from Elite Crete's portion control stains and colorants. These are mixed with different concentrations of water, colour, carrier and experience. The wood staining was done with brushes and the marble was achieved mainly with sprayers. Once this was dry we applied a 100% solid epoxy topcoat and then a high wear urethane. It took around six days to complete with drying times – so you need to be patient and keep the other tradies at a distance!"
This of course is only one facet of a man cave creation, but in the way that Jesse's program comes together, viewers get a real world perspective of how a room gets built.
"We share with viewers our timelines and true costs of the project, where most home improvement programs don't go to that depth and often make things look too easy. At the end of the day viewers want to know how much it costs to achieve a certain look or function that we put into our projects," he explains.
The show is proving to be a win for both the contractors/suppliers and home owners. The skilled contractors get to market their services on a regional TV platform which is viewed by customers within their reach. And the lucky home owner featured on the program gets an awesome renovation at a fraction of the cost.
In the case of this project, a real estate appraisal has been conducted since my visit and the property has appreciated by $100,000 – so the owner has pocketed new equity in the home of $60,000.
Aside from the materials and great finish, the added ingredient in a Man Card Crew TV project is Jesse's enthusiasm and passion for creating exciting man space rooms.
"Here in the US, the women usually have their way with design and type of rooms that get installed in the family home. But I truly believe men should have a place they feel comfortable in their own home – a refuge to act like a man and hang out with your friends. The truth of the matter is, women love alpha males, so why not act like one or 'build like one'. Give her the rest of the home as long as you can have your man space."