For those outside the ranks, life in the armed forces has a perception of great discipline and regiment. There is a certain truth to this belief: marching in perfect union; crisp uniforms sitting perfectly on the individual; personal lockers laid out with belongings in a specified order; the correct addressing of superiors and colleagues … these are just some realities that members of the armed forces face every day.
While some people may consider this level of regulation to be a little excessive, there is very good reasoning behind it all.
"It's an attention to detail that is important for the future," explains HMAS Cerberus PR Officer, Katherine Mulheron. "I know that some people may see it as pedantic, but it's part of the bigger picture of being completely prepared and trained. These sailors may find themselves in a scenario in the future that is immediate, requires absolute precision and directly affects their fellow crew – being disciplined in the simplest daily activities sets a foundation for those serious and high-pressure scenarios down the track. Should they be in a life and death situation down the track, there is a confidence that they will do exactly what is required to the exact detail required."
It is an entirely valid point – and one that is clearly reinforced across the board. Quite simply, serving in the armed forces is more than just a job; it is a way of life.
Not that the members are complaining. I was lucky enough to be taken around HMAS Cerberus – the naval training base on the Mornington Peninsula in Victoria – and the atmosphere is positively infectious.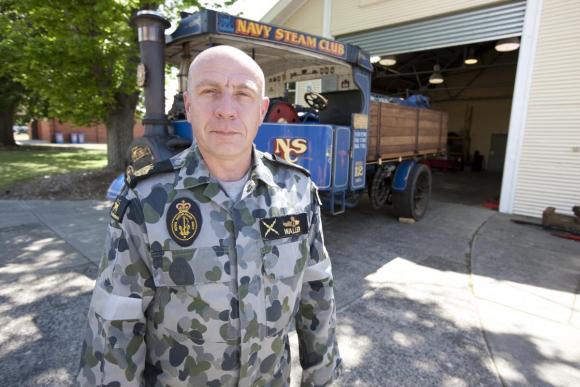 For those who have not been there, it is enormous. So large in fact, that it has its own postcode. In numbers, it covers some 1,517 hectares, has a population of nearly 2,100 serving members, as well as APS and Contractor staff, plus 500 to 1500 trainees passing through each year. It has its own hospital, police station, dental clinic, 18-hole golf course, impressive sports and aquatic facilities, as well as the dedicated training and living quarters… and this is by no means an exhaustive list.
When you consider the size of land and the amount of people there, it is no great surprise to have such facilities – but it does still need to be seen in person to be fully appreciated. It is its own little town. It also reinforces the original point – this is more than just a job; it is a way of life.
Given this 'commitment to the job', there is a fundamental need for an outlet – something the Navy is well attuned to. As the pages of the magazine will testify, everybody needs a break from their job and so the Navy offers a huge choice of different clubs and teams for their members to engage with.
Many of these clubs are based around sport and play in local leagues. In fact, I have been surprised by the amount of people who have since told me that they have played against the Navy in sports such as football, with comments along the lines of, 'It didn't matter what skill they had on the park, you definitely knew you were playing against a team … they give true meaning to one-in-all-in…' regularly being mentioned.
While the sporting teams may be reasonably well known, there are a number of other clubs available to members where the subject matter may be … well … a little less mainstream.
One such group – the Navy Steam Club – fascinates its members and the general public alike, and has made something of a comeback in recent years.
A large part of its renaissance can be attributed to Warrant Officer Ian Waller – a 23-year veteran of the Navy who has served across the spectrum; on ships at sea and ports around the country. For the last two years Ian has been based at HMAS Cerberus and it is during this recent stint that he re-established the Steam Club.
"The Navy Steam Club actually originated in 1969," he explains. "Back then it was more of a practical Club – as there were a lot of steam ships – so it was used as a training aid where they could explain to sailors about the principles of steam.
"Basically, we've just decided to keep it going, even though we don't have steam ships anymore. It's a mechanical device but in a concept that the trainees wouldn't learn otherwise. That is what is interesting to those involved – I mean, I never knew anything about steam when I started."
One of the constants throughout most of 40 plus years of the Steam Club is the magnificent Foden Steam Truck built in 1923 in England – a street registered vehicle that resembles a classic delivery truck from the back, with a front view more reminiscent of a steam train. It is one of only four left in Australia, and believed to be the only one currently on the road. "Theoretically it's our oldest movable asset that we've got in the fleet – older than any of our ships!" says Ian.
The Foden allows members of the Club to work on an active steam engine in maintenance and running operation in a way that also allows them to interact with the general public. There are however other engines to practice and work on in the workshop, which is particularly useful for new members to become better acquainted with the art.
At the time I went to visit there was an enormous late 1800s portable steam engine on display that the members have been restoring. It is one of the largest ones in Australia with only six ever making it to our shores.
"We're always getting new projects from donations or requests," explains Ian. "They provide real jobs for guys to learn different elements and practice techniques, and then we have the on-going maintenance of the truck which gives us consistency."
So important is the Foden, that when the original crank shaft (etched with '1923' along the shaft) broke a few years ago, the Club went completely off the radar.
"Obviously the truck couldn't run with a broken crank shaft, but it was considered too hard to repair at the time so the Club basically disappeared," says Ian.
"When I came down here and heard it was broken, I just knew I couldn't let it sit there and rust away – so I set about trying to get things going again.
"Thankfully we were able to get a crank shaft made, and then we had it machined up and got the truck back on the road. From there, the interest returned and we've been able to increase the Club from only three people a year ago, to 23 members now."
The Club is self-funded through the member's own activities. Furthermore, any Club in the Navy can apply for a grant which comes from the profits of the canteen – meaning that no direct public money is used.
"Realistically, we have very small costs anyway. We can manufacture most of the parts we need and have only minimal equipment usage. Most of our cost is in registration for the truck and insurances… so… we really don't need that much."
The Club runs out of a large workshop with a good variety of equipment spotted around. Members meet once a week for roughly four to five hours, and then have weekend activities at least once a month.
"The weekends are pretty important to our members," says Ian. "We are often invited to rallies or other steam clubs around the place, and the guys get that interaction with the public. The younger sailors particularly get into that. They get to wear their uniform – which always makes them feel proud – and they get to mix with the public and give something back to the community. You can't underestimate how important that interaction and sense of pride in the community is to these guys."
Equally, the Club allows members to interact with other sectors of the Navy they may not otherwise have much to do with. There is a wide variety of ages and backgrounds and activities blend solo work with group activities. The majority of the members are technically based, as that is what attracts them to the Club, but it is an interest with different principles to what they would have worked on before so everyone is still learning together.
"I like to think that it's a fantastic outlet from normal work, but still manages to complement what is at the core of armed services," says Ian.
"Once the trainees have been deemed competent, then I know I can give them a task to do and they can simply go off and complete that task. This allows any one of the sailors to have a little space to themselves in which to escape, but they always know that they are still part of a team and need to work together. It that sense, it complements working in the military perfectly."
Providing the ultimate team building experiences are the weekends away. Only recently, the Club was invited to attend the 100th running of the Lake Goldsmith Steam Rally. Given the significance of the number, the club decided to drive the Foden the whole way. The 172km journey took five days with a tick over 25 hours of actual steam time. It used 7.5 tonnes of water, roughly a tonne of coal and 4.5 tonnes of wood… and resulted in a lot of very tired people.
"We had our problems along the way, but that's part of what being in the Club is all about. There were issues that came up on the drive that we had to stop and fix by the side of the road. It requires real team work. There may be only one person driving it, but it needs at least another three people at any one time to keep it running."
Not that Ian is complaining, mind you.
"Getting the truck out on the road is one of the most important elements of the Club – I personally love it. We get to travel as a group and camp out along the way. Some of the families will come along and that gives a different feeling and atmosphere as well. It's team-building and working together, all rolled into a social environment. For me – it's one of the great parts of the Club."
Not surprisingly, the Foden gets its fair share of attention from the public whenever it goes out. Its rarity creates a stir amongst men, women and children of all ages, but – perhaps most pleasingly – are the times when a former sailor sees it out on the road.
"One of the best parts for me is that the guys tend to walk out with a sense of ownership about what they work on," says Ian. "Nearly every time we take the truck out on a rally, someone will come up and start talking to us about how they worked on it 30 or 40 years ago – it might have been a different colour or have a slight change in look, but they know that the basis is the steam engine and they take a sense of pride in being part of a group that has kept it going over all those years. I'm talking about generations of sailors who have worked on this truck and kept it operational so the next group can do the same. It's a great legacy to have within the Club."
It's also a great credit to the man who wouldn't let it rust away.
Any enquiries regarding HMAS Cerberus can be sent to PR.Cerberus@defence.gov.au, or for information on the Navy and its many employment opportunities, you can go to www.navy.gov.au or www.defencejobs.gov.au