Ice hockey is one of the most popular sports in Canada and North America, but it's a game which seems to travel under the radar for most Australians. Maybe it's the climate, or maybe our country is already sport-mad enough and we just can't seem to fit anything else in.
Whatever the reason, ice hockey has still had a presence down under for over 100 years, even if we weren't fully aware of it.
What's more, its popularity has surged in recent years. There are over 4,000 players across the country, and thousands of hockey-hungry fans flock to rinks around the country each week to see local teams battle it out – with many of these stadiums unable to keep up with the demand.
Testament to the local following, a three game series between Canada and USA will take place in Melbourne and Sydney throughout June, with players from the National Hockey League (NHL) and American Hockey League (AHL) battling it out.
No matter which country ice hockey is played in, or which rulebook it is played under, one thing remains the same: the puck is at the centre of the action. Although this small disc may appear to merely be a simple lump of black plastic, it is actually a critically-engineered device manufactured to a set of crucial guidelines.
A standard puck is made from specially formulated vulcanised rubber and is 75mm in diameter, 28mm thick, and weighs 175g. It also needs to be incredibly durable as those mean-looking hockey players whack a puck at speeds of up to 180km/h, ricocheting off barriers, windows, posts and railings, and of course … unlucky players.
A puck also needs to have a consistent glide across the ice, so it needs a super-smooth face on both sides. To increase this slide, a puck is frozen before every game to reduce its friction with the ice and prevent it from bouncing.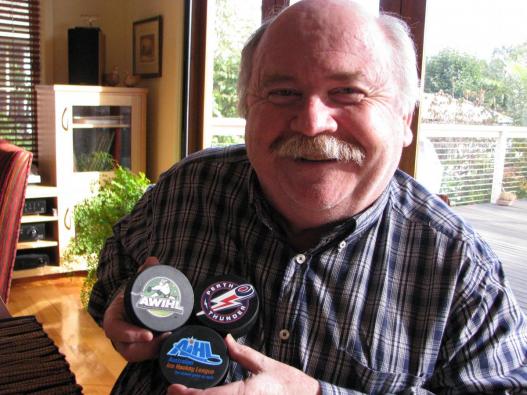 However, some pucks will still inevitably find their way out of a rink, or get lost and damaged during a game … or one of the famous hockey brawls. And up until a few years ago, they were an expensive asset for Australian clubs to replace.
Up until around 2005, teams were importing their pucks as an Australian manufacturer simply didn't exist. Due to shipping and freight costs, this became a big expenditure for teams, and many of these operate on a tight budget at the best of times.
That was when Mark Weber saw an opportunity that would be a business venture for himself and would also help out Aussie ice hockey teams.
Canadian-born Mark, 62, became obsessed with ice hockey at an early age, going on to play as a goalkeeper at College level.
When he moved to Australia over 30 years ago, he started refereeing games across the country through all levels. He also became more involved with the management side of the game – he previously owned and managed the Melbourne ICE and was also a director of the Australian Ice Hockey League (AIHL).
It was during his refereeing days when the idea to produce an all-Australian puck came to him.
"I had a close relationship with many of the teams and coaches, and they would often come to me and complain about how expensive it was to import pucks. That's when I thought that it might be possible to produce my own," Mark says.
After going back to school to study a diploma in marketing, Mark decided to dip a toe in the water (or ice, should we say), and had a stainless steel mould made which could be given to a rubber manufacturer to produce a single puck at a time.
Soon enough, Mark was forced to increase his mould to four slots to keep up with demand, and he says that he will soon be extending this again, so he can produce ten pucks simultaneously.
"I reckon I've made around 50,000 pucks to date and I manufacture an average of 7,000 a year," Mark says.
"I wasn't sure how well the business was going to do at first, but now I'm at a point where I can't keep up with demand again, and we are manufacturing all 12 months of the year instead of just through the ice hockey season."
However, getting his idea from conception to fruition was not as simple as throwing some rubber in a mould and hoping for the best – Mark's pucks had to look, weigh and feel the same as the ones used throughout the international ice hockey circuit.
That's why he had to revisit his home country. After doing some groundwork, Mark found that the correct rubber formula was developed in Sarnia, Ontario in Canada.
"I contacted the rubber manufacturer in Canada and they were very helpful. They pulled out the old recipe book and had a look for the formula, and sure enough, there it was," Mark recalls.
"It took a few tries, but eventually we got it right.
"My pucks are now made to the same specifications as is used in international ice hockey. They are the right height, diameter and weight. It is really the sum of these parts which makes a puck perform properly."
Now this formula has been adapted locally, and the pucks are made at a rubber manufacturer in Victoria.
"They mix the rubber, carbon black and all the other special ingredients that go into making a vulcanised rubber puck," Mark explains.
"Then they cut a piece off and weigh it to make sure it is 175g. These little pieces are then placed into the mould with temperature and high pressure added to form a perfect disc. It's just like cooking," Mark says.
If you were to just take a quick glance, one of Mark's pucks would seem like the others around the world. However, upon closer inspection, you can see the word 'Australia' emblazoned on the side. Although such a common word would seem at home on many other products, to see this on an ice hockey puck – a sport which is so heavily associated with USA, Canada and the colder parts of the world, is quite special. It's no surprise then that Mark is so thrilled with this subtle touch.
"That's something I'm incredibly proud of," Mark says. "It's a pretty big deal."
"People take these pucks back to Canada as a keepsake and they can use them as paperweights, coasters…anything really. Suddenly this silly little puck turns into a genuine souvenir item."
This is especially true when Mark sends his pucks off to a printer – here he can customise a puck with almost any design. He often gets requests to add a team's logo, or an emblem for a special game, and he has even produced pucks for charity events.
It soon becomes apparent that this simple rubber disc has become so much more to Mark. Not only is he cutting costs for Australian ice hockey teams, he is helping them increase revenue to keep operating, he his heightening awareness and funds for important charities. Not only that, he says he is incredibly humbled knowing that he has kept somebody employed at the rubber manufacturer for a number of years now.
But perhaps more importantly, on a more personal level, each puck that Mark makes holds an emotional value. As somebody who has been ice hockey mad all his life, he has endeavoured to stay involved in the game any way he can. Even though his playing and refereeing days are over, and he has less involvement with the managerial side of the sport, manufacturing ice hockey pucks is his way of scratching his ice hockey itch.
"I guess this is my way of staying connected to ice hockey in some way. Even though I'm just making pucks, these things are being used everywhere from Brisbane to Perth, so it's like now I'm involved in a more widespread way than I ever was."