It may not boast the prestige of the V8 Supercars, or the class of Formula 1, but lawn mower racing is a motor sport that has grit, a dosage of mettle and a whole lot of heart. Joe Young reports.
Even after seven years of racing lawn mowers Marty Saunders still gets nervous before putting his helmet on before a race.
With fuel running through his veins Marty was originally drawn to the thrill of the speed that mower racing provides; however, the appeal has grown beyond just charging his mower around a dirt track.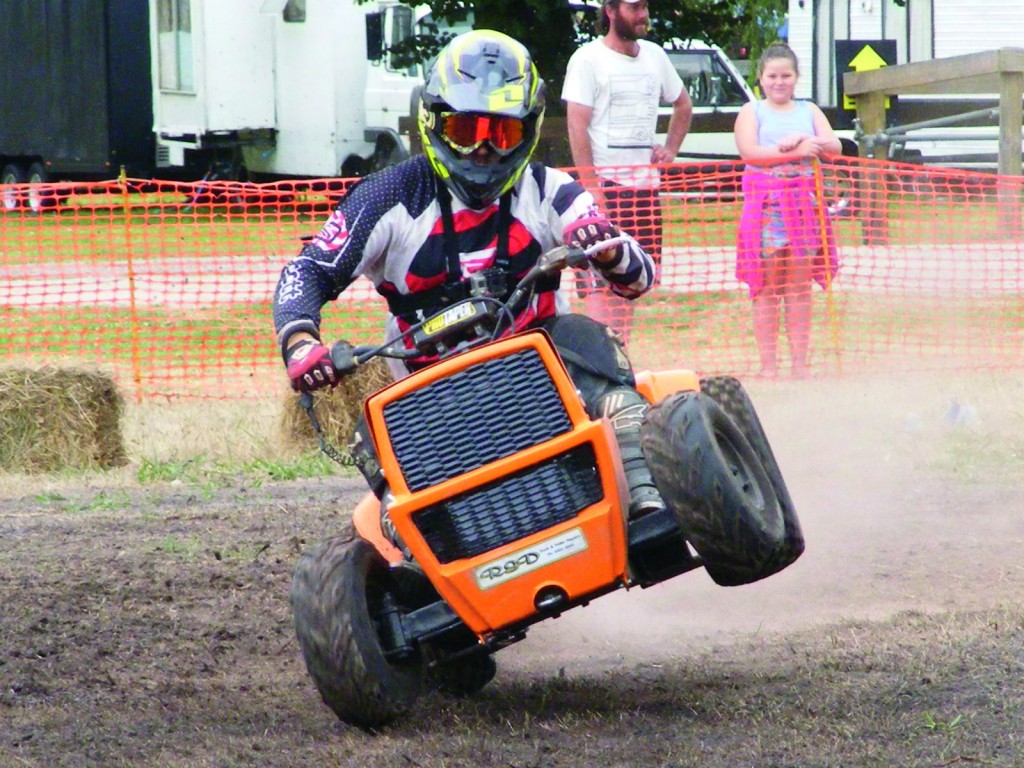 "Many people come to the events for the excitement of watching lawn mowers tear through a race track but many stay for the social aspect of the group," Marty says.
"It's about real friendship; you make good friends with people who come from all walks of life. Our youngest member is seven and our oldest is 65; and he is still winning races."
Quite impressive for a sport that has you bashing bars down a straight at 90km/h with mud splashing in your face before twisting your body while you're roaring around a hair pin turn.
"You put everything into the race; it really takes out your energy. We run without suspension and the track is bumpy, so physically it's quite a hard thing to do.
"Anyone can do it but it takes it out of your body," he says.
Marty is now the president of the VicMow Racing Association which recently held its second annual Mower Mayhem racing event in Lang Lang, a rural town south east of Melbourne.
The track was mapped out, the fences were erected, 32,000 gallons of water was dumped on the track so it would be sufficiently muddy; and the crowd emerged.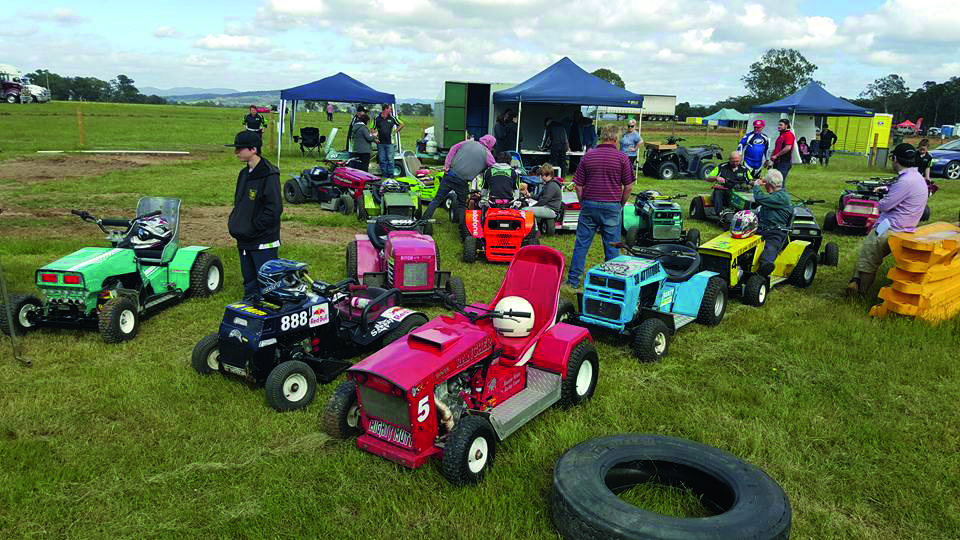 It was a balmy 35 degree day and 20 riders with their mowers came out to really turn up the heat.
Some of the competitors at the event were students from a VCAL school, Camperdown College.
Members of the faculty at the school thought it would be a good way of engaging students in a hands-on program as well as the educational value it would provide.
The program has been a great success and some kids who were planning to drop out of school decided to stay because they wanted to continue participating in the school mower racing project.
"Hearing stuff like that really gives you a good feeling," Marty says.
It isn't just a bunch of blokes riding lawn mowers around a field, it's about camaraderie and doing something good for the local community.
"We don't hold an event unless a charity or community organisation is benefiting from it," Marty says.
Last year the association raised $16,500 for local charities and organisations, and this recent event was for the Lang Lang Kooweerup Rotary club.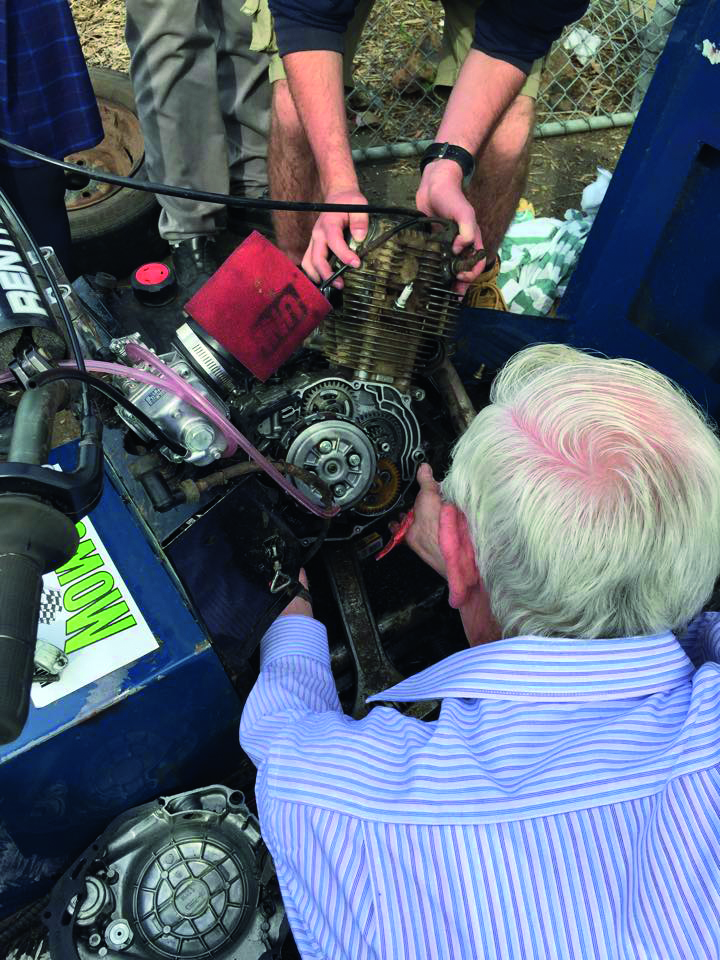 As someone who has ridden all kinds of motor vehicles; Marty says lawn mower racing gets his heart pumping as much as any of them.
"You get real nervous coming up to your race. You get butterflies in your stomach and you almost feel a little ill because of all the adrenaline. I still get nervous pulling the helmet on. But as soon as you're on the line and the light goes green, you're fine," Marty says.
And these mowers have a bit of go about them as well.
"My mower in third gear could do in excess of 150km/h if we didn't limit them by the length of the straight."
The mowers are super modified to be able to reach those speeds and there is a bit that goes into the modification of the grass cutter.
A new chassis is put in for extra strength, the blades are removed for safety, the mower is lowered to about 50mm off the ground, brakes are put on the rear end and the rear tyres are changed for extra grip. To top it off, motorbike handlebars are put on.
For safety reasons, and to keep it fair so people with big budgets don't always win, Marty says they enforce rules to ensure the mowers still look like mowers.
"You can't make it look like a go kart or install fibreglass; you have to replace steel with steel," Marty says.
The sport is thought to have been invented independently in the UK and the US.
In 1973, in the Cricketers Arms pub in the town of Horsham in West Sussex a group of blokes who loved motor sport but found the costs prohibitive came up with the idea of racing their lawn mowers.
They formed the British Lawn Mower Racing Association; and hence lawn mower racing in the UK was born.
But mower racing had already begun in 1963 in Twelve Mile, a small town in Indiana. Indiana of course is often best known for the famous Indianapolis 500 annual car race.
Still going today, the mower racing tradition began when the Twelve Mile Lions Club organised for members of the community to get together and race their lawn mowers.
Just like a lot of things it took a little bit of time for lawn mower racing to reach Australian shores where it started in 1978.
The first mower race in Australia is believed to have taken place after five mates decided a ride-on mower race would be a good way to settle a drunken argument they were having in a small country pub in Harrietville, Victoria.
They mounted their Briggs & Stratton mowers and charged them around a gumtree to a finish line to complete the first of now many mower races that are held in Australia.
VicMow is now just one of multiple mower racing associations all around Australia particularly prevalent down the east coast.
Marty says one of the highlights of the association's short history since starting in 2014 was modifying mowers to be ridden by motor-sport royalty Craig Lowndes and Jamie Whincup.
To see those guys racing on a machine he built was truly a sight to see.
"My hands were shaking trying to video the thing."
Some people don't see why others get so passionate about anything with a motor; but for guys like Marty, when his foot pushes on the accelerator and he is thrust back into his seat as the engine roars, it is the best feeling in the world.