OPPO's Reno 5G is set to be a serious player in the market thanks to its good looks, competitive price point and high-tech specs.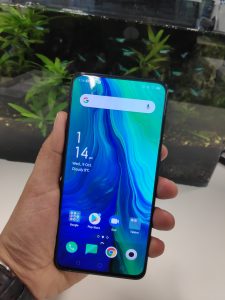 I remember receiving an OPPO phone to review around three years ago. I'd never heard of the brand and was pretty sceptical given I'd only ever used Samsung and Apple phones prior. While those brands have their own pros and cons, they've been well recognised and regarded for a long time, so when a new player comes along, there's always a sense of trepidation in the market.
As was the case with the R9 Plus in 2016 though, the Reno 5G is full of surprises that give the bigger players a serious run for their money.
So let's take a look at OPPO's first foray into the 5G arena.
Aesthetically pleasing
Before we jump into the specs, let's quickly talk about the look and feel of this thing.
The first thing that struck me when opening the box was the sheer size of it. Bigger seems to be better these days when it comes to smart phones, and OPPO hasn't missed a trick when it comes to the Reno.
Measuring in at 16.2cm (h) x 7.7cm (w) and 0.93cm (d), it's a serious bit of kit to carry around in the old jeans' pocket. It weighs in at a hefty 215g too. To put that into context, the latest iPhone comes in at 194g, the Google Pixel XL weighs 184g while the Samsung Galaxy Note10+ is a mere 168g.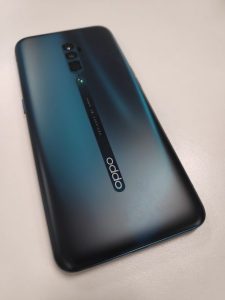 But don't let that extra weight turn you off. Big is beautiful after all.
And speaking of beautiful, this phone really is nice to look at. The edge to edge display provides plenty of viewing landscape and the lack of a notch thanks to a novel shark fin-esque pop up selfie camera is pretty neat.
The ocean green two-tone (it comes in black too) backing rocks a bit of a frosted texture that makes it nice to hold without a case while a tiny pop up circle ensures your three rear cameras steer clear of scratches.
Cameras
Speaking of cameras, the tri-camera set up is damn impressive. It comprises of a main 48MP lens, a 13MP telephoto lens and an 8MP wide angle lens. Then there's the 10x hybrid zoom function.
You can use the various stages of zoom by clicking a little icon on the screen. It's quick and easy and zooms in smoothly. There's also a slider if you prefer. Unlike some of the mid-price phones on the market, photos take at 10x zoom don't look like they've been taken underwater.
The shark fin selfie camera is pretty cool. Similarly to the Oneplus7 pop up camera, it motorises in and out once the selfie mode is selected. I do worry a little about its resistance to drops though.
I didn't test that out, for obvious reasons, but I'd imagine it'd be the first thing to break if the phone fell from a distance. It's likely it'd cost you a small fortune to repair too, so probably worth keeping that in mind, especially for the selfie-fiends out there.
Tech specs
The Reno packs a whopping 8GB of RAM and is powered by Qualcomm's Snapdragon 855 processor, making it fast and a pleasure to use.
It also runs on Android 9.0 but with a little OPPO twist on it. ColorOS has been integrated and is pretty nifty. The shortcuts are a handy feature and I like the fact that it wasn't trying to mimic the likes of Apple, which I felt the R9 I first reviewed did so unashamedly.
When it comes to battery life, this phone didn't miss a trick. And that's a big pro in my eyes, as it's a serious issue for a lot of phones out there. I managed to get two days out of it before needing to charge it again. That included regular use, with social media, YouTube and streaming vids to the TV taking place.
If you're a heavy phone user you might get less time out of it, but for those who aren't glued to the screen 24/7, it's seriously impressive. The fact you can get around 10 hours of life out of 30 mins of charging is a big plus for time poor or forgetful users too.
A little disappointing is the fact wireless charging is not available. For what seems like the norm in a lot of high-end phones these days, it's a shame Oppo didn't make it available in its flagship model.
Given 5G is only just making its mark known in Oz, this phone, and others in the field are a little before their time. But, if getting ahead of the pack is on your agenda, then the Reno 5G should definitely be on your radar. It's the cheapest 5G compatible device on the market and as discussed above, it not only looks the part, but it plays it too.