Despite more social isolation restrictions easing throughout June, social distancing is set to remain the new normal for some time to come.
With health, wellbeing and immunity continuing to be a huge priority amidst the Covid-19 pandemic, and especially as we've hit winter, GO Healthy chief naturopath Peta Teuma suggests her top five supplements to support our adjusted lifestyles and help our bodies be their fighting best.
Kung Fu winter ills and chills with GO Vir-Defence Cold & Flu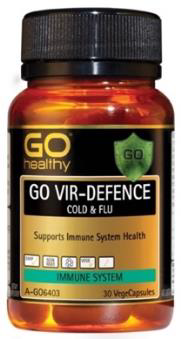 "This is an amazing all-rounder to take daily to boost immunity – especially as we head into peak cold and flu season," says Peta. GO Healthy's GO Vir-Defence Cold & Flu  offers all round immune support through the combination of five immunity-boosting herbs, Vitamin C, Bioflavonoids and Zinc to promote a healthy immune system and help relieve the symptoms of colds and flus.
Give Blue Light the Flick with GO Screen Time iProtect 1-A-DAY
"We're a screen obsessed society at the best of times, but with so many meetings, classes and social catch ups now happening online, it's more important than ever to protect eyes from blue light emitted from screens," says Peta.
GO Healthy's GO Screen Time iProtect uses a powerful mix of ingredients traditionally used for eye health to assist with a very modern challenge – the maintenance of healthy eyes in a screen dependent society.
Sweet Relief for Sleeplessness with GO Cherry Sleep
"Given the current environment, Australians are likely facing elevated levels of stress and may not be sleeping as well as they'd like," says Peta.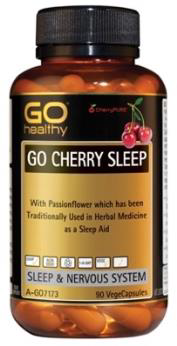 Sour Cherry contains natural plant melatonin, which may help support our body's sleep hormones and regulate our body clocks, which can be more out of whack than usual given our growing dependence on technology and our lack of regular routine.
Supplement your sunshine with GO Vitamin D3, 1,000IU
With much more time indoors, sunlight exposure is already down for most and the onset of winter will further increase the need for Vitamin D support.
"Vitamin D is essential for developing and maintaining healthy bones, and as it can only be obtained in small amounts through food, the majority of Vitamin D3 is produced in our skin when it is exposed to sunlight," says Peta.
GO Vitamin D3 1,000IU contains Vitamin D which supports the development and maintenance of strong, healthy bones and teeth. It also helps to maintain serum calcium, phosphorus levels, and aids calcium absorption.
Get buzzing with anti-bacterial goodness with GO Manuka Honey
This dark, sticky nectar, indigenous to New Zealand, is known as the 'healing honey' thanks to its antiviral and antibacterial properties. It has been used to treat wounds and bacterial infections for eons, beginning with the Maori communities of New Zealand several centuries ago," says Peta.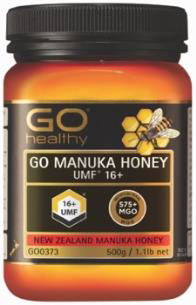 "Manuka Honey is great for reducing the growth of strep bacteria, the bacteria that causes sore throats," said Peta, "though you do need to look out for the quality of your Manuka Honey, as not all of them are created equal. GO Healthy's GO Manuka Honeys are 100% New Zealand Manuka Honey and are available with varying UMF levels, (Unique Manuka Honey Factor) which are given a number, with the higher number representing greater strength and efficacy.