Adorned in red, the Hunter Pro Alox is a new edition of the brand's popular pocket knife, Hunter Pro.
Featuring Victorinox's signature cross and shield emblem, the Hunter Pro Alox is a large knife with a slim profile that is easy and comfortable to carry. The subtly shimmering interplay between blade, springs, liners scales and clip sets gives it an extra touch of elegance.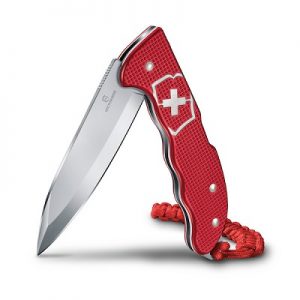 This new knife also comes with a smart clip, a spring integrated lanyard hole, and a woven Paracord pendant. Not only does the red Paracord Pendant add a decorative touch and give the knife a better grip, but you can also unravel it to make a strong line if needed.
Like all Victorinox Swiss Army Knives, the sturdy blade of the Hunter Pro Alox is made of the best rust-resistant stainless steel alloy in the brand's factory in Switzerland, and its tried and tested locking mechanism guarantees the highest level of safety – even for the most challenging cutting and carving activities in the open air.
Despite the impressive grip length of around 130 millimetres and its indestructible construction, the Hunter Pro Alox weighs a mere 186 grams. Simply attach the clip of the knife to your front pants pocket, or to the waistband behind your belt, or even slip this lightweight pocket knife into your pocket, and you are ready to face any outdoor challenges.
Key features 
Large, extra-strong lock blade
Elegant Alox design
The subtly shimmering interplay between liners, blade, scales, and clip adds an elegant touch
Ergonomic, sturdy handle
Removable clip
Integrated lanyard hole for Paracord Pendant
Includes an intricately woven Paracord Pendant
Clip and Paracord Pendant can be attached to the knife at the same time