The top 100 bucket list poster from Gift Republic is definitely something to look out for under your Christmas tree when Santa comes around this year.
While movie bucket lists aren't anything new, making it a scratch-off poster is so much fun and gives your room a unique decoration that changes with time. When you get it, it's obviously unscratched and a bunch of grey squares but as time passes, it becomes an array of colourful tiles.
Some of the images are to be expected, The Dark Knight scratches off to reveal the Batman symbol, but others, like Shaun of the Dead scratches off to reveal a red pen in the pocket of a white shirt (you've got red on you by the way).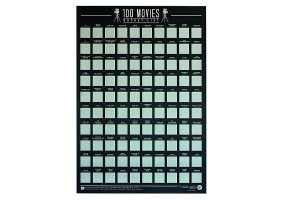 A dynamic decoration, conversation starter and great place to start for budding cinephiles or ones trying to knock off more films but just need a bit more guidance.
Gift Republic has doubled-down on the scratch-off poster idea and if their top 100 movies aren't your thing (which I don't see why not?), then you can get a scratch-off top 100 books, TV shows, beers, yoga poses and much more.