ManSpace magazine speaks with David Hurwitz about his upcoming show 'City Speaks' and what he considers to be his 'man space', the place where he works on his art, bonsai trees, refurbishing tools and more.
"I've always been drawing. I've been drawing since I was a kid so it was just a natural progression into the art side of things but the horticulture sort of just… I'm not sure exactly why I did but I just decided that it'd be an interesting thing to study and didn't realise how much a part of my life it would become," David says.
His upcoming exhibition 'City Speaks' is a collection of paintings and interpretations of urban landscapes.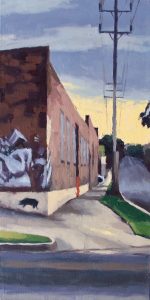 "For my entire artistic career, I have searched the urban environment as the main source and subject of my paintings. Perhaps there is an element of being stuck in the one place for a very long time and not venturing too far from home," he explains.
"However, there are rewards for persistence and remaining grounded, and these come in the form of specific knowledge and understanding of a particular subject, in this case one's own environment."
From inner city to suburbia to landscapes you might not have considered being represented in artwork before.
A piece that caught my eye in particular was of a billboard next to a car park. I couldn't understand why someone would take the time to feature an advert in their work, let alone an inner-city car park.
"Look, to put it really simply, it's just a visual thing, whatever captures my eye really, nothing too intellectual about it. I was at a service station and saw that billboard and just the colour of it, the pink was really loud and against the sky and the fact that the girl on the billboard is sort of screaming," he says.
David decided to name that piece 'City Screams', paying homage to the Edvard Munch classic.
"I've always believed that you don't have to be arty to enjoy it. I believe it's all just about looking and seeing things, it doesn't have to have any underlying meaning or things like that."
The 'City Speaks' exhibition will be his 19th since the turn of the millennium and held for two weeks in the Brightspace Gallery in St Kilda, starting on Saturday February 22 between 2PM and 4PM.
"Alright, now we're talking!" David says as we move onto the topic of man spaces. "I have a pretty cool man cave which I happen to be in right now," he says.
David has transformed an old garage into a workshop and man cave where he paints, tends to his garden and works on recycled furniture projects.
"I find hard rubbish and restore old things and tool; old hammers and axes and all that kind of stuff," he explains.
"I just recently got a bucket of old hammers, axes and mallets. If I get some with really crappy handles, I take it off and build a nice new one out of hard wood. From there, I either give them away or put them in the collection."
Speaking of collections, David also owns around 50 bonsai trees that live throughout his home. It's somewhat analogous between David and his various professions, the horticulture, the artist and the careful painter who finds beauty in even the smallest aspects of our visual world.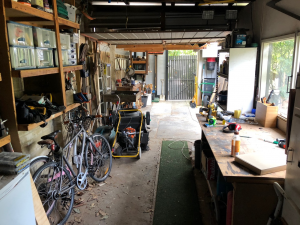 "I extract the visual detritus of everyday suburban life, searching for subliminal moments that exist at certain times of day and certain seasons of the year in numerous locations around the city.
"There is a great satisfaction from taking a street corner or a dilapidated building and turning it into something that people will look at and possibly think about where that landscape exists and why they hadn't noticed it before."