With the wind in your hair, a fishing rod in your hand and the crisp smell of the ocean occupying your senses, there's nothing else quite like a day on the water. It's a truly amazing feeling to be able to just roll your vessel into the depths of the high seas and completely detach yourself from land for a day.
But if we're being honest, it's not usually that simple is it?
Firstly, you probably have to get all the way to the shore in the first place, and then you spend half your time queuing at the boat ramp or struggling to get your boat back out of the water. Not only can this dramatically eat into your time on the waves, but it's also enough to deter you from dusting the boat off again for a long while.
If this sounds like a familiar story, the Kiwis might have come up with just the solution for you.
Enter: the Sealegs – an amphibious, high performance power boat which you can simply drive up to the shoreline, roll into the water and then retract its hydraulically driven wheels.
The system works by having powerful motorised wheels which give the user variable speed of 0-10km/h (forward and reverse) powered by an on-board 24hp Honda-driven hydraulic power-pack.
Once in the water, with the push of a button, the Sealegs wheels are easily retracted into the 'up' position and are completely out of the water. The boat is then driven and used as normal and, when approaching land, the wheels are lowered into the 'down' position while the boat is still in motion.
Like many of the world's great inventions, the idea was hatched when a couple of blokes sat down over a cheeky drink. They had made their money in IT in the 1990s and decided that boating shouldn't be as difficult as it was. After getting the right people involved, they created their first amphibious marine craft. This prototype, nicknamed 'Frankenstein', is still in operation today.
Since the early days, the company has experienced significant growth, with around 700 amphibious marine craft in service worldwide, with close to 130 of those residing in Australia. Product options have also evolved, with new models now available, including the All Wheel Drive with locking differential and power steering, and the new 7.7m Half Cabin model.
Although amphibious vehicles are by no means a new venture, many of them are not fully fledged boats – instead they merely have floating capabilities – so when conditions get harsh, you wouldn't want to find yourself too far from shore. However, Sealegs has a deep V hull (21° deadrise), so it has no problems handling rough waters.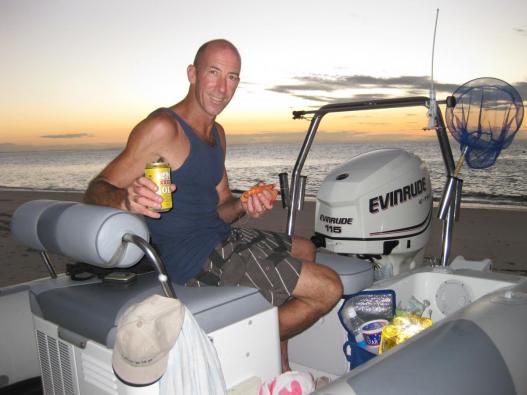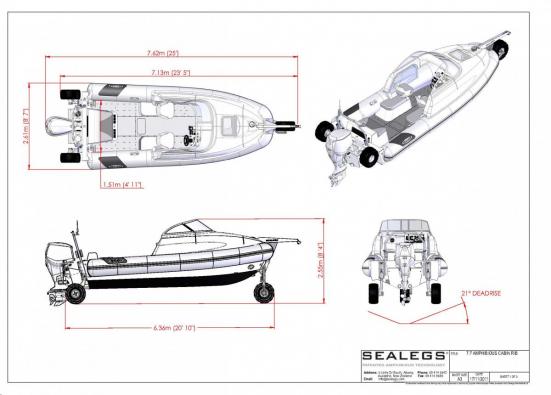 Peter Sargeant (or Sarge to his mates) is a director and service technician at Blairgowrie Marina Services in Victoria and he also takes care of new deliveries and onsite servicing for the Sealegs vessels Australia-wide. Having personally delivered nearly 80 of these crafts he knows more about these things than anyone. He says that Sealegs is a "must have for any water front owner and you'll find yourself using it all the time because it's just so easy".
"Also, it makes boating possible for many who may not have been able to otherwise," he says.
"For instance, we have two owners who use wheel chairs and without 'Sealegs' would be unable to boat independently. We also have several older 'boaties' who either found the struggle of rowing their tender to their moorings unmanageable, or basically found the whole process of accessing the water too dangerous.
"Robert, another of my clients, owns a resort on an island in Far North Queensland which is surrounded by beautiful waters, but is frequented by sharks and crocodiles! You wouldn't want to risk entering those waters to launch a boat, when you could simply drive in and out without even getting your feet wet.
"Interestingly, a number of Sealegs owners in Australia are farmers, who have beach frontage, but are miles from the nearest boat ramp. Some guys also regularly have to compete with extreme tidal variations, especially in places such as Derby in Western Australia, which has a 13m difference between high and low tides."
Sarge admits that he's a big ambassador for Sealegs and a keen user himself, getting out on the water whenever he gets the chance.
"You also get blokes like myself, who are lucky to have easy access to the water, but simply love the ease of loading up the boat under the carport at home, hopping in and going boating. There's no queuing at the ramp, backing the trailer, or arguing with the wife as she either lets my pride and joy bash into the jetty or drowns my car! This way she doesn't even get her feet wet or sandy.
"I consider myself a pretty average bloke, and I found that once I had experienced the freedom Sealegs allowed, there was no turning back."
Sarge adds that more than anything, Sealegs takes away the stress from boating that really shouldn't be there in the first place. Instead, it brings the focus back to the important part: maximising your time and enjoyment on the water. So much so, that you'll end up using it all year round.
"Gone are the frustrations of waiting for the right tide to launch your boat," he explains.
"Sealegs just makes boating hassle-free. You'll find you're on the water three times more than your mates who don't have one, because it makes it that much easier."